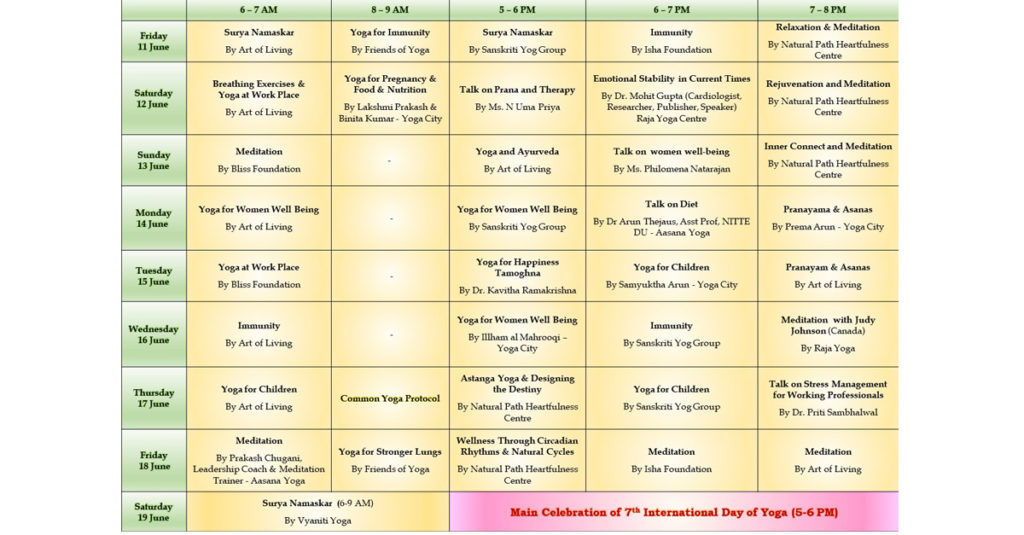 MUSCAT – The International Day of Yoga (IDY) is celebrated all over the world every year on 21 June. On 11 December 2014, the United Nations General Assembly had approved Resolution 69/131, declaring 21 June as the "International Day of Yoga". The Resolution was co-sponsored by a record number of 177 countries. The international community has since been celebrating IDY with a view to make people aware of the health and spiritual benefits of yoga.

International Day of Yoga has been celebrated in Oman too with great enthusiasm in previous years. Embassy of India, Muscat, has been celebrating the annual International Day of Yoga in Oman with support and participation of the Government of Oman, numerous Yoga organizations as well as Yoga teachers & practitioners. Last year, the Embassy celebrated the 6th International Day of Yoga on 20 June 2020 on a virtual platform.

This year also, in view of COVID-19 restrictions, Embassy is planning to celebrate IDY online using virtual platforms under the theme "Be With Yoga: Be At Home". In Oman the IDY will be celebrated with a series of online yoga events as per details enclosed.

An online Yoga Quiz, online Yoga Demonstration Video Contest for age group 18 and above & open to all nationalities, and video contest for students of Indian Schools in Muscat have also been announced. The detailed instructions and guidelines are available at Embassy website – https://www.indemb-oman.gov.in/page/create-idy-website. There will be prizes for best three entries in all the three contests.

The main event to celebrate IDY will be organised by the Embassy online on 19 June 2021, 1700 hrs onwards.  The Embassy is pleased to invite all yoga enthusiasts and practitioners in Oman, along with members of their families, to participate in the mega Yoga event on virtual platform at https://youtu.be/W48rgCEeN2U.