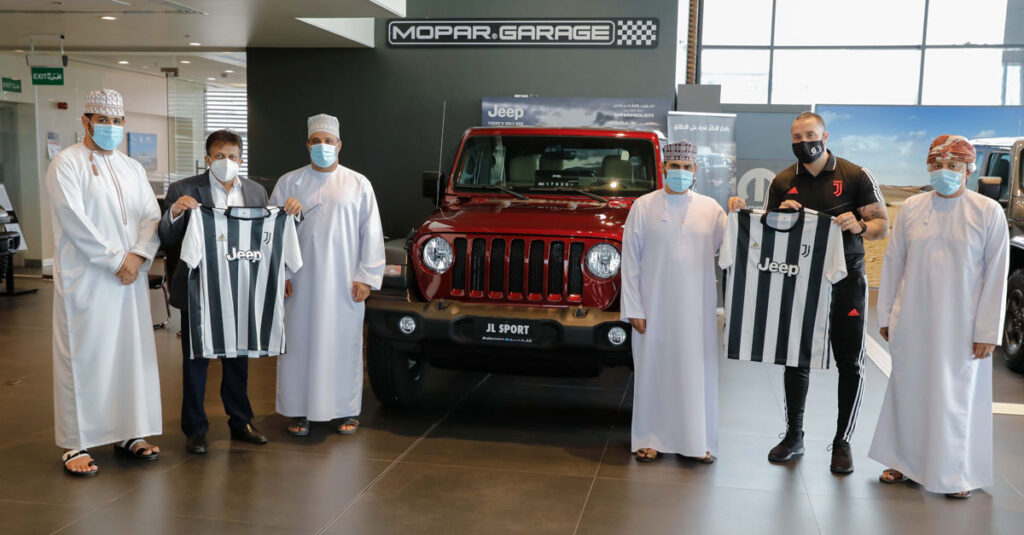 Muscat – Dhofar Automotive, the official distributor of Jeep vehicles in the Sultanate, announced a sponsorship agreement of the Juventus Football Academy in Oman, which began in September, for a period of one year.

The Juventus Football Academy is the largest international academy that trains children on the skills of football, a popular sport in the Sultanate. The agreement stems from the extension of the international Juventus shirt sponsorship with Jeep until 2023/24.

Commenting on the sponsorship, Biju Luckose, Head of Sales & Marketing at Dhofar Automotive, said, "The Jeep brand, with its legendary four-wheel drive capabilities and vast history, has proven itself as an icon that expresses freedom. The ability to push boundaries and determination to succeed in everyday tasks are values that have brought Jeep and Juventus together for eight seasons. As the world gradually takes steps to return to normal, we are pleased to be a part of an effort to encourage a way to move forward and start again, while ensuring that our customers stay true to their passion. The renewal of our contract sponsorship with Juventus is a testament of our role towards enriching the spirit of passion and freedom by supporting and motivating young children to practice their beloved sport through physical and mental development on the field."

"Over the course of our sponsorship, football fans within the Sultanate will see the Jeep logo tagged on the Academy players' clothes as well as visibility at Juventus Academy Oman's stadium in AL Khuwair & Al Mouj Seeb, stands and dressing rooms. This is in addition to our Jeep models being displayed during matches, events, and other activities. Moreover, our sponsorship aims to showcase the incredible driving features of the Jeep brand, across our wide range of models, all of which are renowned for their strength and tenacity off-road. We look forward to enabling the public to enjoy their favorite sport in an atmosphere that is fun, passionate, and exciting, which are values upheld by Jeep, while also showcasing the brand's extraordinary features," he added.

Operational in the Sultanate for 8 years, the Juventus Academy's objective of producing 'people before players' are based on developing a generation of professional players by focusing on young children. The academy has trained over 15,000 players, preparing to develop their skills to build a football foundation that contributes towards increasing the number of football players and professionals.Highlighting this step and the support extended by Dhofar Automotive, Davis Rizzolo, Director from Juventus Football Academy in Oman said, "At Juventus Academy, we have seen the immense success of our activities through our partnership with Jeep. This has led to widespread interest among Jeep owners to follow and be a part of our various training programs. We would like to warmly thank Dhofar Automotive for its sponsorship and look forward to its success. Through our collaboration, we can motivate a new generation to take up and practice their favorite hobby, develop skills and create future professional players."
Dhofar Automotive supports and sponsors many events and activities throughout the year. Jeep Wrangler, Grand Cherokee, Cherokee, Jeep Compass, and Gladiator models are available at the official distributor of the Jeep brand in the Sultanate – Dhofar Automotive – with different equipment classes. For more information on Dhofar Automotive or to book a test drive for Jeep models, please visit www.jeep-oman.com or www.dhofarautomotive.com or call +968 2450 0530.