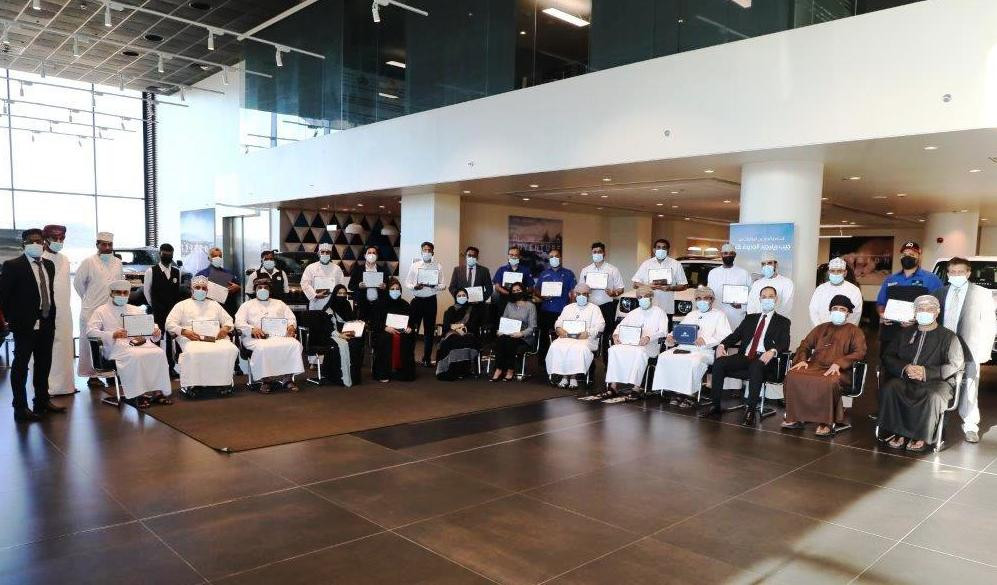 MUSCAT –  Dhofar Automotive (DA), recently celebrated its 10th anniversary of its establishment within the Omani automotive market. The company is the official distributor for Chrysler, Jeep, Dodge, Fiat, RAM, and Alfa Romeo vehicles, Mopar brands and the official provider of spare parts and after sales services for Fiat Chrysler Automobiles in the Sultanate.

The anniversary marked its progress in achieving its strategic objectives at all levels, including the training and forming of the working teams, investing in human resources and achieving the target Omanisation percentage. Additionally, the investment and growth in its showrooms, service centres and customer service facilities over the last decade was also highlighted. By bringing in the best and widest range of models from famous international brands that it represents in the local market, Dhofar Automotive provides only the highest quality services to deliver unmatched customer satisfaction. The celebration also recognised key members of the team, who have been a part of Dhofar Automotive since its inception, highlighting their efforts over their 10 years of dedicated service.

Commenting on this occasion, Hatem El-Naggar, General Manager at Dhofar Automotive, said, "We are happy to celebrate the 10th anniversary since the establishment of Dhofar Automotive. A decade of success and achievements that could not have been possible without the patience, perseverance and tireless efforts of each and every team member. I would also like to thank our partners, who are the renowned brands that we represent, for their immense support in providing us with the best models and services which adds on to our accomplishments. I am also grateful for our valued customers for placing their trust in us and consider them as a part of our family.  We express our appreciation for their continuous loyalty, by continuing to provide them with high-quality services. With their support, we have gone from strength to strength and continue to introduce new and modern vehicles and services to the local automotive market".

Dhofar Automotive was established in 2010 as a joint venture between The Zubair Automotive Group and Shanfari Automotive, becoming the only authorised distributor for Chrysler, Dodge, Jeep, RAM, Fiat, Fiat Professional, Alfa Romeo, and Mopar brands in Oman. Over the years, Dhofar Automotive has built a strong reputation by delivering on its robust commitment of providing innovative and exceptional customer service in both sales and after sales. The company continues to invest heavily on network expansion and facility enhancement, currently comprising of a network of six showrooms and nine service stations across the county, positioning itself amongst the strongest dealership networks in the country.

"Ten years since our beginning, we can proudly say that we have made immense steps forward in achieving our long-term plans. We continue to deliver on our commitment to provide even better sales and after sales services, in line with international standards, to provide our customers with a satisfying ownership experience to exceed their expectations. We aim to further invest in our human resources by implementing learning and training programmes for the team in developing their performance. This is coupled with our constant efforts to expand our facilities, service centres and showrooms to meet all the aspirations of our valued customers," Hatem added.

Jamal Al Balushi, General Manager of Human Resources and Admin at Dhofar Automotive Company said, "The celebration of the 10th anniversary of the founding of Dhofar Automotive Company is an occasion held dear to all members of the team. This achievement would not have been possible without the immense efforts, dedication and high-quality services extended by our professional team, who have been working efficiently. Today, we would like to reassure our customers that we continue our efforts to provide them with the best available services and look to maintain the company's leading position in the local market."

Rashid Abdullah Al Hooti, General Manager of Corporate Affairs said, "Since the establishment of Dhofar Automotive Company in 2010 as the official distributor in the Sultanate of Chrysler, Jeep, Dodge, Fiat, Fiat Professional, RAM, Alfa Romeo, Mopar brands, it has strived to bring in exceptional models and provide after-sales services, on par with international standards. This has been one of our most important factors for success. Additionally, over the past few years, Dhofar Automotive has been able to provide companies with superior transportation solutions and strengthen its vehicle fleet, efficiently and reliably. This has made us join hands with our partners in various sectors to collectively accomplish success and achieve our desired goals. We are proud to be the official distributor of well-known brands that are renowned for their great capabilities, distinctive designs and modern technologies. Over the coming period, we will continue to introduce several new models from various brands that will enhance our presence and will be a great addition to the Omani automotive market."

Dhofar Automotive is supported by Fiat Chrysler Automobiles Middle East and backed by the iconic personalities of its distinct brands and maintains a healthy market share for each brand it represents. The company's ultimate goal focuses on becoming a trusted lifetime partner for each of its valued customers.
In the Sultanate, Chrysler, Jeep, Dodge, Fiat, Alfa Romeo, RAM models and Mopar brands are available at Dhofar Automotive showrooms with different equipment classes. Mopar service centres operates in line with international standards to enhance the overall customer experience. For more information on Dhofar Automotive visit www.dhofarautomotive.com or call +968 2458 4530.