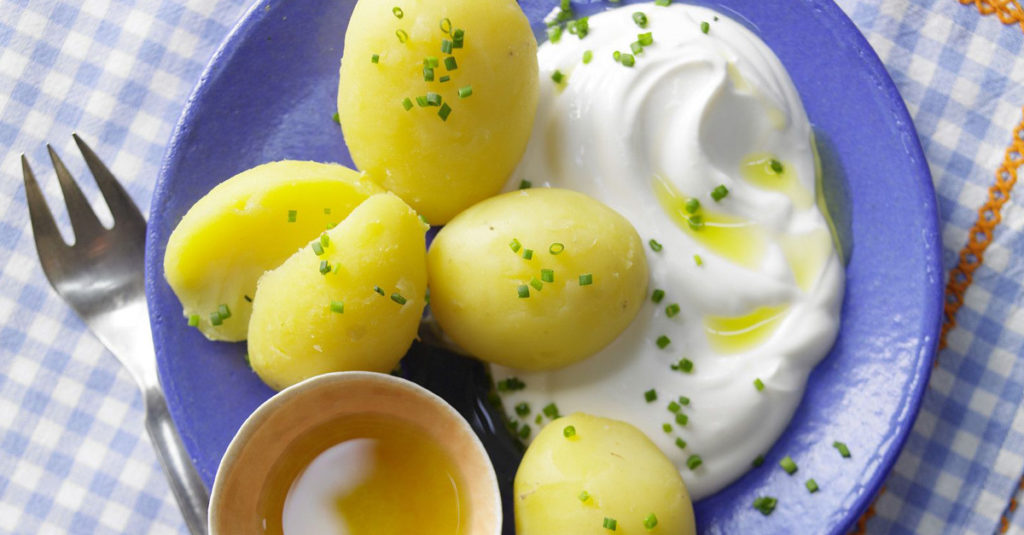 By Siegrun Samira Rengert

Born into a family, which always used to grow their own food and cherished wholesome cooking and preserving foods, my food memories are extremely strong and have always kept me connected to my roots. No matter how far away I live I still spontaneously call my mum asking for certain recipes or ingredients, new food trends or the latest jam.

By continuing this love of making something from scratch and incorporating local flavours into our family cooking I am trying to create a new library of taste memories for my own family. My personal memories are full of amazing home cooked German meals with an influence from Middle Eastern Cuisine.

A very prominent Gourmet magazine once asked me about my favourite dish and the answer was surprising as it is one of the simplest dishes I can think of and I am going to share my version of it with you. This dish tastes best with fresh potatoes and would mark for us the beginning of the potato harvest back home. It is linked to many fond memories of family outings and simple happiness.

There's a proven link between taste buds and memories. Taste is associated with memories of being in a location where something positive or negative happened. The taste, smell, and texture of food can be extraordinarily powerful, bringing back memories not just of eating food itself but also of places and settings. Food is an effective trigger of deeper memories of feelings and emotions, internal states of the mind and body.

Food memories are often strong because they utilise each of the senses. Most people have probably experienced a deep memory just by smelling something, like your Mum's kitchen or your favourite roast. But when the sense of smell, taste, sight, sound and touch are combined while eating, the memory can become even more vivid. Memories are very essential in our lives as they keep us grounded and connected with our loved ones and it is even more important to create these memories with your own children so they will be able to recharge through their memories and sail unharmed through troubled times.
Pellkartoffeln mit Quark (Jaket potatoes with labneh)
Serves 4
1 kg preferably fresh potatoes of similar size
1 tbsp sea salt
1 tbsp Caraway Seeds
500g Quark (alternatively labneh)
1 bunch of fresh herbs (chives, parsley, dill…)
3 – 4 Spring onions
Salt and Pepper
Linseed oil or butter

Method:
Wash the unpeeled potatoes and place in a pot with water. Add salt and caraway seeds. Boil the potatoes with lid on. Once the potatoes start boiling open the lid slightly and turn the heat down. While the potatoes are boiling prepare the quark (labneh). Finely chop the herbs and spring onions and mix it into the quark (labneh). Season with salt and pepper and add some linseed or olive oil. Once the potatoes are cooked drain out the water and let them steam off with lid removed on the hot stove for about two minutes. You can leave the skin or peel it off as you like. Drizzle some linseed oil or alternatively some butter on the potatoes and top up with the herbal quark (labneh).
Cook & Tell
Siegrun Samira Rengert runs Filfil & Loomi with a mission to support parents and schools on how to bring up healthy children in Oman. Trained as a vegan chef, she organises farm trips for school kids, food educational sessions in schools and kindergartens, workshops for parents and encourage wholesome cooking for children – all through her social media.
She is also a founding member of Slow Food Muscat, an international network, which promotes clean, healthy and fair food for all. In her earlier avatar, she ran the first cookery school for amateurs in Dubai, known as 'Cooking Sense'.