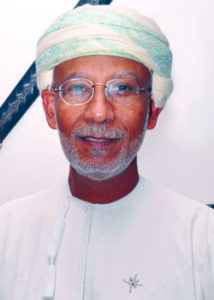 Said bin Ahmed Al Badai
Retired banker (former group DGM branches, BankMuscat) (OMAN)  
Never underestimate anything
COVID-19 has dealt out many harsh truths. It is a ruthless teacher, forcefully imparting difficult lessons to everyone across the globe sans exception, young and old, men and women of all colour and ethnic groups.
To me, one of the biggest lessons that I have learnt is to never underestimate anything nor take anything for granted. I never thought for the slightest moment that the corona virus was going to shake the entire world and turn out into a global disaster, grinding all activity to a halt.  Grounding planes, stopping vessels, public transport, and disrupting businesses and bringing everything to a standstill — causing immense loss of lives and financial loss amounting to millions.
Direct your energy to productive use
The virus has further underlined the importance of patience. As far as the virus is concerned, unless you find a cure you just have to wait patiently and pray and hope that someone will come up with a cure. Otherwise, one can only learn to live with the situation and follow the national directives. If you don't follow the rules, you will only end up harming yourself and others around you.
The stay-at-home-safe concept it not only wise and practical, but it also life saving and gives us a new way of life. 
It will help direct our energies to productive use within the norms. When we are staying at home, we are not only safe but we are given the opportunity to occupy ourselves in various activities, which include reading, gardening, indoor exercises, catching-up on office papers, and enabling us to have suitable entertainment in the likes of movies, which we otherwise had no time to watch.
A double-edged sword — a curse and a blessing
I genuinely salute our leaders for promptly responding to a crisis of this magnitude and also embarking on active plans to contain the virus and protect the nation from its assault.  The lockdown, which was like a double-edged sword, proved to be at times a curse as well as a blessing at the same time.  It allowed many to discover new and never-before-tested ways of carrying on their work from home.
Many schools began distant learning offering courses and lessons online. Some stores were delivering groceries through online orders. Banks and financial institutions were processing online requests. It was indeed a curse to be stuck at home but a blessing to be able to work and purchase online.
Our turn to pay back
Many oil-producing countries will be impacted due to the stagnation of production (oil producing) and the low oil prices will have an effect on the spending. This could force governments to cut down on the spending and that will in turn affect the ordinary man. The governments will adjust according to the priorities depending on the urgency, importance and necessity.
So, currently, the onus is on us. It will be our turn to pay back by adapting to the changes and accepting the many compromises we have to make. Each one of us has a role to play and so let us play it well.  What I mean by this is that we should open our hearts where we have to; help those who need it and let us make adjustments where we must. Everyone is going through a difficult time and let us, in our own way, ease the difficulties of those whom we can. That is the least we can do.
Let us act responsibly
As I have said earlier, it is time for us to take up the mantle and act responsibly to overcome this grave challenge before us. We have to act collectively and make sure we raise our morale and help those who are down. The least we can do is to help bolster the moods of people who are down. We can engage in acts of positivity by sharing important motivational messages and staying connected. We must maintain a social distance but at the same time should still spread positivity as much as we can. We will win in the end. Let us all look forward to that day where we will all stand tall and victorious.