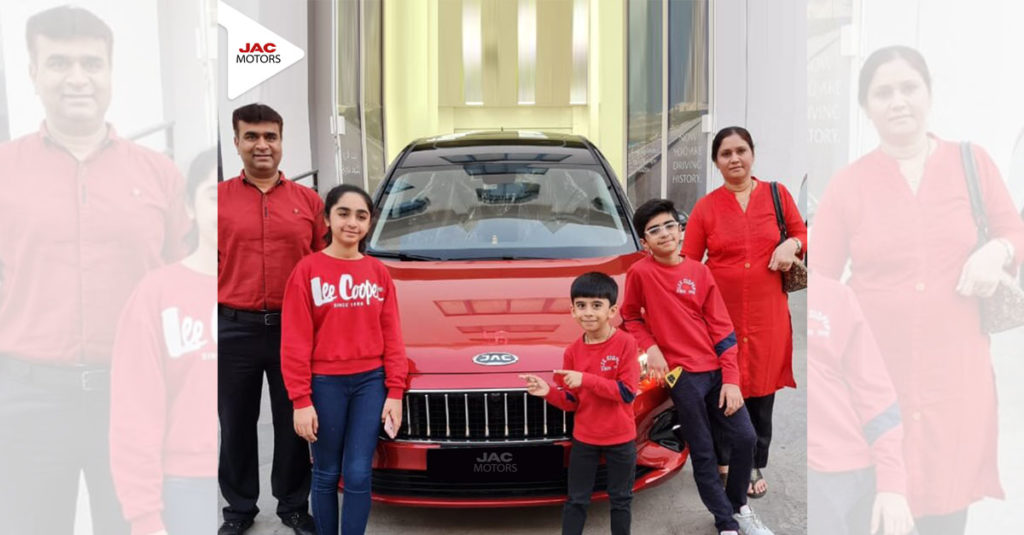 MUSCAT – Kalpesh Chandrakant Vasani, working for one of the well known companies in Oman is the newest passionate customer of the JAC J7. His excitement was on the moon while receiving his car especially seeing the happiness of his family. Kalpesh made the experience of buying the J7 a heartfelt special moment for himself and his family as he and his adorable wife and beautiful children came to Wattayah showroom. Ironically they even matched their clothes with the new JAC J7's dazzling red and black colour combination. It was a very beautiful moment and it made for a great memory for his family and the JAC Oman team for times to come.

Kalpesh bought the car in its dual color (red/black) variant and was extremely impressed with his gorgeous new purchase. In our conversation he mentioned that the dual colour combination of red and black was very attractive and eye-catching. He had seen some other cars in the same segment but none matched the features, design or finish of the J7. Many people kept stopping him to tell him how beautiful his car is. Since the J7 has come home he experiences on regular basis people stopping him just to tell him how beautiful his car is, that is the J7 for you. It truly is a head turner with its sporty body curves and smart sleek lines. An absolute show stopper from the JAC motors lineup.

Adding on, Kalpesh said that he liked the spectacular features and that the J7 is very economical as well. The bonus point is that the J7 comes with 5 years/150,000kms (whichever comes first) of warranty. He was also quite impressed with the sales personnel in the showroom on how they professionally catered to his requirements and gave him the best possible service he could ever imagine. He was so satisfied with the overall experience that he made the decision to buy JAC J7 on the same day he saw the car.
For all those looking for an economical vehicle for themselves and their family added with amazing features and a fabulous design look out for the JAC J7. It is for the people who have the desire to be different and live life to the fullest.