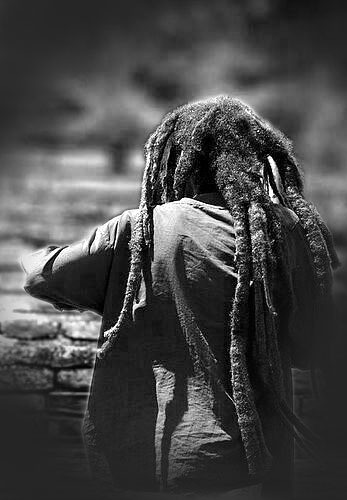 By Adarsh madhavan

Sometimes he sits just outside the Pillayar Kovil. All hunched up and done, actually, a bag of bones in rags but with matted locks that Bob Marley fans would envy.  He sits there only when he is totally dry and hasn't had anything to eat at all.  And so he gets a few coins, some Rs5 or Rs10 notes. This was pre-COVID days when devotees would fill the kovil like the Mumbai trains. Nowadays, when I visit the temple, very rarely though, I find only my name in the evening list. We have to do the usual COVID rigmarole of sanitising hands, signing in the register with name and number. Perhaps, others might come later, but very few seem to turn up.

These days he does not sit outside the temple. But opposite the road, before an empty shop, he has a makeshift cardboard box 'house', which I think still gets drenched in the wretched rain that often spills around Kannur with abandon. I had only few interactions with him. A few months back, I was staring at some snacks outside a bakery close to the temple and he was also doing the same. I mean I noticed him only later when I couldn't figure out what to buy. It was past tea time, so if I buy something for home then, it would mean that it would be consumed only the next day, tea time. Which among these snacks would have that much staying power? You no longer can get into the bakeries. You have to stand outside and order.

Then I saw him staring at the same snacks and I quickly turned my glance away from him. I didn't want to think I was staring at him. I realised that he would be wanting something and probably did not have anything on him. Literally. Some parts of his peculiarly thin lanky frame was covered by rags and the biggest striking part was his matted hair. I didn't want to interfere in this poor man's thoughts, but still, pointing to the snacks, I asked him: Is there anything you want from here? Let me know, I added.
No no, he said softly and moved to the side of the bakery, away from me. I again indicated the snacks area and said, please, choose what you want. No no, I had, I don't want anything he said very politely, so politely, I almost seem to have heard a thanks that he never uttered. The other time was during heavy rains striking the street and messing up everything, even my mood so much so I refused to enter the temple, just because I was too mad and messed up by the delirious rain. The wind swirled around the rain so that even if you are armed with an umbrella, you still got wet.

As usual I was cursing and walking, when I saw the poor 'Bob Marley' of the Pilliyar Kovil road sitting and staring at the rain. He didn't seem upset or angry. In fact he looked very calm even though he was fully wet and a side 'wall' of his cardboard home had already collapsed. But there was a peaceful Zen-like look on his face and he just stared at the rain or rather nothing in particular. I stopped cursing and as I walked past him wondered how he could take it. He was day in day out on the roadside and in this heavy downpour, it would not just be cold but downright messy and it would take a toll on ordinary mortals.

Suddenly I realised that because of this never-ending wet lashdown, he might not have ventured out for food and must have just sat there without anything in his belly. Should I, should I not and then I swiftly turned and walked back to his place. Without wasting time, I asked him if he needed any food. I will get you food, I told him as the rains swirled around my words too. Once again, he raised his hand and replied in the negative. No, he said. No. Nothing. I don't need any food…I am okay, he said. Sure? Yes, yes, he said, with a hint of a smile twinkling from the corner of his eyes. I am okay, he said and so I gave up the pursuit and walked back home, cursing the rain, cursing my fate in this blessed never-ending rainy town.