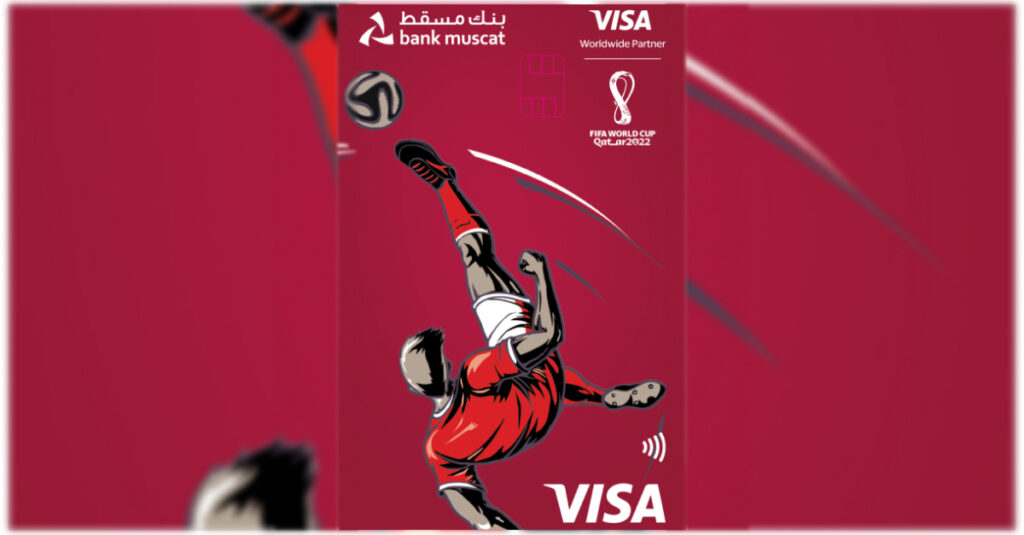 MUSCAT – Bank Muscat has been receiving excellent feedback from customers regarding the exclusive Visa prepaid card launched earlier this year, courtesy of Visa. These Limited-Edition cards are specifically designed as a collector's item and reflect the spirit and overall experience of the FIFA World Cup™, which is one of the world's largest sporting events. Customers can easily apply for up to 5 cards as well as activate and load funds on them via Mobile or Internet banking. The bank has also announced that each card can be loaded with an amount as low as RO 5 and be used for both POS and online transactions.

The Visa Prepaid Card features contactless payment technology, and can be managed easily through the bank's Mobile Banking app or Internet Banking. Customers can easily review transactions to manage their expenses. In addition, the cards can be used for secure online payments apart from PoS payments and ATM withdrawals. The unique design and features has led to positive responses from a number of the bank's customers. Given the limited stocks and good demand for these cards, the bank has advised all those who would like to apply for the card to do so at the earliest.

Bank Muscat's contactless Visa Prepaid cards are a popular option for customers to complete their low-value point-of-sale (POS) transactions at groceries and supermarkets with a simple tap of the POS terminal without the need to enter their personal identification number (PIN) for transactions up to RO 40. The card will be particularly useful for visitors to Qatar as they can use it to manage expenses and can also keep it afterwards as a collector's item or souvenir of their trip of a lifetime to the biggest football event ever in the region.

The option for customers to apply for Visa Prepaid Cards through Internet or Mobile banking from the ease and convenience of their homes or offices continues the bank's customer-centric strategy of launching new payment products and services that offer new, convenient and highly secure e-payment options and improve financial inclusion. The bank has stated that it will continue to launch new digital payment services and platforms to further enhance the ease of banking and customer convenience. It must be noted that contactless cards feature best-in-class security for POS and online transactions. In case of any loss or misplacement of the card, it can be blocked immediately by calling the Bank Muscat Contact Centre on 24795555.

For more details on the bank's Visa Prepaid cards, please go to https://www.bankmuscat.com/en/bm-cards/Pages/Visa-Prepaid-Card.aspx.