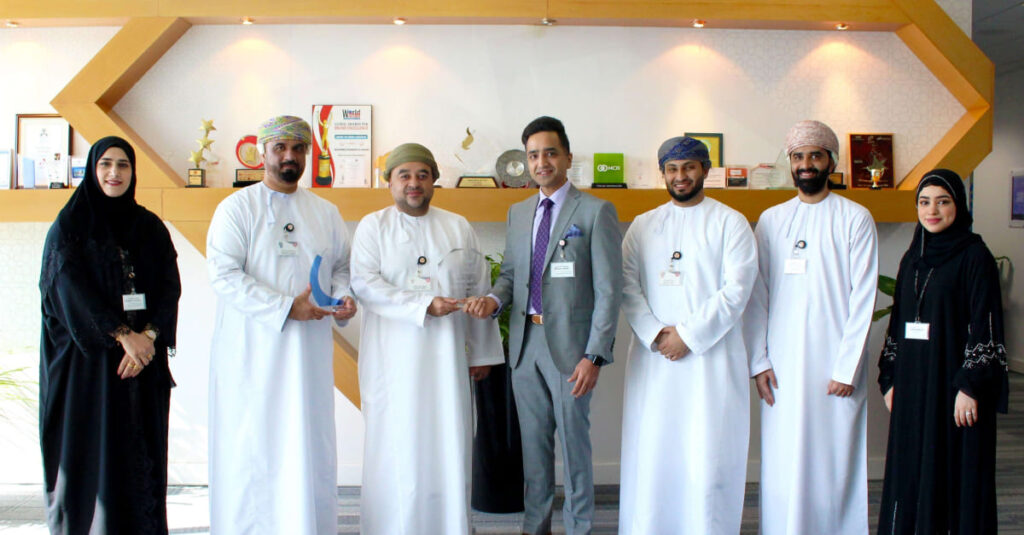 MUSCAT – In recognition of its customer-centric vision, Bank Muscat, the leading financial services provider in the Sultanate, has been announced as the regional winner for the Best Call Centre (Banking) at the prestigious Middle East Call Centre/CX Awards 2022, which was recently held in Dubai. Instituted by Insights, the leading call centre based professional services organisation in the region, the awards symbolise unmatched validation and peer-judging processes that enable winners to build and strengthen world-class call centre teams and showcase continuous, ongoing improvement.

Speaking about the outstanding achievement, Talal Abdul Hameed Al Zadjali, Deputy General Manager – Operations, Bank Muscat, said: "I would like to take this opportunity to thank Insights for this prestigious award, which endorses the bank's customer-centric strategy and recognises our efforts to continuously improve and set new benchmarks. As a vital link between our valued customers and the bank, the bank's Contact Centre continues to provide various services around the clock, seven days a week, with minimal waiting period. I would like to express my sincere appreciation to all the Contact Centre employees for their dedication and efforts to enhance the implementation of the bank's customer-centric vision and the overall customer experience." He added that the bank would strive to attract qualified and talented Omani cadre to the Contact Centre and continuously upgrade it with the technologies.

Bank Muscat operates the largest Contact Centre in the banking sector in the Sultanate with over 160 team members and enjoying 99 percent Omanisation and a male to female ratio of 65:35. Featuring the best-in-class technology, the Contact Centre handles over 5.4 million interactions and 1.3 million social media queries annually through its Interactive Voice Response (IVR) system as well as customer service champions who answer inbound queries via phone calls and WhatsApp chats. It is indeed a matter of great pride that the vast majority of incoming telephone calls are responded to within as little as 20 seconds. To enhance the customer experience, language options provided to customers include Arabic, English and Hindi.

Phone banking services offered include fund transfers to own account, third party accounts within Bank Muscat and outside Bank Muscat as well as utility bill payments such as water, electricity, telephone, Internet, mobile top-ups, school fees and credit card payments. Other services include requests for cheque book and application forms; real time deposit and exchange rates for select currencies using exchange rate calculator and branch locator to identify the nearest branch, in addition to special services.

To use 24/7 phone banking, customers need to call on 24795555 and follow the audio instructions in the language of their choice. They can also contact customer service through WhatsApp by first saving the bank's contact centre number (24795555) in the contacts list on their smartphone and then initiating a chat session once the number automatically appears within WhatsApp as the verified Bank Muscat account. WhatsApp Customer service executives are available on all days from 8am to 10.30pm, while automated WhatsApp chat is available 24/7 to help answer different queries that customers may have. The service can also be used by customers to share feedback and suggestions.

Phone banking services are very important, especially during holidays or non-banking hours to report card loss and other urgent matters. In case of lost or stolen cards, customers have the option of blocking the card themselves. As part of the constant vigil against fraud, a dedicated team continuously monitors online and PoS transactions, especially at high risk vendors. The bank's products and services have evolved over the years in line with the specific requirements of its customers. In 2016, the bank was the first in Oman to launch Twitter-based customer service through @bankmuscatcare. In 2019, Bank Muscat became the first bank in the Sultanate to launch a dedicated WhatsApp channel for its customers, later launching a dedicated WhatsApp channel in 2021 for its Asalah Priority Banking customers as part of its efforts to serve customers better, every day and set new benchmarks.