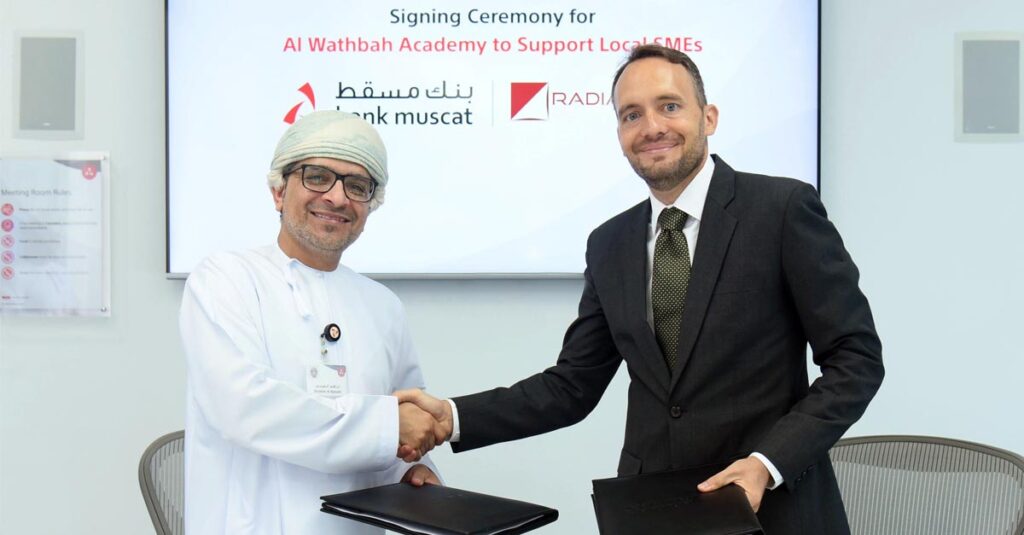 MUSCAT – Bank Muscat in line with its vision 'To serve you better, everyday', and commitment to supporting the Small and Medium-sized Enterprises (SME) sector in Oman, has signed an agreement with Radiant Sail, a leading management consultant and business advisory services provider based in the Sultanate of Oman.

The agreement was signed by Ibrahim Khamis Al Balushi, Senior Assistant General Manager – SME, Bank Muscat, and Nathan Heckman, President, Radiant Sail, and will help the bank provide an advanced entrepreneurial programme to 30 top graduates of the bank's Al Wathbah SME Academy as part of its CSR programmes. The central theme of the advanced Al Wathbah Academy Programme is to support SMEs to present their business in a structured format to potential investors, partners and employees. Every module of the Advanced Al Wathbah Academy Programme is designed around this central theme and provides participants with an opportunity to master a variety of skills and practice life-long learning.

The programme, which will be conducted in two batches of 15 participants each in Muscat and in Al Batinah North, will be managed by Radiant Sail and certified through KnowledgeWorkx. Study materials were developed based on curriculum from the Harvard Business School, local case studies and in-person testimonials from Omani entrepreneurs, who have pitched their businesses successfully across the world. Participants will receive training through a combination of workshops and one-to-one coaching throughout the program. The workshops will be interactive, and are facilitated by leading professionals, who are entrepreneurs themselves and able to explain the relevant lessons with excellent real-world examples.

Speaking on the occasion, Ibrahim Khamis Al Balushi, Senior Assistant General Manager – SME, Bank Muscat, said: "We are pleased to sign this agreement with our knowledge-partner Radiant Sail to further support and develop SMEs in the Sultanate. In line with the national objective of stimulating an entrepreneurial mind-set, the bank is always focused on strategic initiatives that add tremendous value to Oman's growth and development. Bank Muscat is always committed to working in close partnership with the government and the private sector to support the national economy in alignment with the landmark Oman Vision 2040."

Nathan Heckman, President, Radiant Sail, said: "Bank Muscat's various initiatives to provide support to SMEs are pioneering and highly sustainable initiatives, which immensely supports small businesses and Omani entrepreneurs in their journey to becoming major players in the national economy in line with the goals of Oman Vision 2040. As a long-term knowledge partner of the leading financial services provider in the Sultanate of Oman, Radiant Sail is pleased to be a part of this initiative to further upskill Omani entrepreneurial skills and contribute to the progress and growth of the nation."

Bank Muscat's Al Wathbah Academy for SMEs is a distinctive program that combines global excellence with local relevance and was launched in 2014 as part of its Corporate Social Responsibility (CSR) initiative to equip Omani entrepreneurs with suitable skills. It is conducted through 8 modules spread over a period of 4-8 months and leads to internationally-recognised certification from the Project Management Institute (PMI). Over 170 entrepreneurs from different governorates across the Sultanate of Oman are successfully contributing to the Omani economy after enrolling in entrepreneurial training.

Bank Muscat has also launched various other initiatives to benefit entrepreneurs including Souq Al Wathbah and the Al Wathbah Businesswomen's Forum. Earlier in 2021, the bank also arranged to provide free VAT advisory and registration services to its SME customers through a dedicated desk at the head office over a three-month period. Recently, the bank celebrated the UN-designated Micro, Small and Medium-sized Enterprises Day to help raise further awareness of the sector's contribution.

For more information about the Al Wathbah Academy, please go to https://www.bankmuscat.com/en/Business/Business_segements/Pages/Al-Wathbah-Academy.aspx.