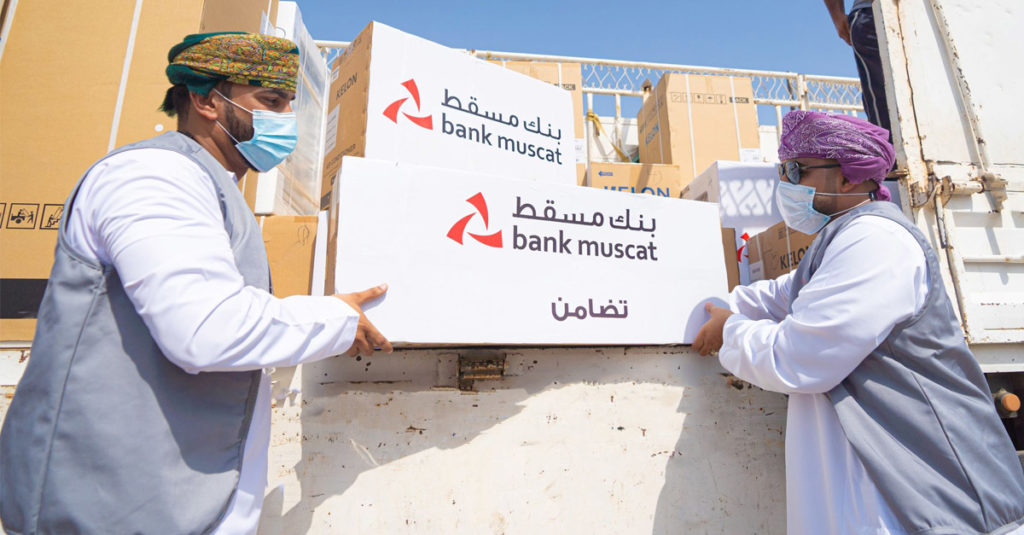 MUSCAT – Bank Muscat continues to successfully execute its annual Tadhamun programme in partnership with the Ministry of Social Development.

A joint team is currently distributing household appliances to social welfare families across different governorates in the Sultanate. The team has successfully completed its distribution activities in North and South Batinah, Musandam and North and South Sharqiyah, after being flagged off in the Governorate of Muscat earlier in August 2021. It started distributing appliances to families in the Governorate of A'Dhakhliyah last week, and will be covering the governorates of A'Dhahirah and Buraimi in the near future.  In 2021, the bank aims to support 150 social welfare families across Oman by distributing around 790 household appliances to them.

Earlier this year, the bank also provided laptops and tablets to 1,240 students from low-income families, so as to enable them to continue their studies online during the extended social distancing measures, which were implemented following the pandemic. This year's programme is being executed by the bank in cooperation with specialists from the Ministry of Social Development, who received applications and finalised the list of families entitled for the benefits. The distribution is being conducted after taking all precautions and in full compliance with COVID-19 social distancing norms so as to maintain the safety and health of everyone.

The bank has extended its sincere appreciation and gratitude to officials from the Ministry of Social Development, volunteers from the bank and other partners for their wholehearted support and cooperation in continuing this long-running annual programme successfully. It is particularly noteworthy that the Tadhamun programme has so far benefitted 1,691 families, comprising more than 8,000 people, since it was first launched in 2013.

Bank Muscat is proud of the success and achievements of its CSR programmes, which is based on the values of leadership and partnership so as to create a positive impact on Omani society. The bank has over 10 long-term CSR programmes including Green Sports, Little Investor, Jesr Al Mustaqbal, and the Al Wathbah SME Academy. It has also launched a number of development projects in the past including the Misfat Al Abriyeen heritage tourism project in the Wilayat of Al Hamra in partnership with the Ministry of Heritage and Tourism and a 15,000 sq. m. public park in Al Khoud in partnership with Muscat Municipality. Bank Muscat is well recognised both locally and internationally for its outstanding efforts in CSR and sustainability. In 2020, it was honoured by the Ministry of Social Development for its outstanding role in supporting people with disabilities, and also at the Fourth Oman Forum for Partnership and Social Responsibility.