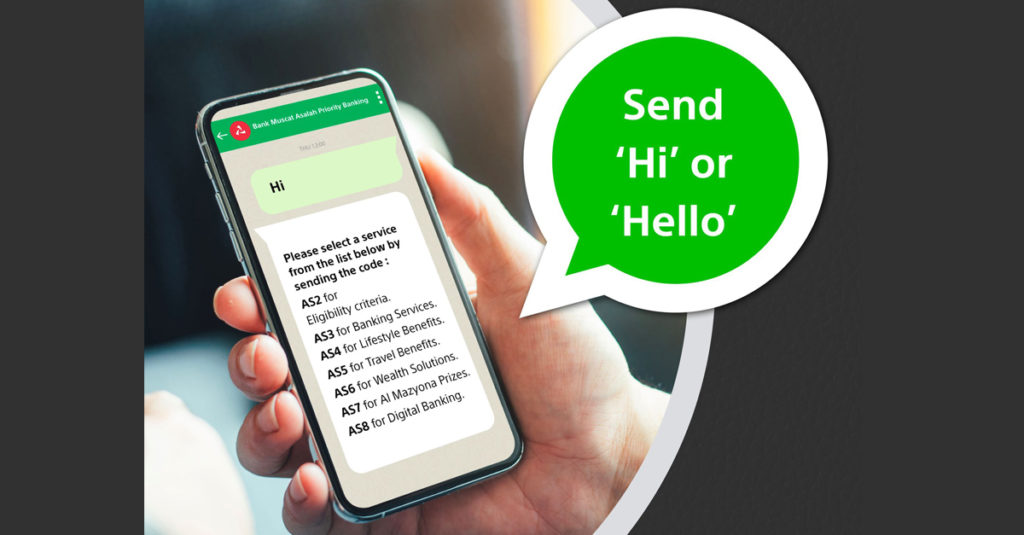 MUSCAT – Bank Muscat has announced the launch of an automated Whatsapp service for its Asalah Priority Banking customers. Using the service is as simple as saving the dedicated Asalah Call Centre number in the phone's contacts list, following which it will automatically appear within Whatsapp as Bank Muscat Asalah Priority Banking. Customers can send the message "Hi" or "Hello" to the number through Whatsapp to receive the menu list as a reply. Replying with the relevant code from the menu list will enable customers to get more details on the specific topic of their interest. Customer service executives are available on all days from 8am to 10.30pm, while automated Whatsapp chat is available 24/7 to help answer different queries that customers may have.

Speaking about the new Whatsapp service, Abdulnasir Al Raisi, Deputy General Manager – Premier Banking, Bank Muscat, said: "Asalah offers an excellent relationship-based Priority Banking experience built on our customer-centric vision and constant innovation. With the automated Whatsapp service, our valued customers have one more channel of communication with the bank and can quickly get answers to their queries. More details on a number of topics such as Asalah eligibility criteria, details about banking services, lifestyle benefits, travel benefits, wealth solutions, Al Mazyona prizes and digital banking will be available through Whatsapp anytime and from anywhere. The bank deems service excellence aligned with world-class products and services as the key to achieving maximum customer satisfaction and surpassing customer expectations."

Bank Muscat products and services have evolved over the years in line with specific requirements of its customers. Earlier in 2016, the bank was the first in Oman to launch customer service through a dedicated interactive Twitter account @bankmuscatcare. Later in 2019, Bank Muscat became the first bank in the Sultanate to launch a dedicated Whatsapp channel for its customers. The latest innovation builds further on the bank's implementation of cutting-edge technology including electronic payment and web-based services in tune with the banking requirements of a young, tech-savvy generation. The expanding branch network and alternative digital channels reflect Bank Muscat's commitment to remain as the bank of first choice in all parts of the country.

Bank Muscat meets the expectations of customers at all levels and offers them a sophisticated banking experience backed by high-tech products, innovative financing facilities, and a customer-centric service. Customer-centric service is always paramount for the bank in achieving further success and setting new benchmarks as the leading financial services provider in the Sultanate.