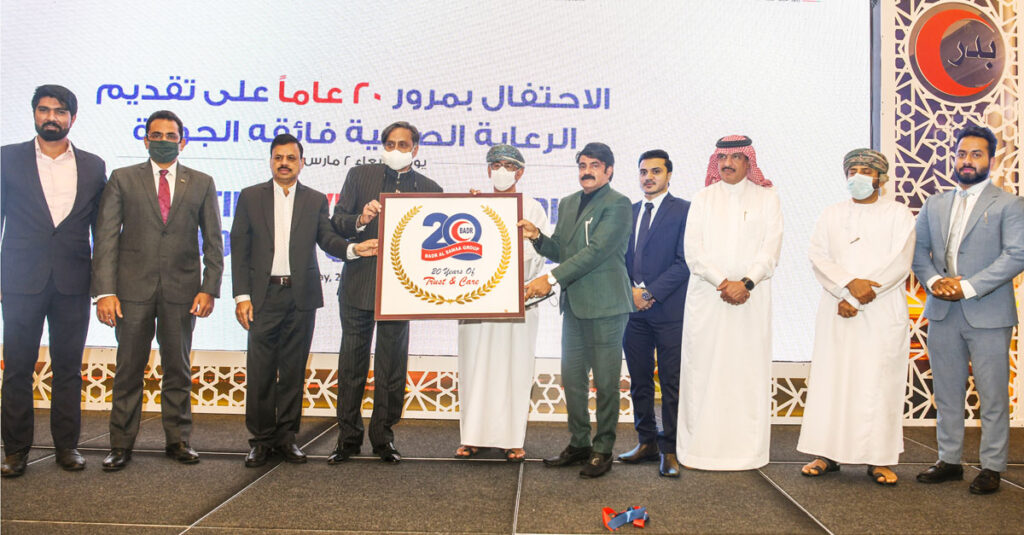 MUSCAT – Badr Al Samaa Group of Hospitals organised launch event of its 20 year celebrations. The glorious journey of 20 years, from a humble starting in 2002, helped Badr Al Samaa to become one of the largest private healthcare groups with 13 centres currently with many more to come. It is the only group of Oman in the private healthcare having all its hospitals accredited by international accreditation bodies like JCI (USA) and ACHSI (Australia).

A special 20 years celebration logo was unveiled on the occasion and the audience went through the 20 years journey of Badr Al Samaa with a special movie made for this occasion.

The event also witnessed ACHSI accreditation certificate presentation to the corporate and four recently accredited hospital of Badr Al Samaa, Barka, Nizwa, Sohar and Salalah.

His Excellency Dr Ahmed Al Saeedi, the Minister of Health, Oman was the chief guest of the event. Dr Shashi Tharoor, Honourable member of Indian Parliament, Former Undersecretary General – UN, was the guest of honour. The event was also attended by His Excellency Sri Amit Narang, Ambassador of India to Oman, His Excellency Abdullah Bin Saud Alanazi, Ambassador of Saudi Arabia to Oman, Dr Muhanne Bin Nasir A-Muslahi, Director General -DGPHE, executive directors, senior management, all other staff of Badr Al Samaa Group of Hospitals and various dignitaries from companies, corporate, media and many social organisation.

The program began with the recitation of Holy Quran. In his welcome address, Abdul Latheef, Managing Director of Badr Al Samaa attributed the credit for the success of Badr Al Samaa Group of Hospitals to the dedicated and selfless workforce, continuous support from the Ministry of Health, various ministries and all concerned stake holders and above all the continuous trust of their patients in their healthcare services. He said Badr Al Samaa standardised its clinical and non-clinical operations with international accreditations since beginning. He said 20 years celebrations will witness many Corporate Social Responsibility (CSR) initiatives, introduction of advanced clinical programs and awareness and training programs for general public on basic health issues like Cardio Pulmonary Resuscitation (CSR), etc.

Dr P A Mohammed, Managing Director of Badr Al Samaa said the theme of this 20 Years celebration is based on trust and care. The trusts which, people have shown in Badr Al Samaa for two decades and the quality of care with which Badr Al Samaa has complemented that trust. He said Badr Al Samaa has aggressive future expansion plans and they are coming up with premium hospital in near future along with some more multispecialty hospitals and medical centres in addition to super-specialised centres for IVF, Ophthalmology and Oncology.

Dr Sashi Tharoor appreciated management and staff of Badr Al Samaa for this remarkable achievement which is a testimony of providing valuable humanitarian services. He said Indian doctors and paramedics have achieved recognition of dedication and service excellence. He said this talent coupled with resources, capabilities and leadership of Oman has helped healthcare sector of Oman to grown along world standards and produce impressive results in short span of time. He appreciated the commitment which everybody had made during COVID pandemic and developed an environment that will safeguard our health against any such threats in future. He appreciated the impressive doctor to patient ratio of Oman which stands at 2.1 to 1000 people which is closer to USA, nurses' ratio of 4.5 to 1000 people. He said 95 percent population of Oman lives within 5 kilometers of good primary healthcare centre. He attributed the credit of all this to the strong leadership of Oman. He chaired the interactive session after his speech; many attendees were excited to interact with him during the event.

His Excellency Dr Ahmed Al Saeedi in his address said he is delighted to celebrate 20 year anniversary launch program and ACHSI accreditation of four hospitals with everyone present. He said during COVID due to well-equipped healthcare surveillance system the impact was not worse. He appreciated private healthcare sector's support. He believed in equity not just for COVID treatment and vaccines, but overall healthcare sector and he said Oman has worked a lot in this direction. He said in Oman the outcomes in healthcare are way too ahead than the spending, which is exceptional. He said life expectancy in Oman in 1970's was only 49 years which has grown to 78 years today due to reforms in healthcare sector.

Dr Muhanne Bin Nasir A-Muslahi in his address said accreditation process is a very important step in improving patient care and patient satisfaction. He said Badr Al Samaa has done exceptional work in getting international accreditations for all of its hospitals. He said it is a challenging job, but the dedicated team of Badr Al Samaa achieved this feat. He said Oman government should move to having its own independent accreditation body.

Moiedeen Bilal, Executive Director of Badr Al Samaa said that it is the trust of the people that helped Badr Al Samaa to grow from a polyclinic in 2002 in Oman expanded its presence to UAE, Bahrain, Qatar and Kuwait. He said growing with the trust and confidence of our patients, the group apart from geographical expansions, is technologically upgrading with new diagnostic and therapeutic modalities from time to time.

Firasath Hassan, Executive Director of Badr Al Samaa said, "Our staffs who were and who are always our asset, have always stood by our side in testing times." On this occasion he promised all the employees to be supportive to them. He said, "Let's look forward many more amazing years with strong professional relationships and take Badr Al Samaa to greater heights. Let's just keep up the good work and keep aspiring for more."

In the thank you note, K O Devassy, Chief Marketing Officer of Badr Al Samaa hailed the leadership qualities of His Excellency Dr Ahmed Al Saeedi for leading from front in the pandemic and putting extraordinary efforts for the advancement of healthcare sector of Oman. He appreciated the literary acumen of Dr Shashi Tharoor and complimented many of his powerful speeches delivered in the past. He thanked all present for gracing the occasion.

The event was anchored by Hawra Al Bulushi.