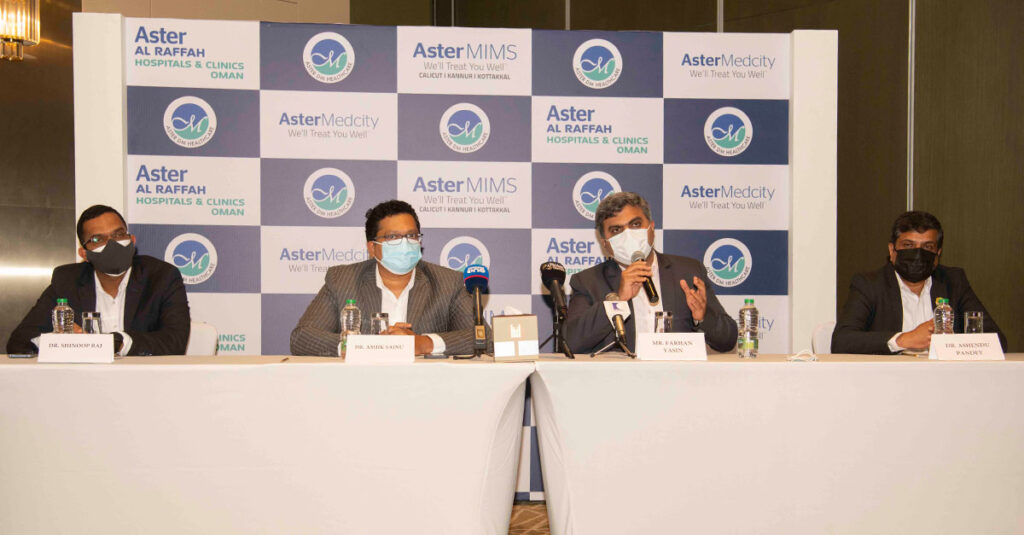 MUSCAT – Aster Al Raffah Hospital and Clinics announced its plans to strengthen its presence in Oman with addition of 200 bedded tertiary care facilities, at a press conference held today.

The new facility will have 5 modular operation theatres, cardiac catheterisation unit, advanced critical care unit including 7 bedded NICU, Radio diagnostic equipment's which includes 1.5 Tesla MRI 128 Slice CT, Digital X-ray, In addition to excellent Clinicians It will also have advanced centre of excellence for gastroenterology, orthopedics, interventional radiology, obstetrics and gynecology.

"With the opening of the new hospital in Al Ghubra, Aster Al Raffah Group will have the largest private sector hospital in Oman" said Farhan Yasin, Regional Director for Aster Kerala and Oman Clusters.

Aster Oman and Aster Kerala will work as one cluster under the Leadership of Regional Director Farhan Yasin.

The new 200-bed hospital will be inaugurated in January. As many as 200 Consultant-level doctors from Aster India will provide their expert medical care here in Oman. Treatment modalities that are not available anywhere else in Oman will be available for the first time in Aster Al Raffah Hospital Ghubra. The goal of this initiative is to help people avail the latest treatment services available abroad right here in Oman without having to travel abroad he added.

"This association with bring the synergy of latest Infrastructure in Oman with senior consultants from India and Oman to provide specialised clinics like stroke clinic, electrophysiology, epilepsy management, embolisation clinics", explained Dr Ashik Sainu, Medical director Aster Oman.

"With addition of this new facility, Aster will have 4 Hospitals and 7 medical centers, with few more medical centers in interior towns of Oman, to enhance the patient comfort with utilising digital platforms so that they do not have to travel for consulting or follow up of treatment" said Dr Ashendu Pandey CEO Aster Oman.
"Our aim is to adapt latest digital platforms to enhance the patient experience in our new hospital, along with making latest treatment modalities at affordable cost for helping citizens and residents in the current era of pandemic", added Dr Shinoop Raj, COO Aster Muscat region while concluding the meet.
Photo: V K Shafeer