MUSCAT – Apollo Hospitals made a unique gesture of recognising some unsung heroes to mark Omani Women's Day, which is celebrated every October 17. The event, which saw doctors, from the government and private sector who have dedicated their life towards fighting breast cancer, being felicitated, also coincided with the Breast Cancer Awareness Month making it doubly special.

Leading health challenges"Breast cancer is one of the leading health challenges that Omani women face today. The ministry of health (MoH), doctors at both government and private sectors, the Sultan Qaboos Comprehensive Cancer Care and Research Center (SQCCCRC), the Royal Hospital and one of the nation's leading non-governmental organisation (NGO) – Oman Cancer Association (OCA) – have all been crucial in treating breast cancer patients and spreading awareness about early detection.
Breast cancer awareness event on October 29
Carrying forward this initiative, Apollo Hospitals will be conducting a breast cancer awareness event open to the public on October 29th in collaboration with the OCA and free screening will be performed with mammograms, V.T Saileshwaran, managing director, Apollo Hospitals Oman, announced at the event.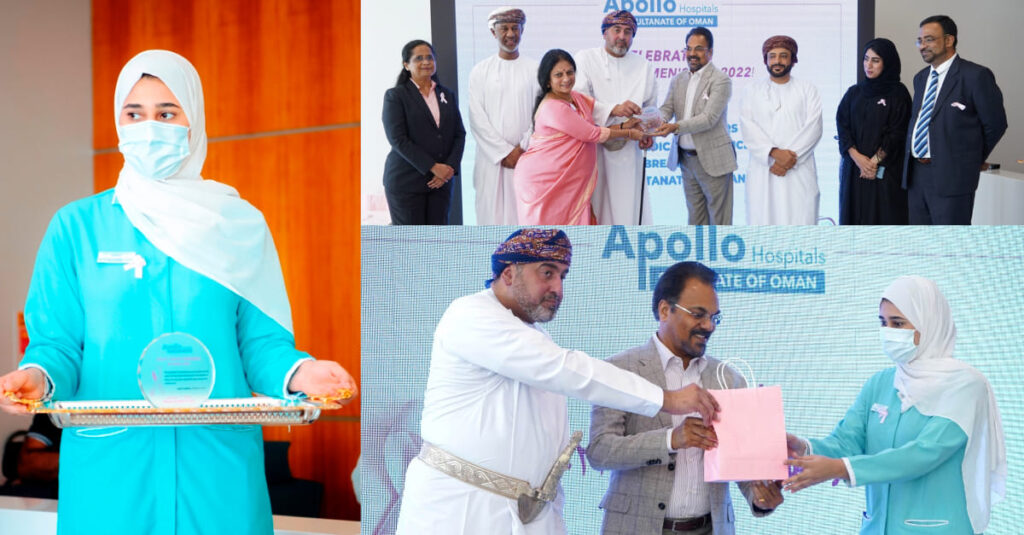 Need to detect more
Representatives from the MoH, the SQCCCRC, from the private sector were felicitated. "We have more than 30 hospitals in the private sector currently and they see thousands of patients every day and more than eight million visits every year. We see the quantity and quality of the hospitals and the medical staff. We need to do more on detection including illnesses such as diabetes, hypertension as well as breast and other cancers," Dr Muhanna Al Maslahi, director general, private health establishment, MoH, said.

Most common cancer
"Globally female breast cancer has surpassed lung cancer as the most commonly diagnosed cancer, with an estimated 2.3 million new cases 11.7 percent in 2020 as per Globocan. When you become 40 – that is the age when your country needs you the most," pointed out Dr Adil Al Ajmi, head of breast programme SQCCCRC, explaining how cancer cases are being detected in the 40s and the consequences of that.

Breast cancer highest among all
Dr Taha Al Lawati, senior consultant onco-plastic breast surgeon from the Royal Hospital said that breast cancer is the highest among all patients be it Omanis or otherwise. According to him, collaboration is the most important thing between government and private sectors, "as breast cancer should be fought by both of us for early diagnosis as it is the key to prevention and cure breast cancer; key to success is screening and early detection of breast cancer. With early detection we can reach a survival rate of 99 percent, while late diagnosis has hardly four (4) percent survival rate".
Recognise efforts of unsung heroes
"The Apollo team felt that the best way to celebrate Omani Women's Day would be to recognise the efforts of the unsung heroes in appreciation of their achievements and dedication in the fight against breast cancer," explained Debraj Sanyal, Coo, group business head, Apollo Hospitals Oman.

Breast Cancer Clinic
The celebration also marked the move towards establishing a Breast Cancer Clinic at Apollo Super Specialty Hospital. Throughout the year, Apollo Super Specialty Hospital is offering special tests to encourage screenings for early detection to guarantee and maintain quality life.

Block cancer
After receiving the felicitation, in her presentation Dr Rajyashree said, "Block cancer out, prevent cancer and protect yourself from cancer. Prevent by changing your life and make it healthy by including proper diet, regular physical exercise staying fit and not obese. These are all interrelated."

Newest private sector facility
The Apollo Super Specialty Hospital based in Al Hail, is one of the newest private sector facility in Oman dedicated to tertiary healthcare. In addition to providing complete maternity care it is now expanding to a breast cancer clinic. The hospital offers comprehensive management of all the modern diagnostic and treatment facilities.