MUSCAT – Aloft Hotels, the innovative brand for music enthusiasts and tech-savvy travelers, part of Marriott International's extraordinary portfolio of 30 hotel brands, announces plans to open Aloft Muscat in Spring 2023. The highly anticipated opening is expected to mark the brand's debut in the Sultanate of Oman.

Designed for the next generation of traveler the hotel will be a new vibrant destination and will feature eclectic spaces, distinctive design, live music programming, and 199 modern loft-style guestrooms complete with the brand's signature amenities.

The hotel is expected to feature three dining outlets, places for guests to come together, including a Californian style eatery, an international restaurant with a Mediterranean twist, and the brand's signature bar W XYZ®.  Other facilities will include a rooftop pool and gym.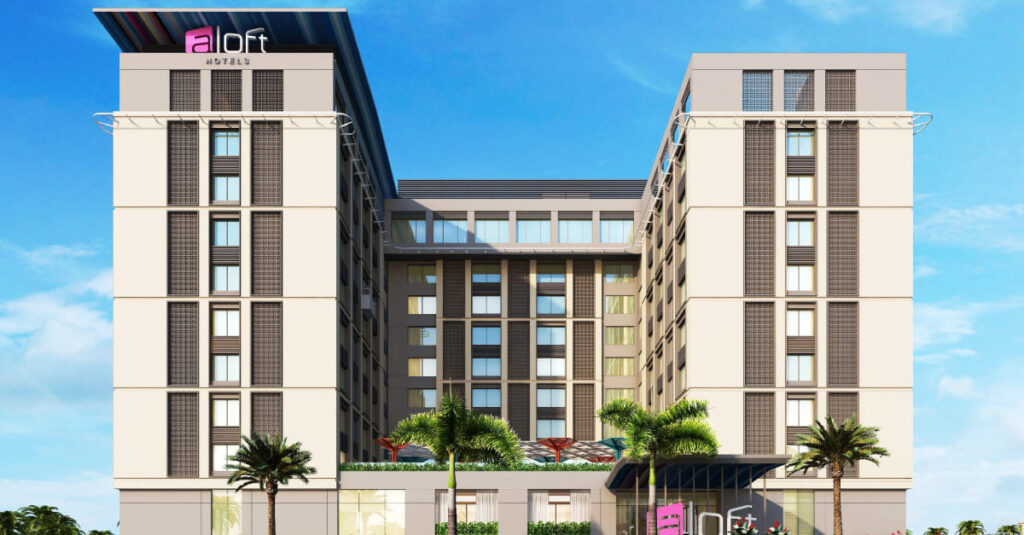 Danny Al Chayeb will take the helm of the new hotel as General Manager. With more than two decades in hospitality across the MENA region, Al Chayeb brings a wealth of experience to Aloft Muscat, including a proven track record of creating new food and beverage concepts and providing the highest guest service standards. A hands-on GM, he aims to turn moments into memorable stays for guests, with a desire to lead by example while driving business.

"We are thrilled to debut Aloft Hotels in Oman. A brand known for its design-driven and tech-savvy ethos, Aloft Muscat will bring a modern, friendly, and comfortable option for global travelers and a new hotspot for residents in the Sultanate," said Danny Al Chayeb, General Manager.

Aloft Muscat is located 10 minutes from Muscat International Airport and is nearby to the city's attractions including The Sultan Qaboos Grand Mosque, Royal Opera House Muscat, Mall of Oman, Oman Avenues Mall, Sultan Qaboos Sports Complex, Oman Convention and Exhibition Center, and three major golf courses.
For more information, please visit http://www.alofthotels.com/
About Aloft Hotels®
Aloft Hotels currently encompasses over 220 hotels in 29 countries and territories. Catering to a tech-savvy, music-loving crowd, the brand offers vibrant, eclectic spaces that thrive off bringing people together. A brand for music lovers and music makers alike, Aloft is best known for its emphasis on innovative music programming through its Live at Aloft platform. Signature brand amenities include WXYZ® bar, Re:mix® lounge, grab-and-go breakfast concept Re:fuel by Aloft®, and pet-friendly program Arf® (Animals R Fun). Aloft moves to its own beat – it is Different. By Design. – using technology and design to enhance experiences and evolve with the needs of its guests. For more information, visit www.alofthotels.com and follow along on Facebook, Twitter, and Instagram. Aloft is proud to participate in Marriott Bonvoy®, the global travel program from Marriott International. The program offers members an extraordinary portfolio of global brands, exclusive experiences on Marriott Bonvoy Moments, and unparalleled benefits including free nights and Elite status recognition. To enroll for free or for more information about the program, visit marriottbonvoy.com.
About Marriott Bonvoy®Marriott Bonvoy's extraordinary portfolio offers renowned hospitality in the most memorable destinations in the world, with 30 brands that are tailored to every type of journey. Members can earn points for stays at hotels and resorts, including all-inclusive resorts and premium home rentals, and through everyday purchases with co-branded credit cards. Members can redeem their points for experiences including future stays, Marriott Bonvoy Moments™, or through partners for luxurious products from Marriott Bonvoy Boutiques®. To enroll for free or for more information about Marriott Bonvoy, visit marriottbonvoy.com.