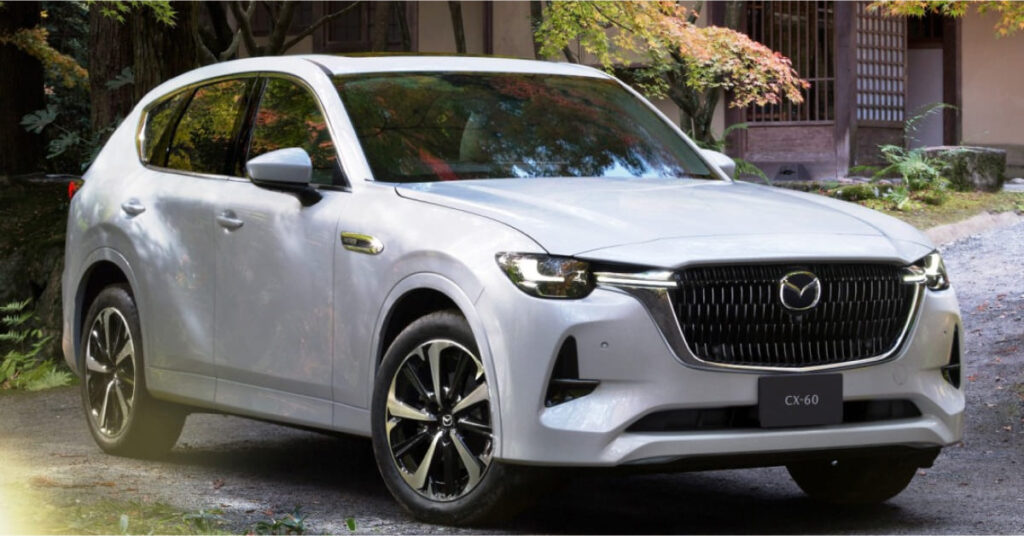 MUSCAT – The all-new Mazda CX-60 Japanese Luxury has officially arrived in the Sultanate of Oman. Mazda CX-60 is a stylish and luxurious SUV that is equipped with a powerful engine, comfortable seats, and a spacious interior to make your driving experience enjoyable. A sneak peek for customers is available at the Mazda showroom locally.

Performance
The new CX-60 takes driving to the next level with its innovative design and state-of-the-art features. The car is built on a scalable platform that provides a smooth and adaptable ride, making it perfect for long journeys or quick errands. The longitudinally mounted engine optimizes the balance of the car, providing a seamless and thrilling driving experience. The front-engine rear-wheel-drive layout of the CX-60 has been purposefully designed to achieve the better weight distribution, while it's 8-speed Activmatic SkyActiv transmission with a clutch instead of torque converters ensures faster, smoother, and more responsive gear shifting, making it feel more like driving a manual gearbox.

Exterior
The Mazda CX-60 is a practical and stylish SUV option for drivers who want performance and looks. Its exterior has impressive features, such as shiny silver alloy wheels and a commanding signature grill. The front wipers are timing adjustable, and rain sensors make driving in bad weather comfortable & safe. The LED headlamps and rear fog lamp increase safety at night, while keyless entry and a power back door add to convenience and security. The CX-60 is available in a variety of colors, including Soul Red Crystal, and Rhodium White Metallic, amongst others.

Interior
The Mazda CX-60's interior is packed with features that enhance the driving experience. The car's steering wheel is wrapped in luxurious leather and equipped with audio controls, sport mode controls, and paddle shifters for optimal performance. In addition, the stylish shift knob is also wrapped with leather, adding to the luxurious feel of the vehicle. You can stay connected to your smartphone with ease using the Apple CarPlay and Android Auto which is seamlessly integrated with the 12-inch multimedia display & eight dynamic speakers. Not only this, but also you can navigate across various features using the commander switch, which adds to the effortless and enjoyable experience of driving. Other handy features include Cargo net, USB ports, and a power outlet socket at the rear providing practicality. The auto-dimming rearview mirror and cloth door trims lend an air of luxury.

Mazda Proactive Safety
Mazda Proactive Safety is a suite of safety features designed to help drivers anticipate and avoid danger. The system uses a variety of sensors to monitor the car's surroundings and alerts the driver to potential hazards. If necessary, the system can also take corrective action to help the driver avoid a collision.
Smart Brake Support Front (SBSF): This system uses a forward-facing camera to detect potential collisions and automatically apply the brakes if necessary.
Mazda Radar Cruise Control (MRCC): This system automatically maintains a set distance between the car and the vehicle in front, even in stop-and-go traffic.
Blind Spot Monitoring (BSM): This system uses radar sensors to detect vehicles that are in the car's blind spots and alerts the driver with a visual and audible warning.
Lane Keep Assist (LKA): This system uses a camera to detect the car's lane markings and automatically steer the car back into the lane if it starts to drift.
With its stunning design, advanced technology, and impressive safety features, the all-new Mazda CX-60 Japanese Luxury is definitely going to be a game charger in Oman. So, what are you waiting for? Visit your nearest Mazda showroom today and get ready for hands-on experience on the all-new Mazda CX-60.

Towell Auto Centre (TAC) is a trusted name in customer service in Oman. It has been in the automobile business since 1972 and is a group company of the W J Towell Group. TAC ensures the easy availability of high-quality motor products and the highest standard of service to its customers.

Mazda has brought quality to the roads of Oman, and TAC has made owning a Mazda an absolute joy. TAC offers excellent after-sales service, genuine parts for all Mazda models, efficient staff, and innovative solutions for a better customer experience.
To find out more about TAC's showrooms and servicing centers, you can visit https://mazdaoman.com/en or walk into any one of TAC's Mazda showrooms situated across the Sultanate of Oman. You can also download the revamped Mazda Oman mobile app to get easy access to everything related to Mazda in Oman.