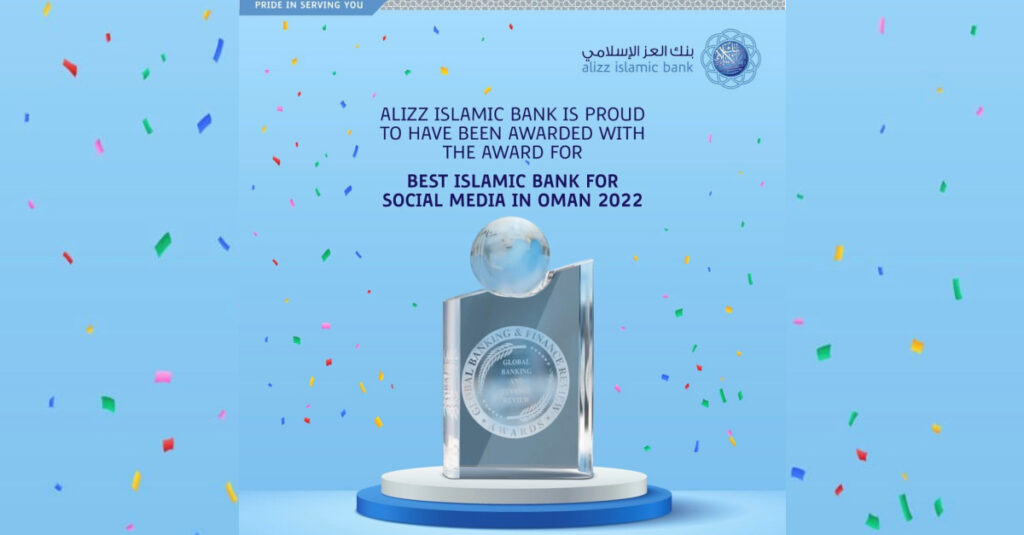 MUSCAT – Alizz Islamic Bank has had a new achievement added to its track record by winning the award of ;The Sultanate's Best Islamic Bank on Social Media' in the Global Banking and Finance awards ceremony held in Dubai as the Bank's strong presence on social media (Twitter, Facebook, Instagram, YouTube, Snapchat and LinkedIn) enables the Bank to maintain a distinguished position among the local financial institutions, given the importance of addressing and engaging the public in interesting topics. Alizz Islamic Bank has used social media to launch its campaigns for the various customer segments and reinforcing its brand and marketing strategies for important accomplishments in this regard.

Commenting on the Bank's receipt of the award Murtadha Jawad, Alizz Islamic Bank's AGM – Head of Marketing & Corporate Communications, said: "Alizz Islamic Bank is proud to have been one of the earliest banks that adopted digital technology as the vast majority of the public continually resort to social media to search for information and receive answers to enquiries. Therefore, it is very important for the Bank to adopt digital marketing strategies as social media which enable the Bank to engage with customers in a more effective & accurate way."

"Digital transformation on all levels including social media keeps pace with developments in this industry. Transformation should not be limited to products only as social media are ever-changing and the public claims for the provision of services across digital channels instead of dependence on traditional means. For us, the best way to promote our services and closely interact with customers is communication through the means they frequently use and are comfortable with, which are, of course, social media on smartphones, given answers to enquiries take 3 minutes only," he added.

"Alizz Islamic Bank always makes sure that it is one of the leading, cutting-edge banks that keep pace with the regional and global trends on social media as well as big data and data analysis. We focus on interaction with our customers as well as the publication of useful, interesting content and analyze data to measure the social media's contribution to the improvement of the Bank's performance," he explained.

Since establishment, Alizz Islamic Bank has sought to strengthen its relationship with its customers and offer varied hi-tech solutions thanks to its solid infrastructure that enables it to offer innovative financial solutions as well as exceptionally quick customer service on the Bank's website, Internet banking, mobile banking, SMS service, call center and ATM, ITM and the Bank's branches. The Bank continues to invest in the existing digital platforms for they are the Bank's bright future. The Bank entered into partnerships with several FinTech to provide the customers with solution. In addition, the Bank was keen to adopt innovative culture and reinforce its basic capabilities. The Bank continues to endeavor to have a digital business model to fulfil the customers' ever-changing requirements and keep pace with the technological evolution.