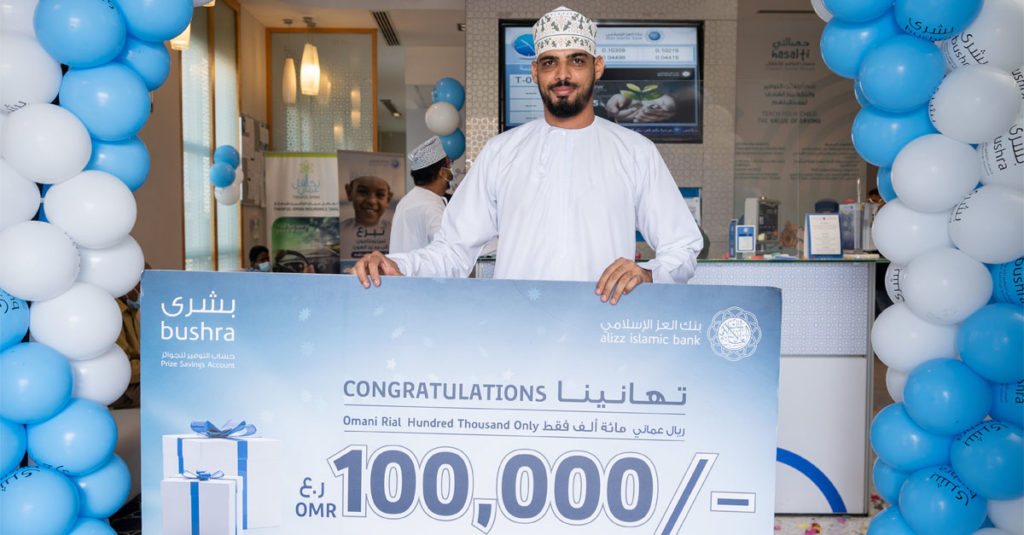 MUSCAT – Alizz Islamic Bank recently held a joyful reception at its branch in CBD to congratulate Abdullah Al-Wahaibi, the winner of OMR 100,000 in the Bushra Prize Savings account's half yearly draw.

Abdullah Al Wahaibi was in for a surprise when he visited Alizz Islamic Bank on receiving a call from Mohammed Al Ghassani, the AGM – Acting Chief Consumer Banking Officer of Alizz Islamic Bank, to visit the branch as he had not yet revealed the happy news to the customer until he arrived. Upon his arrival, Khalid Al-Zaabi, the bank's CBD branch manager, received him and conveyed the joyful news to him. Upon receiving the news, Abdullah Al Wahaibi expressed his astonishment and kept repeating the words, "This is not real, right?" When it finally set in that he had really won OMR 100,000, Abdullah Al Wahaibi said the good news had changed the course of his life.

Speaking on winning the Bushra Half yearly draw he said: "This is the first time that I have won a cash amount and for it to be such a significant amount is truly a dream come true. What gives me assurance and comfort is that the money of these prizes are Shari'a compliant and a gift from the shareholders' funds. I am overjoyed that my Bushra account has brought good tidings. I had to previously postpone many plans, and praise to Allah that I can now achieve everything I was striving for because of the bountiful blessing. I am very grateful to Alizz Islamic Bank for its products and service that are supervised by a legitimate Shari'a body that gives all of us customers comfort and reassurance."
As part of its efforts to reward its loyal customers, Alizz Islamic Bank conducted the Bushra Prize Savings account half yearly draw in the middle of July. Cash prizes were allocated with a financial value of more than 120,000 Omani rials, which is a donation from the shareholders' funds. Nineteen winners who saved in a Bushra account and doubled their chances of winning by doubling their balance won at the draw. The half-yearly prize amounting to OMR 100,000 was allocated to one winner. A total prize value of OMR 30,000 was distributed among three 'Tharwa' customers with each winner receiving OMR 10,000.
Employees of the Ministry of Education who have a Bushra account had an exclusive draw in which an amount of OMR 1,500 was distributed amongst three winners who received OMR 500 each. In appreciation of the roles of the employees working in the Ministry of Defence and the Ministry of Health, Alizz Islamic Bank dedicated special draws for both sectors with three winners from the Ministry of Defence and three winners from the Ministry of Health winning OMR 500 each. Valuing the pioneering roles played by the employees of the Royal Oman Police, Alizz Islamic Bank conducted special draws for them with three winners receiving cash prizes of OMR 500 each. Pensioners also got a chance to win with a special draw held exclusively for them where three of them won OMR 500 each.