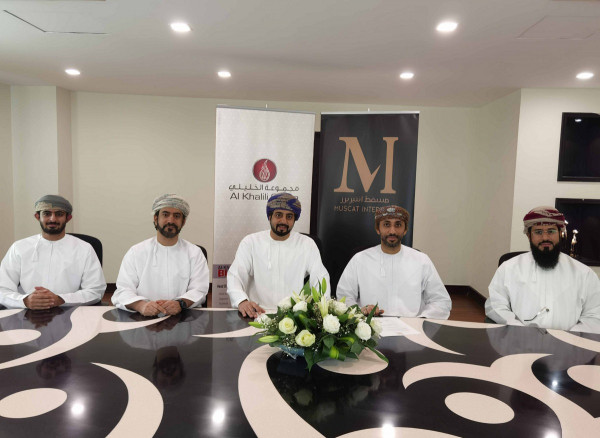 MUSCAT – Al Khalili Group has appointed Muscat Interiors to design and implement all finishing works for the Group's real estate development projects. As the Al Khalili Group previously announced its entry into the real estate development field in cooperation with the tibiaan properties and it has allocated 100 million dollars for these luxury real estate projects.
The agreement between Al Khalili Group and Muscat Interiors was signed at the Group's headquarters in the presence of Fahad Al-Ismaili, the CEO of tibiaan properties who are the exclusive agent for marketing and sales. Sheikh Qais bin Salem Al Khalili, Chairman of the Board of Directors of Al Khalili Group, said, "Quality is the basis of our projects, and the delivery of units according to the highest specifications and finishes to our customers is of great importance to us and here comes the importance of cooperation with field experts, especially young Omani masters of their work."

Sufyan bin Saif Al Harrasi, founder of Muscat Interiors, commented, "Al Khalili Group is one of the commercial groups that are keen to support Omani companies and place their trust in them. We thank them for their confidence in Muscat Interiors, stressing our role in providing the best for the group's real estate projects."
It is worth noting that the first phase of Al-Khalili Group Real Estate projects includes 67 villas in various locations in Muscat and a significant commercial project in Bawshar for which tibiaan properties is the exclusive agent for marketing and sales.