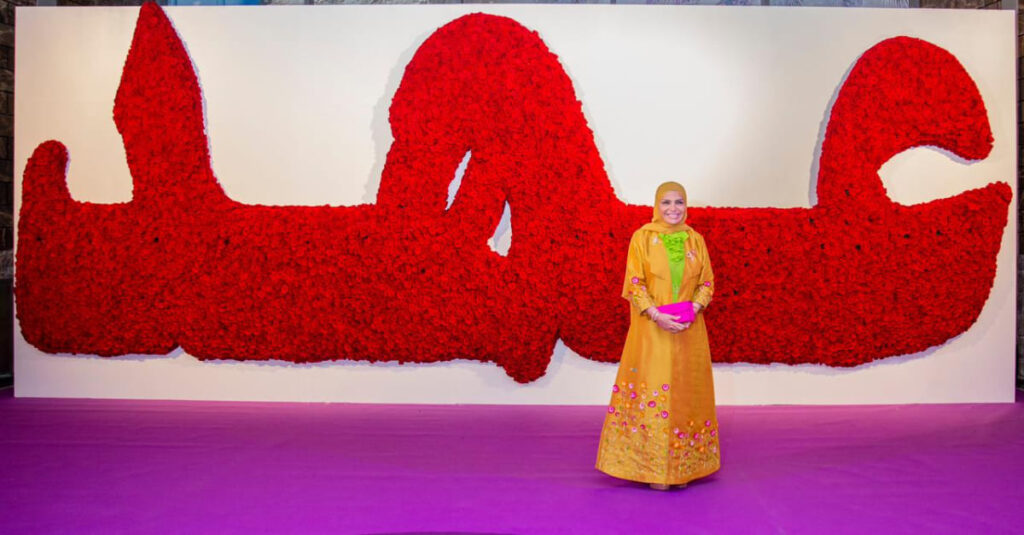 MUSCAT – Paying tribute to Her Highness the Honourable Lady Assayida Ahad Abdullah Hamed Al Busaidi, the Infrastructure, Technology, Industrial and Consumer Solutions cluster of Mohsin Haider Darwish LLC (MHD-ITICS), sponsored an event to set a new Guinness World Record for 'A word written with the largest number of flowers'.

The event was hosted by the Honourable Lujaina Mohsin Darwish, Chairperson, MHD-ITICS. The mammoth task of assembling 12,000 roses, which spelt out the First Lady's name, 'Ahad', began with fabrication work on October 25 and was successfully completed on October 26. It was then displayed at a grand event organised near the Snow Zone area, located on level two of the Mall of Oman. Official adjudicators from Guinness World Records were present to supervise, analyse and follow every step of the process. Adhering to all the stringent criteria, the masterpiece, once finished, stood 8.2 meters wide and 3 meters tall and proved to be a true work of art.

Ideated and conceptualised by Naseem Abdullah Al Fadhli, MD, Integrated Benefits Projects and supported by Haifa Balfaqih, Investment Program Director – Nazdaher and GM, Strategic Planning and Technology, Be'ah, the historic event witnessed the presence of some of the highly-esteemed guests including Her Excellencies, leading businesswomen and attendees from all over the country. Receiving an overwhelming response from the audience, the new Guinness World Record further cements Oman's position on the map as a country filled with unique initiatives and also as a nation raising an empowered generation of women.

Honourable Lujaina Mohsin Darwish said, "With the key message behind this initiative being especially close to our hearts, we are indeed delighted to set this new world record. It not only celebrates Omani women but is a tribute to Her Highness the Honourable Lady Assayida Ahad Abdullah Hamed Al Busaidi. Her unwavering faith in the capabilities of the Omani women of today and continuous appreciation of their achievements has served as a constant motivation for all. It has ignited zeal in every woman to break the glass ceiling and push the frontiers of women leadership."

"Drawing inspiration from our leaders, MHD-ITICS will continue to act as a catalyst of change, encouraging women's contribution to the Omani economy as well as participating and leading in their respective areas of influence and expertise. The strong Omani women have displayed courage, creativity, vision and accomplishment and will continue to play an instrumental role in driving transformation," she added.

A keynote speech was delivered by Honourable Lujaina Mohsin Darwish, which was then followed by the much-awaited reveal and showcase of the largest flower word. Another key highlight of the event was the large LED display wall with snippets and pictures of the First Lady of Oman. All attendees were gifted a branded scarf and were entertained with live music, a food and beverage counter and photo opportunities.
MHD-ITICS, under the guidance of Honourable Lujaina Mohsin Darwish, has achieved commendable growth in recent years. Moreover, the Company has been at the forefront of setting new benchmarks in the industry and supporting its women employees to assume various critical roles in the organisation.
DS-