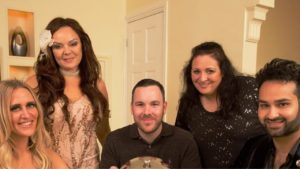 DUBAI –August 2020: OSN in collaboration with ITV Studios Middle East, has started filming the highly anticipated reality show Come Dine with Me, 'Yalla Neta'asha'.

Following a UAE-wide casting call that took place in June earlier this year, contestants have been selected and shooting has now begun. The initial episodes are being filmed in contestants' homes across Dubai in Dubai Marina, JBR, JVC and Warqaa. Future episodes are planned to be filmed across the other Emirates.

Shortlisted contestants have been selected to take part in the show based on their larger than life personalities, passion for hosting and cooking and on-screen charisma. In line with the original format, each week four contestants will take turns hosting each other at their houses for a dinner party where they have prepared a three-course dinner over four consecutive nights. Guests will then secretly rate the evening out of ten with the top scorer revealed at the end of the week.

Rolla Karam, Interim Chief Content Officer at OSN said "Arab culture is synonymous with hospitality with the concept of "diyafa" entrenched in Arab history. With 'Yalla Neta'asha' we hope viewers will see a different kind of reality TV, something new and engaging and created right here in the region. We want to showcase the region's love and passion for food, cultural diversity and Arab hospitality in the show in a fun and entertaining way. Filming is underway for the first season and if the first few episodes are anything to go by, viewers are in for a treat with Season 1."

Catch the 45-episode series of Come Dine with Me, 'Yalla Neta'asha' on OSN and the OSN streaming app weekly from Sunday to Thursday this fall.