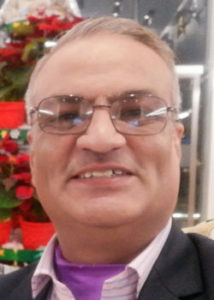 Tarun Sachdeva
Regional manager – Asia
Fashion Sourcing France (Digital Platform)

The world is still in a transition mode – stuck in a stage where it is slowly evolving into a new, post COVID-19, future. But as the virus continues to wreak havoc, and with no signs of it abating, we are all stuck in a neither here nor there COVID-19 situation.

But whether we are currently the better or worse for it may require proper scrutiny. At a cursory glance, one would say that although there is social distancing, this COVID-19 has in some convoluted manner managed to help cement family bonds. There is a sense of togetherness, which extends beyond the need to distance one physically and has brought family members closer to one another in their hearts. This is an apt example of how distance makes the heart grow fonder, in the truest sense! And this is a welcome change in a world where even family values were slowly eroding.
As that happened, the people who are now seemingly confined at home haven't forgotten their responsibilities at the work front. Here also there is a sense of belonging where a good number are working hard to bring in order and control in the chaos that could otherwise emanate in a remote 'office' setup.
No automatic switch
Of course, there is no automatic switch that could be put on for all to start working from home! No, it didn't happen like that – it took them time to acclimatise with the new work-at-home 'work style' whilst they are confined in their homes. But whether it was difficult or whether there were challenges, the people concerned have overcome all that and have begun to produce results at work sitting at home. Now isn't that a new work order?
Will it not coalesce into a new world order, which will see employees working from home, deliberating on resource management and productivity?
However, at the other end of the spectrum, there are challenges: It will take time for businesses to analyse the new consumer trends when this war with the virus eases and the world slowly begins to open. Currently the whole consumer world is focused only on providing essential commodities and services.  So when the world sort of 'reopens', then several new challenges are bound to crop up. But these will be challenges that can be mounted.
Digitalisation moving at breakneck speed
A world that is moving at breakneck speed towards all things digital will also produce changes in consumption and purchase trends. Health and medical services worldwide have already started quickly evolving during the pandemic: e-Office in government and PSUs and supply chain are elements embedded in the new but ever changing world trade scenario.
New digital platforms will continue to emerge so as to provide continuous evolving business models. Digitalisation of world economies and business models, which began a few years ago will now only speedup to ensure less human to human interaction and remote access for services and products while sitting in one's own comfort. Better health immunity will also be an important aspect to consider before one enters into an institution or an organisation.
Risk mitigation foremost in the minds
Meanwhile, governments across the world have started exploring the possibilities of ensuring that their information security does not get compromised in any manner. The other viruses, which we have been habituated to, but have always been worried about, like the ransom virus and malware will keep affecting individuals and businesses world over. So we have to watch out for them too!
Therefore risk mitigation is foremost in the minds of those dealing with evolving digital economies. The governments are spending millions to track hackers and securing their systems worldwide. Research and development in every field, with technology sharing and technology transfer between the countries will also take a new shape.
Future – post COVID-19 – will rise in new business models
The future — post COVID-19 — will see the rise in new business models in almost every domain. The task will be to manage the challenge of creating new job opportunities, which will incorporate social distancing and also proper work from home timetables.
The new models will also help create a new sphere for younger generations to work in suitable job environments that also absorbs novices. Thereby newcomers will be given opportunities to gain proper experience. It will also give them time to hone their inherent skills and thereby serve in bringing out a new breed of talented, skilled and more adept workforce for the future.
Disseminating work culture
Disseminating work culture among skill and non skilled resources will help add value and also contribute to productivity. It would also be good to explore the idea of transforming cost centres to become profit centres for every vertical in the industrial sphere.
Retail industry should evolve
It is time for the retail industry to change and evolve and add proper value for the customers by bringing their ware right down to the latters' neighbourhood. Major retail chains like Carrefour, Lulu, BigBazar, WalMart, should adopt these resolutions for the benefit of their customers.
They will have to change and come forward with digital platforms to address the world order. New investment plans should be adopted that not only enhances the supply chain management but also at the same time ensuring complete safety for the customer; proper sanitation process should be implemented at all levels so that the end user is assured of an infection-free safe product.