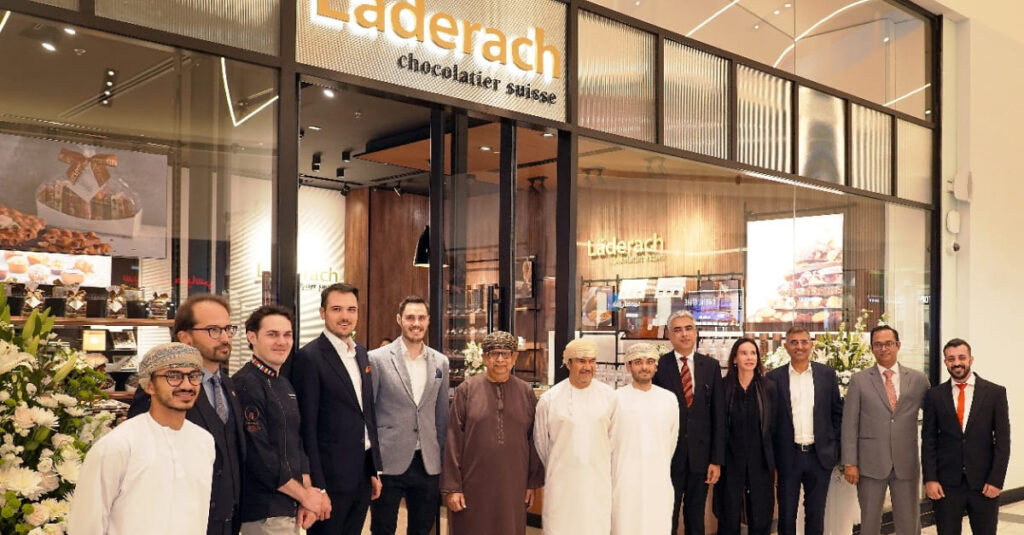 MUSCAT – Khimji Ramdas (KR) and Khoory and Sons opened the doors of a luxury chocolate store at the Mall of Oman in the presence of H E Thomas Oertle, Ambassador of the Swiss Confederation to Oman, along with members of the Läderach and Khimji Ramdas families.

With every aspect of its interior design embodying the Läderach aesthetic and exuding the core values of Swiss chocolate, the store is located on the left side of Entrance B, on Level 3, at the Mall of Oman. A treat for all five senses, the boutique features a dedicated 'FrischSchoggi' (fresh chocolate) counter, where chocolate lovers can select from multiple varieties of Läderach's iconic hand-broken chocolate bark.

The store is also home to an assortment of decadent delights, ranging from hand-crafted 'pralines and truffles', 'tartufi' (Italian-inspired sweet truffles), 'snacking' (chocolate snacks), to the 'tablet' (pure chocolate bars); all of which are prepared as per the highest standards of confectionery-making. That's not all, the boutique is equipped with a unique customization station that enables guests to create chocolate boxes for every occasion, personal or professional.

Speaking on the sidelines of the boutique's opening, Anil Khimji, Director, Khimji Ramdas Group stated: "Khimji Ramdas recognises that today's customers are not just looking for world-class brands, but also seeking unforgettable, premium experiences. Therefore, we are pleased to have opened Läderach store in the heart of the biggest mall in Oman. Läderach, as we all know is dedicated to introducing innovative ideas that offer unparalleled chocolate indulgence; the new boutique characterizes this, and showcases our joint commitment to providing customers with a personalized and distinctive experience."
The exquisite taste of Läderach chocolate originates from both the rainforests and the Swiss Alps; with Cocoa, Läderach's most important raw material, traveling from Ghana and South America to the Läderach factory in Glarus (Switzerland). It is noteworthy that right from the cocoa bean to the shop counter, Läderach oversees the entire production process, with all their chocolates being crafted in Switzerland. By adopting this comprehensive approach, the Swiss chocolatier ensures the premium and sustainable quality of its cocoa, which is then used to create tenderly smooth melting Swiss-chocolate creations.
Johannes Läderach, CEO of the Läderach Group mentioned: "Customers in Oman share our passion for freshness, taste and quality. It is hence our priority to bring to them the delight of freshly-made premium Swiss-chocolate, where the quality of each ingredient and the manufacturing process itself is meticulously scrutinized. Since our approach is infused with creativity, we aspire to constantly surprise customers in Oman, as we do with customers' world-over, and provide them with a luxury chocolate experience that can be savored with all their senses."