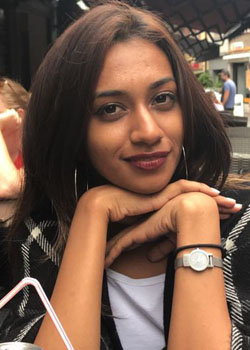 Sadiyah Manidhar
Student, German University of Technology – Gutech (OMAN)

The world is not new to online education. But today we have seen a quantum leap in its presence because COVID-19 has necessitated such a change. It has hastened the online education sector of almost every country. Mobile networks have become the preferred platform. The underlying point in all this is that almost everyone has taken the necessary steps to ensure that learning never stops. Both students and teachers have now opted for online methods to further education.  There is no other choice.
Students worldwide are unable to return to campuses because of this terrible pandemic. Colleges and universities, in every corner of the world, have shut down their campuses and moved classes online.
Relying heavily on digital platforms
Educational and professional organisations have grown to rely heavily on digital platforms to remain operational. My university for instance, has declared an online semester. Travel restrictions in place have suspended pre-planned external work, such as thesis and internships.
The Corona virus crisis has thrown the business world in to turmoil and while disrupting the educational scene it has affected students and teachers alike. Internship, which is an important stepping stone to the working world for many university students and new graduates, has been stopped ever since the COVID entered the scene. This move by the companies has made many a young student lose the opportunity to gain valuable experience.
A spanner in the works
Students, who have to complete their projects and theses, are especially concerned about delaying their graduation. Not being able to work on projects would require them to postpone the work to a later date. Internships and employment opportunities post graduation face uncertainty.  As is the case, companies are quite often reluctant to give a chance to young, inexperienced youth, but because of internships, the new graduates often get a chance to taste the real work world and a good mention of the experience in their CVs (if they are in a hurry to get a job). And these young interns have a better chance in performing in the real world later. But the virus has sadly thrown a spanner in the works of many such students who were hoping to get a chance to experience a professional work environment.
Unable to cross the divide
When we started out we were always made aware that the world is full of challenges and we had to find ways to overcome them. But, no one had foreseen a challenge like the COVID-19, which literally pulled the rug from beneath us. The challenges it has brought us; the innumerable changes and disruptions it has caused are too numerous to be enumerated here. The virus has changed the way we walk, the way we work, the way we think and the way we breathe.
It has changed our lives in every manner possible. If adults find it difficult to cross the divide, imagine the plight of their children.
Students have showed resilience
However, students have showed amazing resilience and have battled the odds to face the reality and when it comes to learning, looked for other options, but of course, again online. In the face of such uncertainties, we have to be flexible and embrace changes and plan ahead of time.
Starting over will be difficult
And the question is will we be facing an easier world post COVID-19? Will the challenges be less? Hardly! In my opinion, breaking the quarantine routine and starting all over again would be the biggest challenge. Pending work that was not accomplished via digital platforms would be piled up at the end of the quarantine period.
Gap between the haves and have-nots
Those without access to Internet connection would be the worst affected. As always, there will be a big gap between the 'haves and the have-nots'. People who are monetarily endowed will always be a step ahead in this fight against COVID, especially in such situations. Students from both these groups will be facing the challenges posed by COVID in different ways. Those without having access to the Internet would have to suffer a delay in the semester or drop courses.
Self awareness can make a difference
Only a few among us are front line workers. But even we can make a difference.  If all of us put our minds together we can jointly bring out lot of changes for the better even in a crisis like this.
I think the best way to make a difference is to be self-aware – of your actions and their impact on the society. As I live with my parents, self-quarantining was necessary. I avoid unnecessary trips to the grocery stores or going out. I have been using my social media to create awareness about the need to quarantine. I hope to volunteer to do grocery shopping for my neighbours to prevent exposure, and donate hand-sanitisers, gloves and masks to those who may not have access to them (construction workers, car washers, cleaners).
Considering that, most of the temporary service staff may not find work currently and would have a lack of income, I would try to check with at least those whom I am familiar with and provide their advance payments.