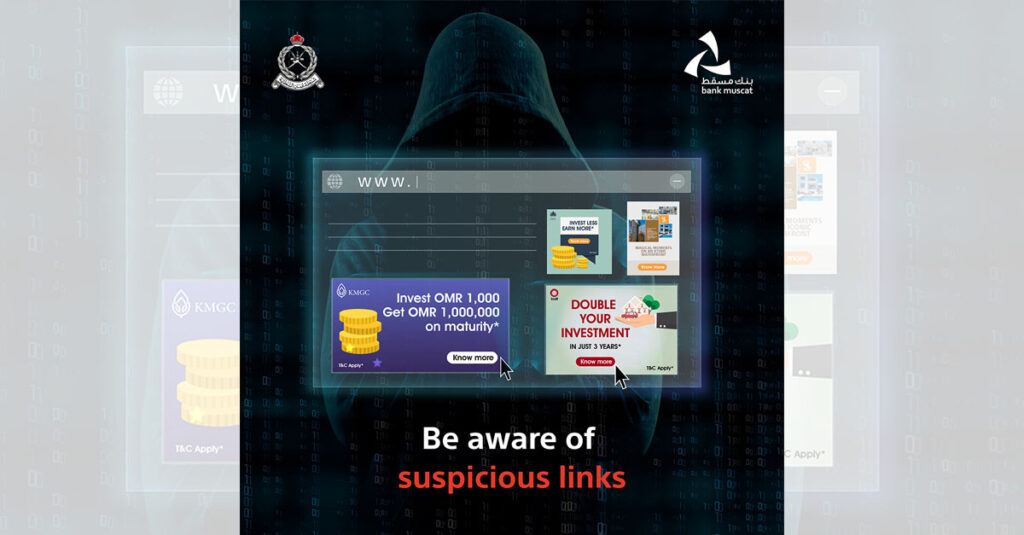 MUSCAT – The Royal Oman Police and Bank Muscat have announced that they will continue to cooperate closely and partner in implementing their joint anti-fraud campaign for the third consecutive year. This announcement comes after the great success of the campaign in previous years as well as the excellent feedback from the general public regarding enhanced awareness of various types of fraud and preventing them. With digital payments building momentum over the past, criminals from across the globe have increased efforts to defraud the general public, including new ways to cheat people through fake business deals, products and services.

The awareness campaign is being carried out as part of social responsibility using various media channels including Oman TV, radio, print, online media, and social media. The jointly-run campaign advises the public to always verify who they are dealing with before conducting any transaction, and also follow 'best practices' for their digital safety. The campaign provides examples of how fraudsters are perpetrating fraud and the consequences of blindly trusting people, especially when making purchases through the Internet without being sure of the seller's credentials. The messages of the 2022 campaign provide examples of how fraudsters are perpetrating fraud and the consequences of sharing personal or banking data with others. This is especially true when conducting transactions online.

A number of informational videos and messages are being broadcast to the general public through both traditional and digital media, which emphasizes the prevention of fraud that targets children and youth as well as their parents through online games that steal banking data, phishing emails that target businesses and individuals etc. The campaign has pointed out that legacy communication channels like email need not be very secure as fraudsters can use their technical knowhow to hijack emails between a customer and a legitimate business through "Man in the Middle attacks. In such instances, the fraudsters replace the details mentioned for fund transfers with those of the fraudster such that funds are transferred to the wrong account.

In some cases, fraudsters also try to pressurize or blackmail victims to share their OTPs, CVV security code, passwords and PINS of their cards and bank accounts. Once these details are shared, the victim's bank account may be accessed by the fraudster and funds transferred out of the account. Often fraudsters may claim to be employees of financial institutions or security officials to convince their victims to hand over the details. The campaign reminded all people that these details should never be shared with anyone, including those claiming to be a bank employee or an official. With cases of electronic fraud increasing globally and often causing tremendous financial and psychological harm to both individuals and businesses, Bank Muscat has further strengthened its efforts to combat this crime by partnering regularly with a number of institutions and authorities including the Royal Oman Police, Ministry of Transport, Communications and Information Technology and other institutions. Also, the public can easily contact the Royal Oman Police hotline at 80077444 to report fraud or for any fraud-related queries.

Notably, the excellent efforts of the Royal Oman Police in promoting awareness related to electronic fraud is today well recognised at all levels. Earlier, the Royal Oman Police won the Award for the Best Awareness Film in Combating Cybercrimes at the 44th Conference of Arab Police and Security Leaders 2021 held in Tunis in 2021.