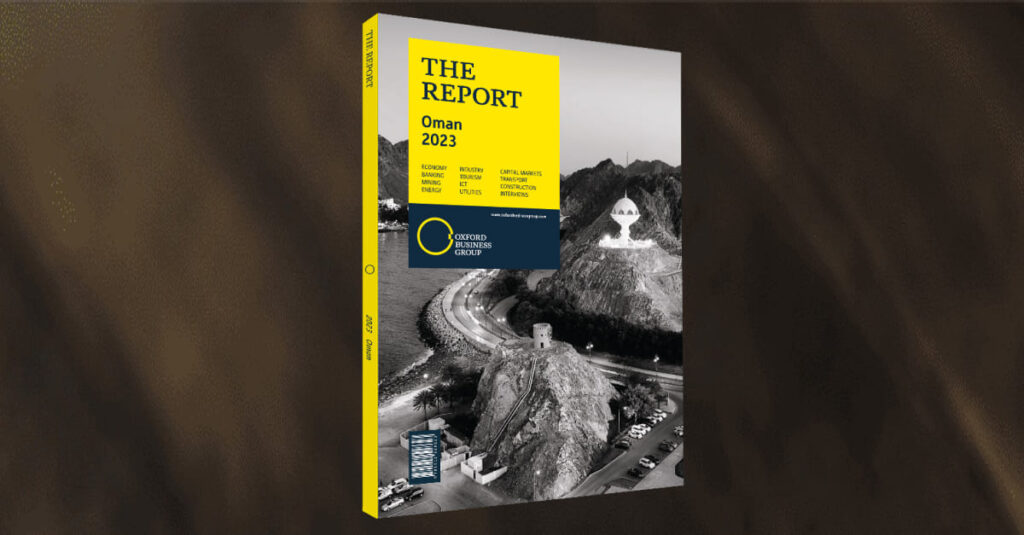 MUSCAT – A new report produced by the global research and advisory firm Oxford Business Group (OBG) explores Oman's progress towards achieving the long-term goals laid out in its Vision 2040 roadmap, which include diversifying the economy, creating sustainable cities and accelerating privatisation and Omanisation.

The Report – Oman 2023 shines a spotlight on the sectors that are ripe for growth in support of these aims, which range from tourism, manufacturing and energy to ICT, transport, mining and agriculture. It also tracks the positive impact that legislative reforms introduced to enhance the sultanate's business environment are having on investment inflows and private sector development. Oman's industrial, free and special economic zones are a key focus, with analysis on how infrastructure improvements, incentives and concessions are playing a role in attracting investors to these designated areas.

OBG also looks in detail at the sultanate's plans for its energy sector, which include reducing the focus on oil and gas and shifting to cleaner fuels, in line with the goal to become a net-zero economy by 2050. In this section, the country's long-term aim of becoming a global leader in the production and export of hydrogen are also analysed.

Other topics examined include the key role that Oman's robust and well-regulated banking sector is playing in the pandemic recovery phase, with a fertile financial technology ecosystem proving to be instrumental in increasing financial inclusion.
The Report – Oman 2023 contains a viewpoint by Sultan Haitham bin Tarik Al Said, together with a detailed sector-by-sector guide for investors.
It also features interviews with a broad range of high-profile personalities, including: HE Dr Khamis bin Saif Al Jabri, Chairman, Oman Vision 2040; HE Tahir bin Salim Al Amri, Executive President, Central Bank of Oman; HE Abdulsalam bin Mohammed Al Murshidi, Chairman, Oman Investment Authority; HE Dr Ali bin Masoud Al Sunaidy, Chairman, Public Authority for Special Economic Zones and Free Zones; and Nasser Al Maqbali, CEO, Minerals Development Oman.

Commenting after the launch, Oliver Cornock, Editor-in-Chief, OBG, said that Oman had doubled down on its efforts to reduce its dependence on the energy trade since 2020, as evidenced by the implementation of investor-friendly reforms and development plans aimed at promoting economic growth and increasing employment, while tackling the fiscal deficit.
"The recently improved public-private partnerships law, in particular, will be the key in helping to boost inflows for upcoming projects, including the sizeable infrastructure expansion works taking shape," he said. "Many of these transport initiatives, including planned ports, roads and airports, are supporting Oman's plans to develop its tourism industry and attract investment for the manufacturing segments, which, in turn, will broaden the economic base."

Jana Treeck, OBG's Managing Director for the Middle East, added that Oman was also benefiting in the recovery period from a pre-pandemic move to prioritise advanced technologies and innovation in its investment drive. "Our report shows that an earlier focus on ICT is now paying dividends, with the sultanate's digital economy supporting businesses in key sectors marked for growth, especially start-ups," he said. "Looking ahead, we expect tech-led innovation to remain at the heart of Oman's socioeconomic development, helping to improve efficiencies, strengthen infrastructure and attract investment, while ensuring new growth is sustainable."
The Report – Oman 2023 has been produced with the Ministry of Commerce, Industry and Investment Promotion, and Ominvest. It marks the culmination of more than six months of field research by a team of analysts from OBG. The publication assesses trends and developments across the economy, including those in macroeconomics, infrastructure, banking and others.

The Report – Oman 2023 is available online and in print. It is one of several highly relevant, go-to research tools being produced by OBG, which include Future Readiness and ESG Intelligence reports, alongside a range of Growth and Recovery Outlook articles and interviews.