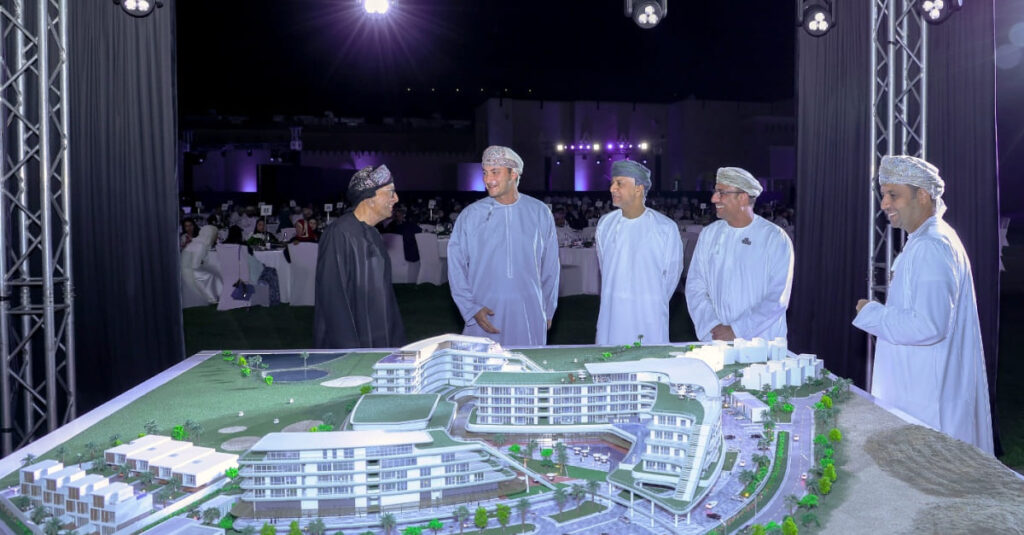 MUSCAT – Oman Real Estate Investment and Services LLC (ORIS), the real estate arm of Oman International Development and Investment Company (OMINVEST), has unveiled details of its latest project in Madinat Al Erfan, named 'LA VIE', which translates to 'The Life' in French. The project was announced during OMINVEST's 40th Anniversary Celebrations.

Touching on the project's objective, Abdulaziz Al Balushi, Group CEO at OMINVEST, said, "Through this project, OMINVEST aims to support the Sultanate's efforts in enhancing the role of tourism and sports sector in the diversification of the country's economy. LA VIE will be a valuable addition to the sector's infrastructure, attracting top brands in tourism and sports from around the world to operate its various facilities. It will also provide several job opportunities for Omani nationals, which aligns with the objectives of Oman Vision 2040. As an enabling body, Ominvest is committed to realising this vision in a way that meets everyone's aspirations."

Nasser Al Shibli, Chief Real Estate Officer at Ominvest, explained that "following the successful completion of our iconic 'Ominvest Business Centre', we embarked on a search for a new project that could offer something unique and add value to the city of Muscat. This was why we selected Muscat Hills. It was the ideal location to develop a distinctive residential, sports, and tourism project that could embody the city centre concept while serving as a natural hub for entertainment and family activities. This dream has become a reality today, and the project, once completed, will undoubtedly be a wonderful addition to the area's aesthetic appeal."

Covering an area of approximately 610,000 square metres, the LA VIE project will feature the re-opening of one of the region's largest natural golf courses, complete with 18 holes and a private club for golf enthusiasts. The course and clubhouse will be managed by the renowned golf management company – 'Troon', which operates over 750 golf clubs across 30 countries worldwide.
With a built-up area of 64,000 square meters, the LA VIE project will comprise of residential, commercial, and tourism buildings. The centrepiece of the development is an 80-room boutique hotel managed by global hospitality giant – TIVOLI, a part of Minor brand, which is making its debut in the local market. The hotel boasts a rooftop swimming pool that is 70 meters long, providing stunning views of the golf course and will also feature a private health club and spa operated by the world-leading brand 'Anantara'.. Additionally, TIVOLI will manage 100 fully serviced apartments. The residential complex of the LA VIE project will consist of 8 independent luxury villas and 22 apartments, all offering unique views of the Gulf of Oman and the Al Hajar Mountains. The development will also feature approximately 2,800 square meters of retail space, including restaurants and cafes that will host a wide variety of international brands, some of which will be entering the Omani market for the first time, with ample parking for both residents and visitors.
Al Shibli added, "What sets the LA VIE project apart is its focus on environmental and social sustainability, aligning with Ominvest's commitment to international standards across all its activities. The building design features double-glazed windows and a shaded façade, reducing the cooling requirements of the project. Building orientation has also been optimised to minimise UV exposure, while wind tunnels have been incorporated in outdoor seating areas to enhance visitor comfort. The project will use solar energy to heat water and feature walking paths and exercise facilities. Electric vehicle charging units and bicycle facilities will be provided to guests free of charge, with easy access to public transport through collaboration between the development and the public transport company. Moreover, consultants and operators have been carefully selected from the best companies worldwide to ensure adherence to the highest sustainability standards."
Explaining the meaning behind the project's name, Al Shibli said, "The name LA VIE, meaning 'the life' in French, encapsulates the primary objectives of the project – to create a sustainable and enjoyable space for residents and visitors of all ages. The project will offer a wide range of facilities, including housing, entertainment, sports, dining, and leisure activities, with the aim of providing a unique perspective on life."