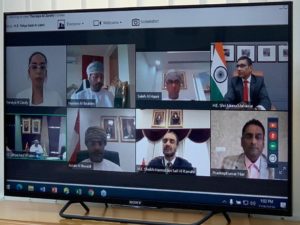 MUSCAT: July 2020 – The Special Economic Zone Authority at Duqm (SEZAD), hosted an Oman-India Investment Webinar on 'Invest in Duqm' recently, in association with Embassy of India, Muscat. The webinar saw participation of more than 300 officials and business leaders from India and Oman.
The webinar was addressed by H.E. Yahya Said Al Jabri, Chairman, SEZAD and Shri Munu Mahawar, Ambassador of India to Oman. There were presentations by Azzan Al Busaidi, CEO, Authority for Investment Promotion and Export Development (ITHRAA): Saleh Al Hasni, Deputy CEO, SEZAD; Hashim Al Ibrahim, Business Director, Port of Duqm Company; Ahmed Al Sheuili, Marketing Manager, Oman Drydock Company and Pradeep Kumar Nair, CEO Sebacic Oman. The Ambassador of Oman to India, H.E. Sheikh Hamad Bin Saif Al Rawahi also attended the webinar.
H.E. Yahya Said Al Jabri, in his address highlighted the world class infrastructure in Oman, ease of doing business and various incentives offered by SEZAD to attract investments. He also stated that the investments in Oman by Indians stood at RO 275 million (INR 53 billion) in 2019.
Ambassador Munu Mahawar touched on the strong bilateral relations and age old economic, social & cultural links between India and Oman. Ambassador spoke on the investment opportunities in Oman and Duqm in particular. He also spoke on the recent economic reforms carried out in India and invited Omani companies to invest in India. He also outlined PM Modi's vision of Aatmanirbhar Bharat (Self-reliant India).
Other speakers focused on the trade and investment opportunities as well as the package of incentives offered by SEZAD for foreign investors and ongoing / upcoming projects in the Webinar.
India and Oman enjoy strong economic and commercial relations and India is among Oman's top trading partners. During 2019-20, the bilateral trade was US$ 5.93 billion. Indian firms have invested heavily in Oman in various sectors like iron and steel, cement, fertilizers, textile, cables, chemicals, automotive, etc. Bilateral Investment flows have been robust, as reflected in numerous joint ventures, established both in India and Oman. According to Oman's Ministry of Commerce and Industry, there are over 4100 Indian enterprises and establishments in Oman with an estimated investment of US$ 7.5 billion.