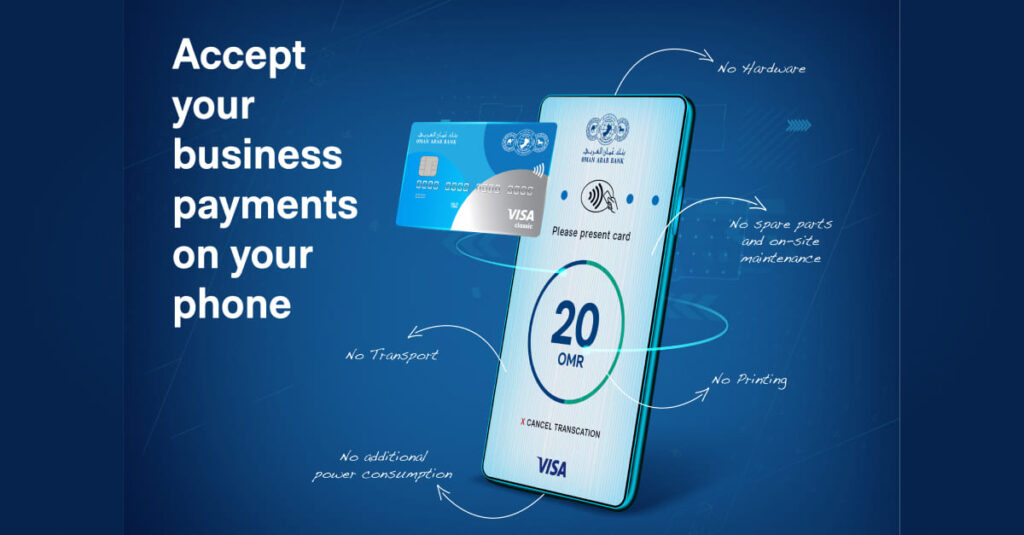 MUSCAT – OAB continues to drive its digital transformation agenda forward with its latest digital solution targeting small businesses. OAB has partnered with Visa, global leader in digital payments, to launch the OAB Point of Sale (Mobile Pay) Payment Solution for all small business owners and SMEs. With this new solution, merchants will be able to transform their smartphones into a payment terminal and accept contactless payments from their customers using an NFC-enabled Android device.

Small business owners or SMEs with a corporate account at OAB, can now access the new Mobile Pay solution by simply downloading the Mobile Pay app from the Google Play Store. Once the registration process is complete on the app, the Bank will activate the service within 24 hours. The business owner will then receive a verification code to confirm the registration and will be able to start using this payment solution instantly. When using this payment solution, customers will be able to pay using their contactless cards and receive their payment receipt by e-mail or SMS seamlessly.

OAB designed this convenient and rapid payment solution with business owners' needs in mind, reducing their reliance on hardware POS terminals, paper roles, data connectivity and technical maintenance. With this new solution, merchants only require an NFC-enabled Android Device to start receiving contactless payments from their customers. The new Mobile Pay solution gives them flexibility to sell their products and services in a cost-effective way.

Commenting on the launch, Rashad Al Shaikh, Head of the Retail Banking Division at OAB, said: "We are delighted to add the Mobile Pay solution to the range of services we offer businesses at OAB. This new service highlights our efforts to provide technology-oriented solutions for our customers in line with OAB's Digital Transformation Strategy. The Mobile Pay solution is tailored to SMEs' needs, enabling them to replace traditional POS devices with their Android smart device. Highly cost-effective, Mobile Pay allows small businesses to expand their payment options and facilitate all their daily transactions."

Manish Gautam, Visa's Country Manager for Oman, said: "As more consumers seek digital – especially contactless – payments it becomes critical for businesses to expand their acceptance methods beyond cash. OAB Mobile Pay enables SMEs in Oman to accept contactless payments in an easy and cost-effective way so they can reinvent the shopping experience for consumers. We are therefore delighted to partner with OAB to support local businesses in their digital transformation, and support the Omani government's digital commerce agenda."

For any enquiries about this service, customers can contact OAB's FIL Khidma Call Centre anytime on 2475 4444.