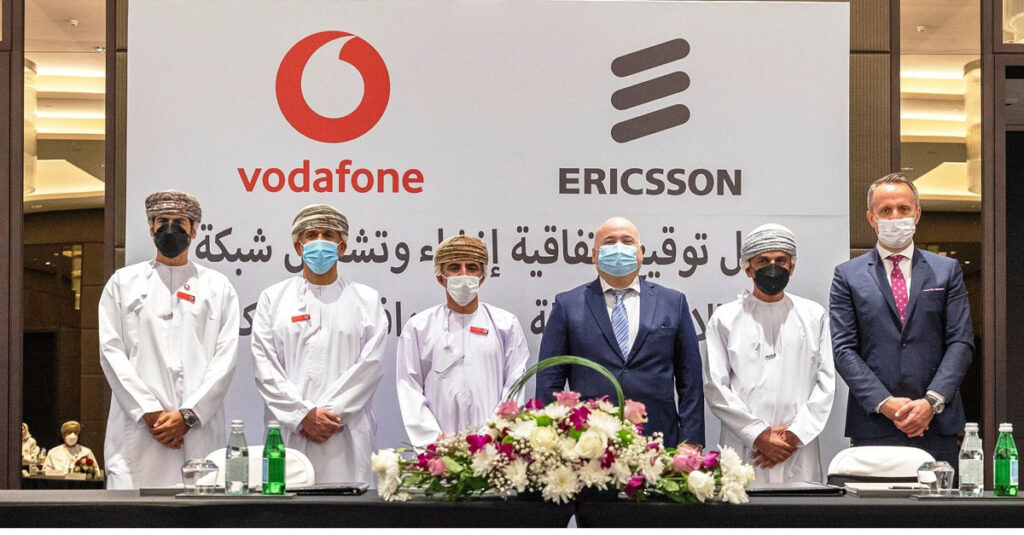 MUSCAT –  Vodafone in Oman recently signed an agreement with Ericsson (NASDAQ: ERIC) to deploy, operate and maintain a new 4G and 5G core and radio access (RAN) greenfield network.

Ericsson will supply a complete core network solution based on Ericsson Cloud Core, NFVI and Cloud VoLTE as well as an end-to-end transport network solution. The greenfield network includes other Ericsson Radio System products and solutions such as the antenna-integrated radio and Ericsson Spectrum Sharing. The end-to-end solution range will deliver a cost-efficient, energy-efficient, and flexible layered architecture design to support 5G from network launch. Vodafone customers will also benefit from Ericsson Voice over LTE (VoLTE) services.

A five-year managed services agreement has also been signed. This will result in an AI-powered data-driven network and IT operations and optimization, enabling Vodafone to enrich its customer experience, drive efficiency and facilitate innovation.

Vodafone will benefit from Ericsson's AI tools and data-driven model to drive efficiencies and a shift from reactive to proactive IT and network operations. In turn, Vodafone customers will get an enhanced user experience with improved network quality and performance.

Ericsson will take responsibility for the design, rollout, operations, management, optimization, and maintenance of Vodafone's network. The move will support the service provider's goal to offer a wide range of new and differentiating services to its customers in Oman.

Bader Al Zidi, Chief Executive Officer of Vodafone says: "Our focus is to ensure that we offer our customers a wide range of differentiating services that will add value to their lives, as well as redefining customer service in the country. We expect high performing Core and RAN technologies and AI, automation, and analytics to further accelerate operational transformation through our partnership. Ericsson has the knowledge and understanding of our requirements. As part of this partnership, we are also joining hands to develop and build the capacity of Omani youth in the areas of technology and information. Our goal is to offer customers an exceptional customer experience as well as upscale the Omani youth, to ensure that Vodafone is able to meet its commitment of bringing superior quality network and mobile communications to the people of Oman through Omani local talent in the long term".

Fadi Pharaon, President of Ericsson Middle East and Africa says: "We are proud to be chosen by Vodafone to deploy and run their entire greenfield network in Oman. This collaboration will lead to Vodafone launching its new mobile broadband service and providing Oman with an additional nationwide mobile network. We are pleased to implement the latest in radio access and core technologies, as well as utilizing the latest in automation, and artificial intelligence software to run the network and secure great user experience."

Ericsson will deliver the complete core equipment for Vodafone's network, as well as radio network equipment including the  Ericsson Radio System antenna-integrated radio, and Ericsson Spectrum Sharing to utilize spectrum in the most efficient way possible, by instantly – on a millisecond level – share spectrum between 4G and 5G. The deal also entails an end-to-end transport network – which will enable significant savings through an efficient and flexible layered architecture design.

The greenfield network will feature Ericsson Cloud VoLTE, Ericsson Cloud Packet Core, Ericsson NFVI, Ericsson Network Manager, Ericsson Orchestrator and Ericsson Cloud Deployment Engine.