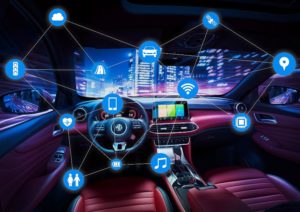 JULY 2020: MG Motor has confirmed that it is planning to bring internet-connected cars to the Middle East from as early as 2021. The British-born brand, which has enjoyed exceptional growth across the region over the past couple of years, is benefiting from major investment in this new technology by its parent company, SAIC Motor.
SAIC Motor is a pioneer in the field of intelligent car development, with significant experience exploring and deepening the integration of artificial intelligence (AI) technology and the automobile industry. Through its various sub-brands, the company has already sold more than 1.7 million internet-connected cars in markets around the world, and is now focused on exploring ways of developing intelligent driving technology that is technically reliable, affordable, safe and controllable.
New technologies like AI are set to drive the continuous improvement and upgrading of automotive products and services. Customers will expect more from the driving experience in the future, and SAIC Motor is developing a new intelligent cockpit with 5G technology that will increase interaction between the car and the driver, so that the car truly becomes an intelligent and convenient mobile terminal.
From the perspective of technological development, "defining a car by its software" is becoming mainstream, making it essential for car companies to adapt. Software is not only core to the development of the auto industry from "electric" to "intelligent network", but also key to the differentiation of future automotive products and services.
As a result, at the end of 2019 SAIC Motor set up a software centre to accelerate the continuous upgrading of autonomous driving and mobile services by integrating resources and developing a unified data platform.
At the same time, the company is striving to independently develop an exclusive framework for electric vehicles and a new electrical framework with the integration of "on-board central brain + domain controller", and is cooperating with chip research and development (R&D) enterprises around the world to create customised chips. In the future, SAIC Motor is set to continue to improve its core capabilities in AI, big data, cloud computing and internet information security to speed up the application of software technology in products and services.
Tom Lee, Managing Director of MG Motor Middle East, commented: "Accelerating the integration of new technologies with the automobile industry and continuously stimulating new drivers are essential for transforming and upgrading the automobile industry, especially in light of the challenges we are currently facing across the world. In the Middle East, MG cars are already well-known for featuring the latest technology, and this is set to continue as we offer our tech-savvy customers even more choice in the future."
Today, MG is active in nine Middle East countries: Saudi Arabia, United Arab Emirates, Kuwait, Qatar, Iraq, Bahrain, Lebanon, Jordan and Oman.