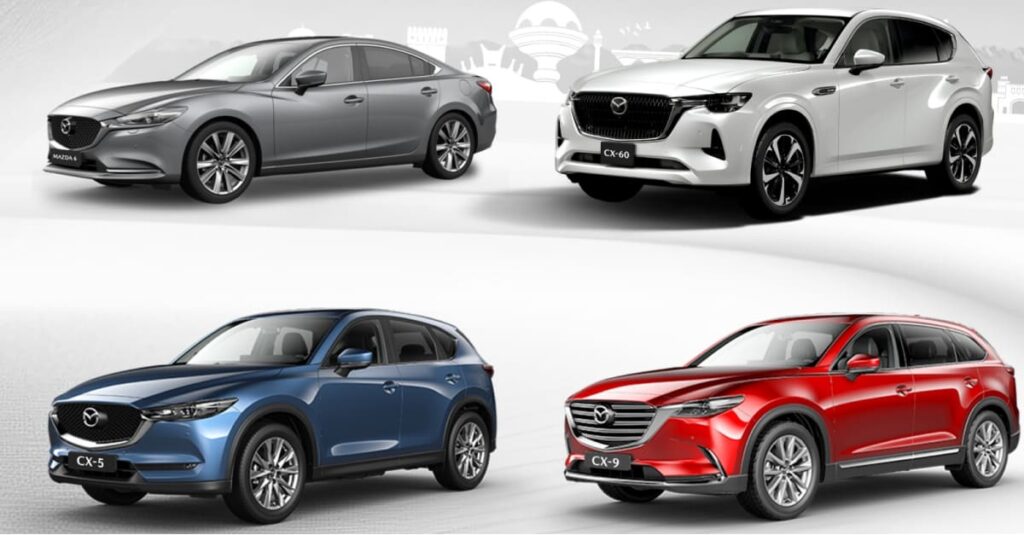 MUSCAT – Mazda consistently pushes boundaries, redefines standards, and prioritizes making exceptional driving experiences universally accessible. With a legacy rooted in innovation, craftsmanship, and performance, Mazda Oman proudly unveils the latest campaign: "Unmatched Style, Performance and Comfort – Now More Affordable", and invites you to be a part of this automotive renaissance, where the allure of Mazda becomes even more attainable.

Mazda 6
Dive into the world of the Mazda 6, a sedan that stands as a testament to meticulous craftsmanship and innovation. Powered by a 2.5L engine delivering a robust 190PS, every drive promises to be an exhilarating experience. Safety, a cornerstone of Mazda's philosophy, shines through with the Mazda Radar Cruise Control (MRCC) offering an Adaptive Cruise Control. The plush Napa Leather Seats ensure that comfort isn't just an option but a standard. Advanced features such as the Lane Departure Warning System (LDWS) and Lane Keep Assist (LKA) work tirelessly, ensuring you stay on course. With an EMI starting from just RO 93, luxury and performance are now within your grasp.

Mazda CX-5
Adventure has a new name, and it's the Mazda CX-5. Whether you're navigating city streets or exploring off-road terrains, its dynamic 2.5L engine, offering 190PS, ensures you're always in control. The Mazda Radar Cruise Control (MRCC) with Adaptive Cruise Control stands as a beacon of safety, while the premium Napa Leather seats cocoon you in comfort and with the Electric Tailgate Opening, every journey is effortless. Begin your adventure with an EMI offer starting at RO 100.

Mazda CX-60
The Mazda CX-60 is a luxury segment SUV. A powerful 2.5L engine delivering 191PS is paired with the Mazda Radar Cruise Control (MRCC) to offer a driving experience that's both powerful and seamless. The rear-wheel drive (RWD) setup promises optimal performance, while the 8-speed Transmission is a nod to Mazda's commitment to luxury and craftsmanship. Experience this marvel with EMIs starting from RO 143.

Mazda CX-9Step into a world where luxury meets functionality. The Mazda CX-9, with its 2.5L Turbo Engine boasting 231PS, redefines what a 7-seater SUV should be. From the Mazda Radar Cruise Control (MRCC) ensuring safety to the striking 20″ Alloys and Real Wood Panel accents emphasizing luxury, the CX-9 is a masterpiece on wheels. Dive into this world of luxury with EMIs starting from RO 131.
Mazda Oman
Acknowledging the trust, Mazda Oman also offers the Injaz Service Package guarantees that Mazda vehicles sustain their peak performance for 5 years or 100,000 kilometers, whichever comes first. Similarly, a complimentary AAA Roadside Assistance for unexpected challenges on the road, and the support remains readily available, just a call away. Your dream of owning a Mazda is no longer in the distant future. With tailored EMI options, it's time to bring that dream closer to reality. This is more than just an offer; it's an invitation to be a part of the Mazda legacy. But remember, such opportunities are fleeting. So, visit the nearest Mazda showroom, explore the range, and let the journey with Mazda begin today.
Towell Auto Centre (TAC) is a trusted name in customer service in Oman. It has been in the automobile business since 1972 and is a group company of the W J Towell Group. TAC ensures the easy availability of high-quality motor products and the highest standard of service to its customers. Mazda has brought quality to the roads of Oman, and TAC has made owning a Mazda an absolute joy. TAC offers excellent after-sales service, genuine parts for all Mazda models, efficient staff, and innovative solutions for a better customer experience.
To find out more about TAC's showrooms and servicing centers, you can visit https://mazdaoman.com/en or walk into any one of TAC's Mazda showrooms situated across the Sultanate of Oman. You can also download the revamped Mazda Oman mobile app to get easy access to everything related to Mazda in Oman.