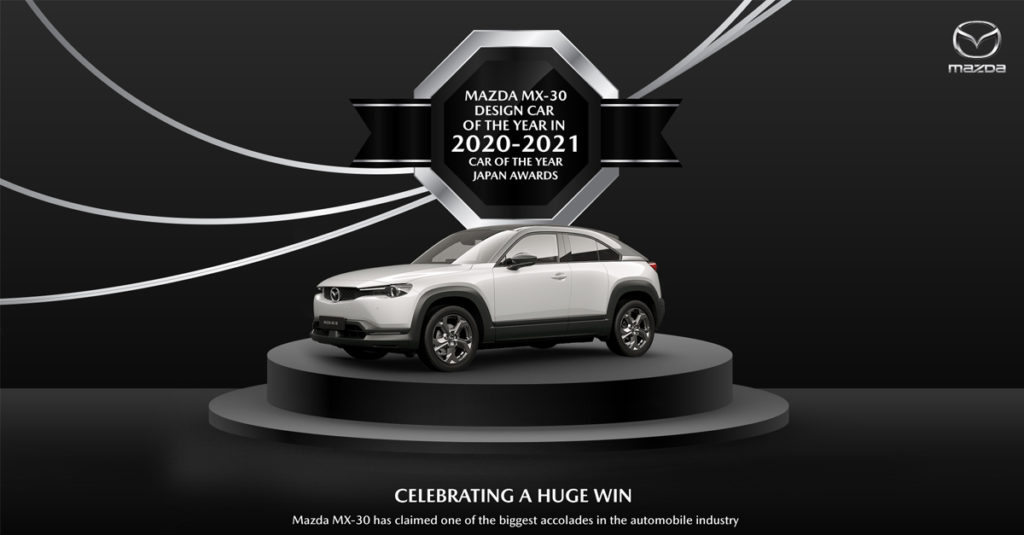 MUSCAT – Mazda MX-30 has been named Design Car of the Year in 2020-2021 Car of the Year Japan Awards. A newly established award in this year's awards, it is an extremely proud moment for Mazda.

The MX-30's design was based on the 'Human Modern' concept and it challenged a new way to express Kodo-Soul of Motion design. The beauty of its design is in its simplicity. Every aspect of its design has been well thought out and expresses a different theme. The styling of the MX-30 invites the driver towards it as it gives out a relaxed and friendly vibe. While the cabin design and the free style doors undermine any sort of heaviness.
The main aim of the design is to provide comfort to the inhabitants of the car. Hence it is designed in such a way which accentuates space and openness. Each component of the MX-30 is uniquely designed and the materials used are conducive towards the environment. Mazda's effort to be environmentally friendly is one of the primary reasons as to why it was named the Design Car of the Year. To be environmentally conscious is really the need of the hour and Mazda truly understands it. What makes the design of the MX-30 all the more special is that since the Mazda MX-30 was introduced in the year of Mazda's 100th anniversary, a material very important to Mazda's design philosophy "Cork" has been used in the car's interior.
Ikuo Maeda, Executive Officer in charge of Design and Brand Style said, "It's truly an honour to have the MX-30 receive this award as a token of high esteem for its design. I am truly grateful for all of those who have shown their support toward this model. In 2010, we started to apply Kodo design under the design philosophy of 'breathing life into cars.' As we strove to further mature Kodo design in its tenth year since birth, we were able to materialize its new directionality through the MX-30. Moving forward, we will continue to take pride in being a Japanese brand and remain committed to further improve Mazda's design."
As the MX-30 has been introduced in the 100th year of Mazda, being named Design Car of the Year is of great significance. With cutting edge research being done every day and ideas being circulated, the future of design for Mazda is indeed promising.