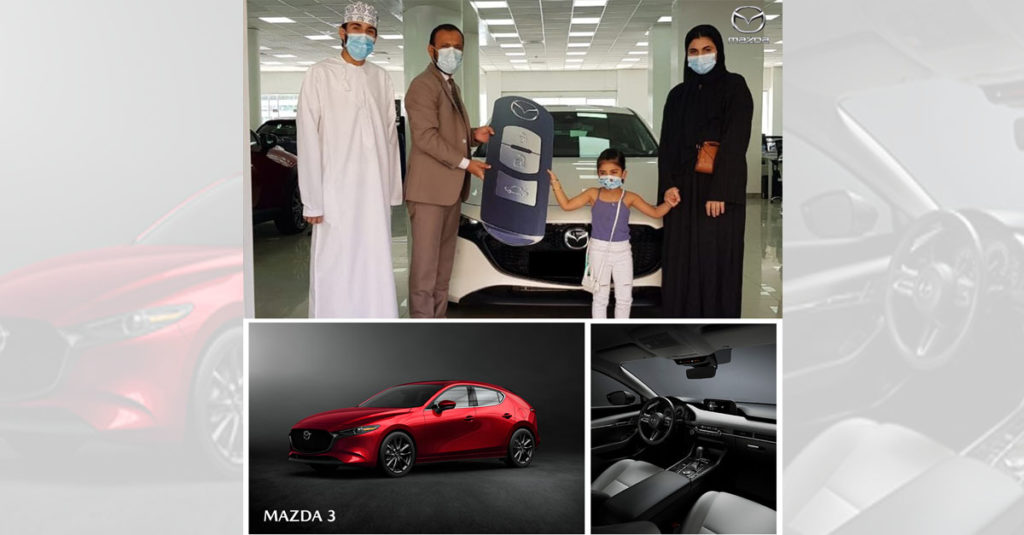 MUSCAT – The All-New Mazda 3 Sports Wagon is all the rage in Oman. This comes as no surprise that it is one of the most beautifully designed, stylish vehicles to have ever come out of the Mazda lineup. Some might term anything stylish as expensive but this is not the case with Mazda. Its drop dead looks along with its class leading features and an understated, minimalistic design language is what attracts one towards it.

The Mazda 3 is a favourite amongst the youth. Zainab Said Al Wahaibi is one such excited, youthful customer. She is a first year Chemical engineering student at Muscat University. Having bought the Mazda 3 Sports Wagon Luxury almost a month back from the Wattayah showroom, she had all the positive things to say. When asked what she liked about the car she said that it had a reasonable price, it was comfortable, had a modest design especially the interior and she wanted the Mazda 3 "design for a change".

The specific model which Zainab purchased is the 2.0L Sports Wagon. The design is stunning in the truest sense. The CX-30 and Mazda 3 are the 7th Generation Mazda cars. Starting from the key to the interior design and extending to the exterior, everything has been rethought and redesigned which refines the distinct drive of previous generations.
The New Mazda 3 is available in Sedan and Sports Wagon styles and comes in a 1.5L and a 2.0L SKYACTIV engine versions. The design of it is to inspire excitement and adventure, keeping the driver's comfort and driving posture in mind. It is to ensure that all the senses while driving are fully invoked, no matter how long and what the destination is. It is a suave vehicle designed to charm you with its ultra-modern, sporty looks. But more than its charming looks is its driving pleasure. With rain-sensing intermittent wipers, signal indicators, LED headlights, alloy wheels and the list goes on that will make you fall in love with the Mazda 3 as soon as you start driving. Available in gorgeous hues of greys, whites, metallics and red, it is sure to win your heart.
Coming on to the interior, the Mazda 3 Sports Wagon is a 5 seater with stylish, sporty seats for increased support and a low-slung dash. Added to this the interior includes an 8.8 touch-screen and a menu intensive system i.e Apple car play and android auto which makes for a highly interactive driving experience. Apart from that, the Mazda 3 has a navigation system with map data, Bose acoustics for a groovy drive and an auto dimming rear view mirror for increased safety.
More than the design, the 2.0L engine delivers power when needed and acceleration which is responsive. Powered by SKYACTIV Technology and a 16 valve, 4-Cylinder engine it achieves a high compression ratio of up to 13:0:1. This high compression leads to significantly improved engine efficiency and torque. Every drive is improved thanks to increased torque of [email protected] rpm and a horsepower of [email protected] rpm.
The Mazda 3 Sports Wagon is also extremely fuel-efficient by ensuring optimal distribution of torque and minimising drive train energy loss, fuel is only used to power the engine when necessary, and will elevate all your expectations giving you an experience to remember. Now is the time to venture out into a new realm with your dream car. With exemplary features and design, the Mazda 3 Sports Wagon is here to stay and turn heads wherever you go.