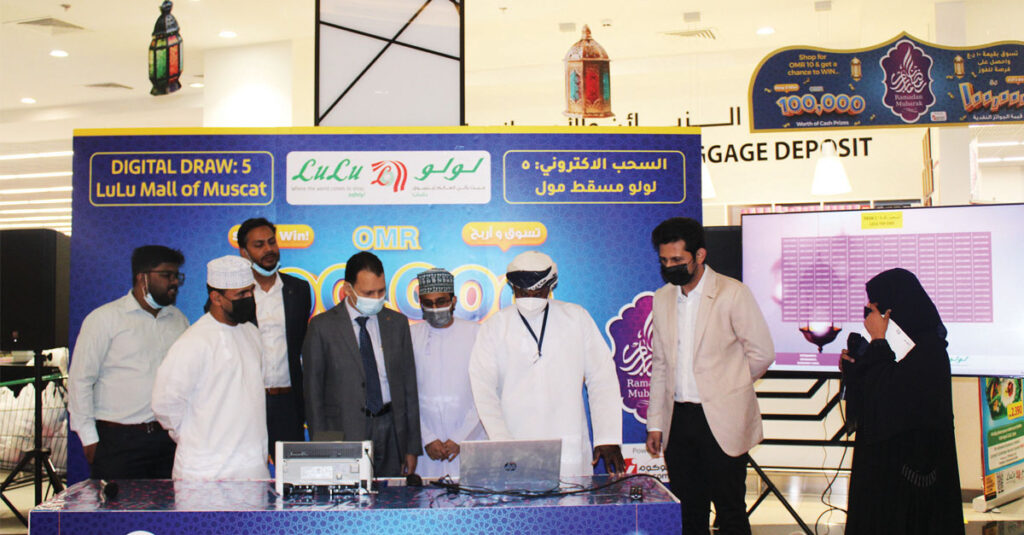 MUSCAT – With the Shop and Win promotion continuing to receive amazing response from customers, Lulu has now announced the fifth and sixth set of winners of the campaign. The first-of-its-kind promotion is a valuable opportunity for its customers to take home Cash Prizes worth OMR 100,000 during the Holy month of Ramadan and the following festive season of Eid. The promotion kicked off on March 10 and will continue till May 7, 2022.

The winners of the two draws were selected through the e-Raffle draw held on Wednesday, April 13 at the Lulu Hypermarket in the Mall of Muscat and April 20, 2022 at Lulu Hypermarket, Nizwa. Fayyas FM and Mohamed won the cash prize of RO 5000 and Mahameed Rohan and Hayel took home RO 750 each. Mahmood Said, Said Salih, Hassan Nashab, Attaulla, Abdullah Ali Al Farsi and Badar Al Yahyai won RO 500 each while 20 winners won RO200 and 40 others won RO100 each.

To be part of the promotion, customers have to spend RO 10 at any Lulu stores and register for the e-Raffle draws. The promotion will give 281 customers the opportunity to win amazing cash prizes. There will be a Grand Prize of OMR 10,000 cash as well as Weekly Cash Prizes of OMR 5000, OMR 750, OMR 500, OMR 200 and OMR 100.

Speaking about the promotion, Shabeer K.A., Regional Director – LuLu Hypermarkets Oman stated "I would like to extend my heartiest congratulations to all the winners of the fifth and sixth draws. The positive feedback we have received from customers has been very encouraging."

"We take every step to engage with our customers on a regular basis. The month of sharing and caring has always inspired us to connect with our customers and offer them a very special experience, year after year. This year, we are adding to the excitement by giving them a great chance to win cash prizes and other offers that promise customer satisfaction and a greater value for money," he added.

Along with the Shop & Win promotion Lulu has ramped up special deals and offers, across all categories, to help everyone prepare for Ramadan and Eid celebrations in the best possible manner. There will also be lots of daily deals on the online shopping app, which will make shopping a more convenient experience for customers.