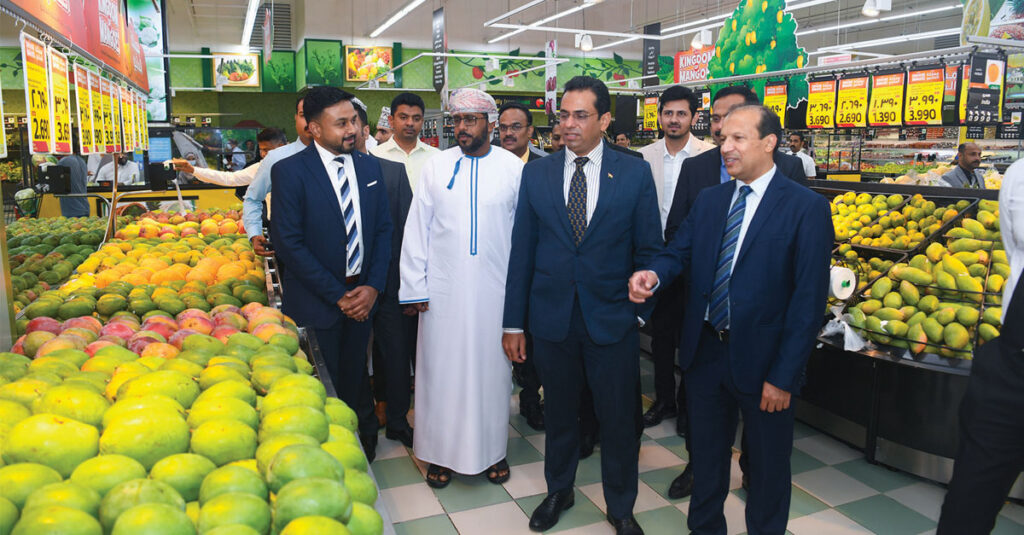 MUSCAT – Lulu Hypermarket Oman has launched 'Kingdom of Mangoes' festival across all its stores in Oman. Largely popular among mango-lovers, this mango festival, held from May 24 to June 2, 2022, is a celebration of the King of Fruits and everything about this juicy, golden fruit.

The festival was inaugurated by H.E. Amit Narang, the Ambassador of India to the Sultanate of Oman, at Lulu Hypermarket Bausher, in the presence of Waleed Khalfan Al Mamari, Director of the Plant Quarantine Department, Ministry of Agricultural Wealth, Fisheries and Water Resources, Lulu staff and customers.

This festival will showcase several species of the delicious fruit from different parts of the world. Customers will also be able to relish some of the special mango treats in the hot food, bakery, sweets, and grocery section. Special mango delicacies, pickled mangoes, as well as mango preserves, smoothies, pulps, juices, jellies, and jams will also be available during the promotion.

As part of the festival, Lulu has flown in more than 50 varieties of the tropical fruit from countries across the world, including India, Indonesia, Vietnam, Thailand, Sri Lanka, Kenya, Yemen and more. The local collection of Omani mangoes is also a part of the highlight of this event. The promotion will also feature great deals and offers on freshly imported selection of mangoes across all Lulu stores.

Shabeer K A, Regional Director – Lulu Hypermarkets, Oman, said "For the past several years, Lulu has been promoting the festival of mangoes and this year's 'Kingdom of Mangoes' is sure to become a popular event among our customers. We have coordinated with our sourcing centers worldwide to help us bring in this delicious fruit for our customers at the most affordable prices. The different varieties of this tropical fruit are equally loved by people of all nationalities.

"We organise mango festival every year to not just promote the King of Fruits but also encourage the trading of this fruit worldwide. For this year's fest, we have stacked up our aisles with a wide range of juicy and scrumptious mangoes, packed with vitamins and fiber, from countries all over the world. Whether in the form of pulps, juices, shakes, ice creams or desserts, this is the perfect opportunity for our customers to indulge in the temptation of these mouth-watering mangoes during the festival," he added.

Lulu's state-of-the-art food sourcing network and sophisticated logistics chain help provide and sustain the supply of global products at the most competitive rates. The Group's excellent combination of high-quality offerings and value for money make it the favorite shopping destination for customers all over the country.