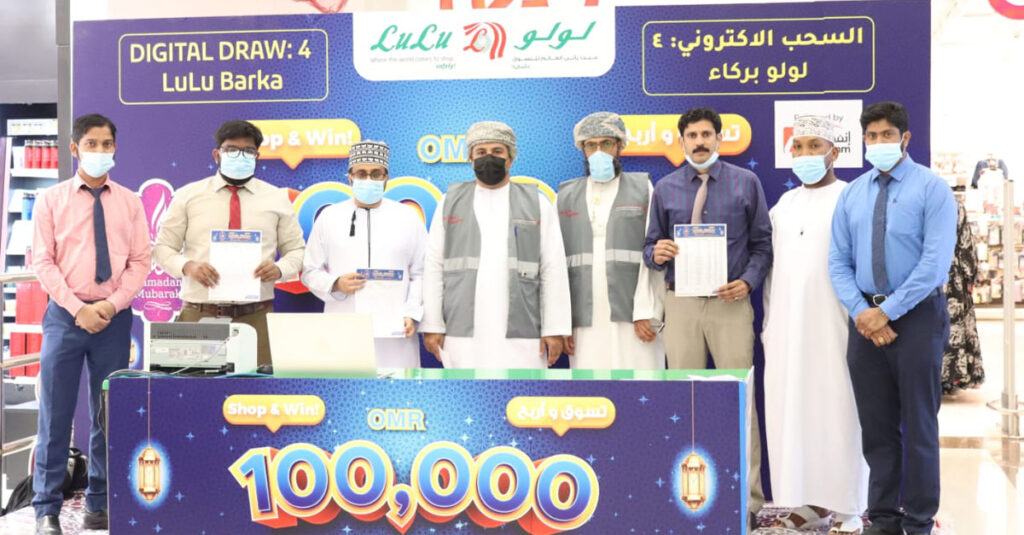 MUSCAT – Lulu announced the fourth set of winners of its Shop and Win Promotion, giving away RO. 100,000 worth of cash prizes. The promotion, which kicked off on March 10 and continuing till May 7, 2022, is being held across all Lulu outlets in Oman. The winners of the fourth draw were selected through the e-Raffle held on 6th April 2022 at the Lulu Hypermarket, Barka

The fourth draw saw Shafeeqa Muhammed Sulaiman Al Amri win a cash prize of OMR 5000 and Nisar Hassan took home OMR750. Sayyed Mehsam, Aboobacker E and Yousuf Al Wahaibi won OMR 500each.  Ten winners won OMR 200 and twenty others won OMR 100 each.

To be part of the promotion, customers have to spend OMR 10 at any Lulu stores and register for the e-Raffle draws. The online shoppers are registered automatically for every shopping worth OMR 10. The promotion will give 281 customers the opportunity to win amazing cash prizes. There will be a Grand Prize of OMR 10,000 cash, as well as Weekly Cash Prizes of OMR 5000, OMR 750, OMR 500, OMR 200 and OMR 100.

Shabeer K.A., Regional Director – LuLu Hypermarkets Oman stated "I congratulate the fourth set of winners of our Shop and Win promotion. We have launched this promotion to coincide with Ramadan and Eid so as to make this season more valuable and enjoyable for our customers. We are glad that it has received a very positive response till date."

"Lulu has always remained at the forefront for offering meaningful deals and discounts that meet consumer needs. As part of Ramadan and Eid shopping, Lulu has also launched special deals, promotions and offers both for offline and online shoppers. Customers can also find Special Ramadan Family Packs with all the essential grocery items being offered at the lowest prices. Customers can also check out the daily deals in our online shopping apps, which will make shopping more convenient for them," he added.

Lulu set its focus on delivering joy to its customers in every season and for every celebration. The Shop and Win promotion has attracted huge number of customers as it not only gives them a chance to win cash prizes but also provides them with a quality shopping experience during this Ramadan and Eid shopping season.  All Lulu malls are designed and tailored to offer a completely satisfying experience to attract hordes of visitors every day. With 29 stores spread across in Oman, Lulu is certainly the most preferred shopping destination for the multi-ethnic communities of the Sultanate.