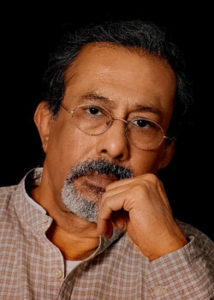 Debasish Mitra
Amateur photographer
Former opinion editor (Times of Oman)
When a year short of a decade ago the world watched Steven Soderbergh's outbreak thriller 'Contagion' it was fun. None could then imagine we would experience exactly what was shown in that movie.
Massive jail
In the wake of the outbreak of Corona virus, world looks as if it is facing apocalypse. Cities and towns across the world are wearing deserted look. Countries after countries are shutting themselves out from the world. A 90-year-old woman in Paris was quoted saying: "I have not seen such a fear in people since the World War II". The world is in the grip of an unprecedented hysteria only because of a virus. The planet is fast turning into a massive jail.

Paranoia and suspicion
A minister in Germany committed suicide when the contagion began to wreak havoc in Europe. He was reportedly extremely depressed to see people dying and society paralysed. In fact, the virus has already brought in some deep psychological changes. It has made the world review and alters our responses to some apparently innocuous interactions; behave in atypical manners. A paranoia and suspicion has crept deep into all of us.

Pushed further indoor
Personally, I have never been much of an outdoor person, yet this virus has pushed me further indoor and I am happy with the lockdown imposed by my government in India. After I returned to India from Oman I took to photography which, however, made me travel far and wide for my shoots. The lockdown and the lockdown have put a full stop on my shoots which though affected my work, has made me feel safe and comfortable.
Catch up on reading
My shoots may have been seriously affected, but not my work. I am still as busy as I was before the outbreak. The situation which has evolved in the wake of the COVID-19 outbreak has enabled me to change my schedules and lifestyle – both personal and professional. I am now able to catch up with tons of pending reading and am getting enough time to complete retouching and editing of the photos which too have been lying pending since months.
Rediscovered joy of family life
But most of all, the virus and the subsequent lockdown have done me a great favour. My wife always had a complaint against me. She felt I never had enough time for her. And now the complaint has vanished and I would remain thankful to the virus and the lockdown in ways more than one. I have rediscovered the joy of family life, joy in sharing concerns, joy in sharing difficulties with my wife and joy in sitting over a cup of steaming coffee in the morning and eating breakfast together.
In chaos, there is fertility
The COVID-19 contagion reminds me what the French writer Anais Nin said: "In chaos, there is fertility." And indeed so it is. Because 'in all chaos there is a cosmos, in all disorder a secret order.' What Nin said years ago now in 2020 appears and sounds like the best epigram I have ever read. And though I may sound a trifle otherwise I insist that COVID-19 attack on humanity is arguably the best blessing we could have expected from nature.
A blessing of nature
And as I insist on calling the COVID-19 attack a blessing of nature to the humans I may as well refer to Winston Churchill. When he lost the elections in 1945 he agreed to what his wife said with a rider. His wife was believed to have said that his defeat was a blessing in disguise and to this Churchill said it indeed was, but was a little too disguised.
Gave our blue skies back
Much like Britain which got Clement Attlee in the wake of Churchill's defeat, we the people of this planet have got back what we have lost to our greed, to our rampant industrialisation and urbanisation. COVID-19, apart from reducing the growing pressure of the global population, gave us back the blue sky, much cleaner air, beautiful sunrise and sunsets, cleaner streams and respite from the noise pollutions.
May take a long time to recover
But we have two sides of a coin and one side may not be as rosy as the other. Likewise, Corona outbreak has started to wreak India's economy faster than what was initially feared. Moody's report says India will have zero percent growth in FY 2020-21. The country's economy will constrict into what it was in 1947 and unemployment will be all-pervading with already over a million jobs lost. Future of India, economically, looks bleak and the country may take a long time to recover from this waste.
Doesn't seem to be the year of the rat
As per Chinese zodiac this year is the year of rat which should mark the beginning of a new era full of prosperity, progress, fertility and luck. As of now the year is turning out just the opposite. With our society all set to change inside out the future of the country, I feel, doesn't appear to bring in a new era full of prosperity, progress, fertility and luck.