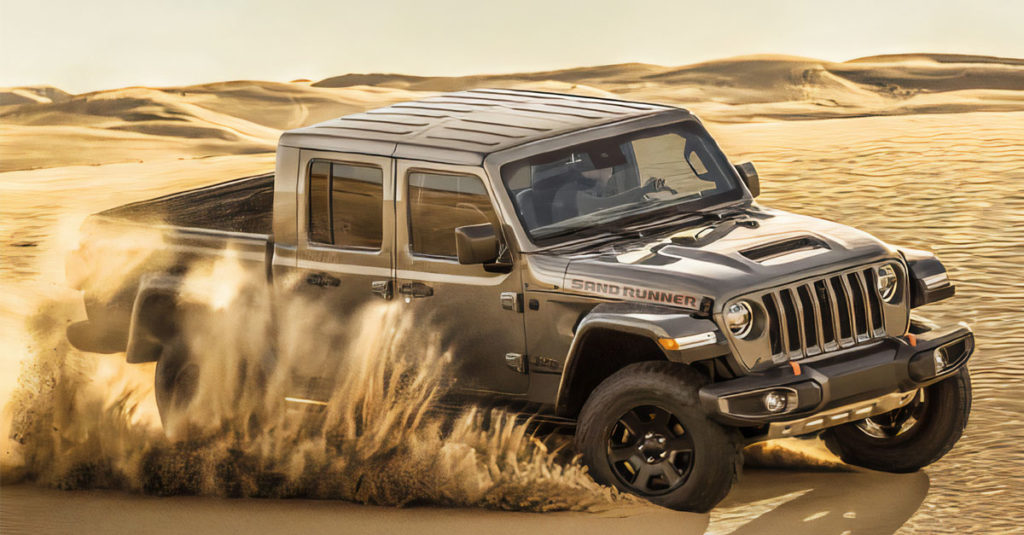 MUSCAT – Dhofar Automotive, the official distributor of Jeep, Dodge, RAM, Chrysler, Fiat and Alfa Romeo vehicles in the Sultanate, has announced the arrival of the Jeep Gladiator Sand Runner, the ultimate in high-speed off-road capability and performance in desert environments to Dhofar Automotive showrooms. Courtesy of the brand's renowned 4×4 system and significant suspension upgrades, which underwent extensive testing over harsh sand and desert terrain for vehicle durability and protection, the Jeep Gladiator Sand Runner is the first Jeep in the Middle East to wear the 'Desert Rated' badge.

Jeep Gladiator Sand Runner models feature new, specially-tuned FOX™ 64-mm (2.5-inch) internal bypass shocks with external reservoirs, industry-exclusive FOX front hydraulic jounce bumpers, a reinforced frame, a 25-mm (1-inch) front suspension lift with a silver front skid plate, stronger axles with cast-iron steering knuckles, aggressive front seats with integrated upper bolsters and standard 33-inch tires. All of these standard features enable the Gladiator Sand Runner to become the Jeep brand's first Desert Rated vehicle.

Hatem El-Naggar, General Manager at Dhofar Automotive, said, "We are very pleased to welcome this premium version of Jeep Gladiator to Dhofar Automotive Showrooms in the Sultanate. The Gladiator Sand Runner is the most off-road capable mid-size pickup and brings Jeep's exceptionally high standards for off-road performance to the Middle East's extreme desert conditions. Developed and tested in some of the world's most harsh and rugged regions, the Jeep Gladiator Sand Runner was built in the desert and for the desert. It delivers a new level of capability with the ability to master challenging rock and sand terrains with ease."

"We are confident that the Gladiator Sand Runner will impress Jeep enthusiasts in the Sultanate since it is well-equipped for high performance in the desert and off-road. We are pleased to invite our valued customers who love adventure and enjoy a robust driving experience to visit our showrooms and see the Gladiator Sand Runner and learn about its superior power and high capabilities," he added.
In the Sultanate, Chrysler, Jeep, Dodge, Fiat, Alfa Romeo and RAM models are available at Dhofar Automotive showrooms with different equipment classes. For more information on Dhofar Automotive visit www.dhofarautomotive.com or call +968 2458 4530.