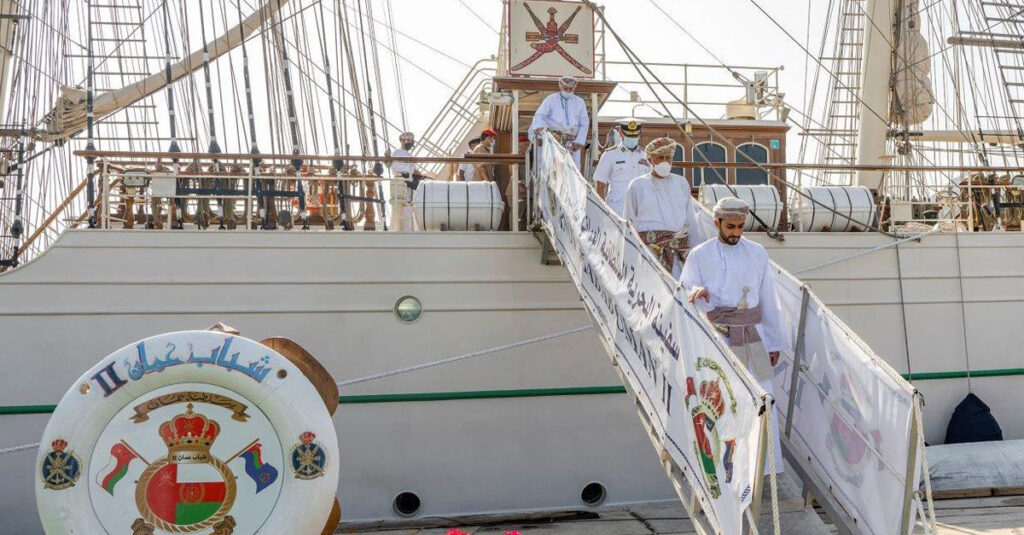 Muscat, 7 Nov (ONA) – Shabab Oman II, sail ship of the Royal Navy of Oman (RNO) has set out on a maritime GCC tour themed "Oman, A Renewed Approach".

The tour reenacts the Sultanate of Oman's maritime history and the country's modern-day achievements. The tour incarnates Oman's timeless tradition of extending bridges of peace, amity and fraternity among nations of the world.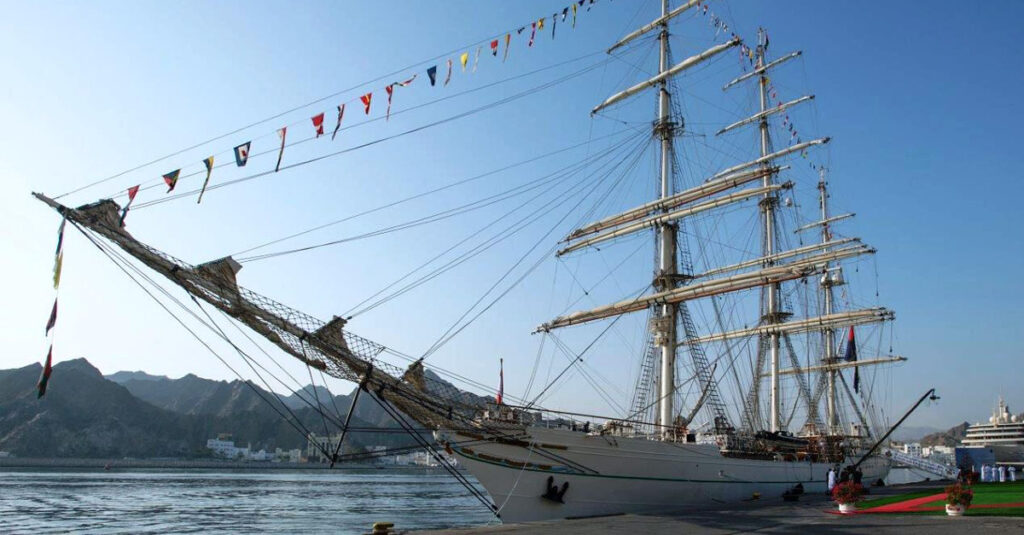 A farewell ceremony was held on the occasion under the auspices of HH Sayyid Theyazin bin Haitham Al Said, Minister of Culture, Sports and Youth. It was attended by HH Sayyid Shihab bin Tarik Al Said, Deputy Prime Minister for Defence Affairs, and commanders of the Sultan's Armed Forces (SAF), military and security services.

The ceremony, held at Port Sultan Qaboos in Muttrah, began with an honorary salute to HH Sayyid Theyazin, who later inspected the front row of the parade.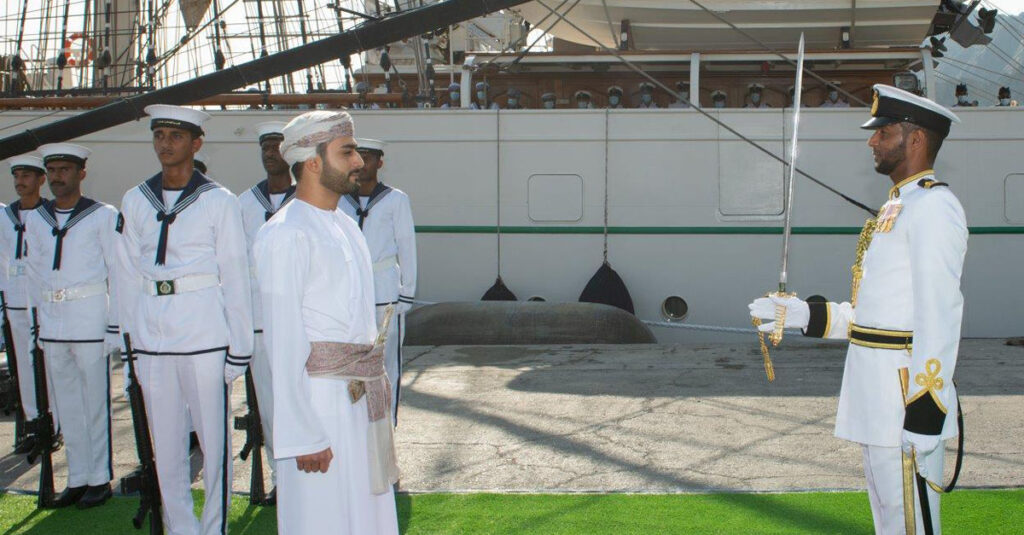 Then, the chief guest, senior officials and commanders boarded the ship to bid farewell to the crew. They listened to a briefing about the course of the voyage. They posed for commemorative photos and watched a presentation about the past and present glories of Shabab Oman's ship, which sailed around the world, carrying around the Sultanate of Oman's message of peace and humanitarian love to the global community.

HH Sayyid Theyazin launched the Shabab Oman II electronic website.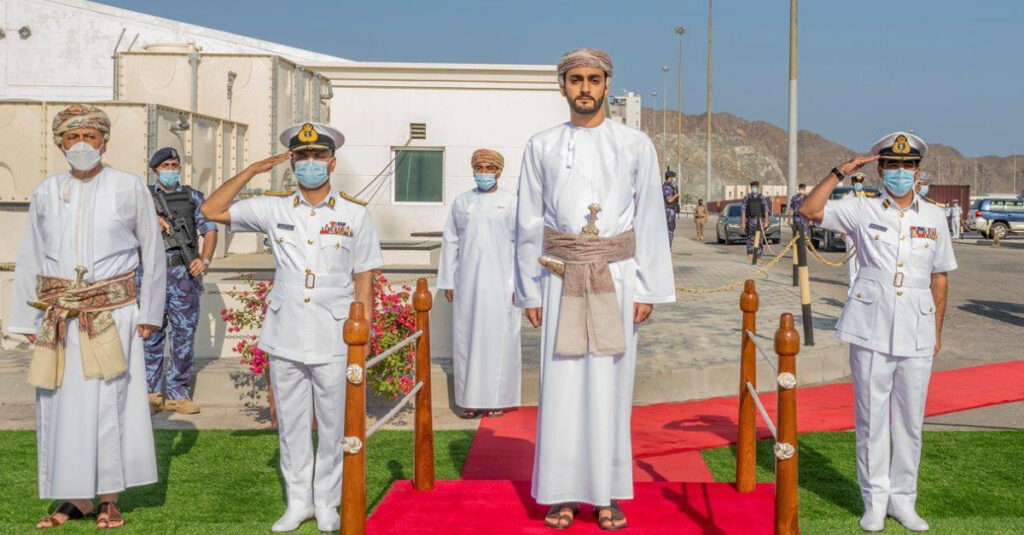 In its GCC tour, Shabab Oman 2 will visit A'Shiyoukh Port in Kuwait, King Abdulaziz Port in Saudi Arabia, King Salman Port in Bahrain, Hamad Port in Qatar and Dubai Tourism Port in the United Arab Emirates.

The ship will drop anchor at Dubai Port on 21 November and remain there till 1 December, the period during which it will represent the Sultanate of Oman at Dubai Expo 2020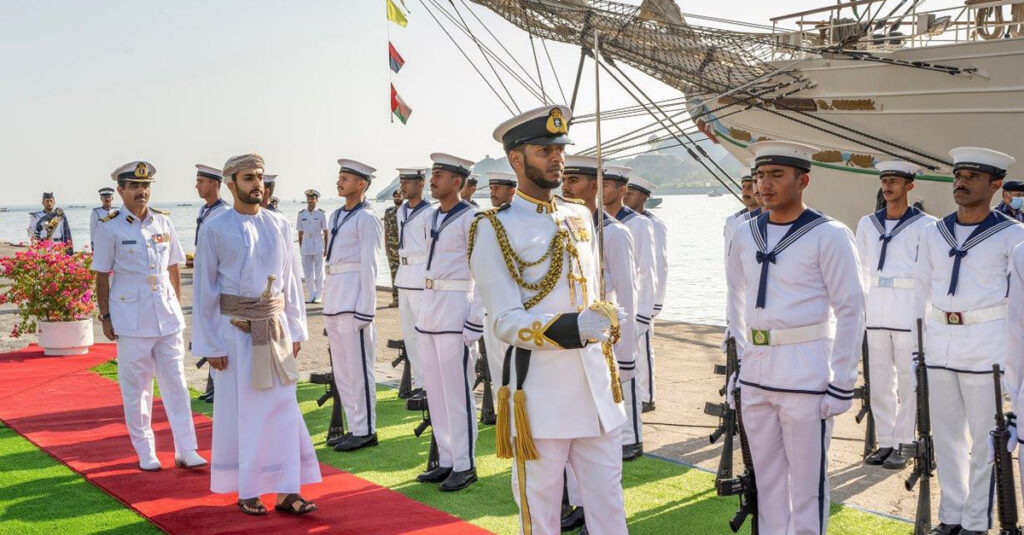 .Shabab Oman II will also represent Oman at the pavilion of GCC states at Dubai Expo 2020 and it will stage musical performances through the bands of the Royal Army of Oman (RAO), the RAO's Sultan of Oman's Armoured Division.

The 28-day tour includes an academic programme for participants from different countries of the world and a stationary exhibition to be held onboard. The exhibition will embody a pioneering Omani maritime and naval history, as well as military bands.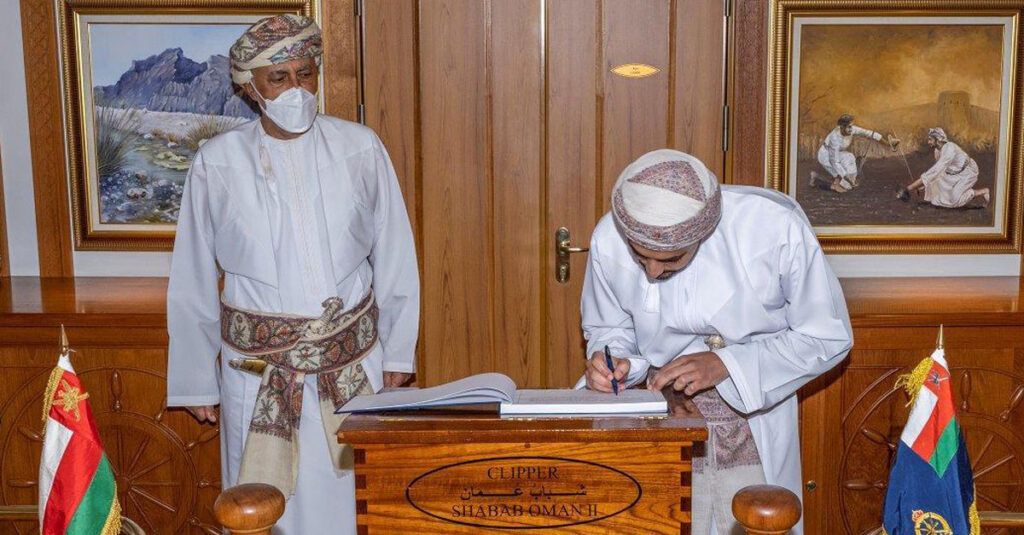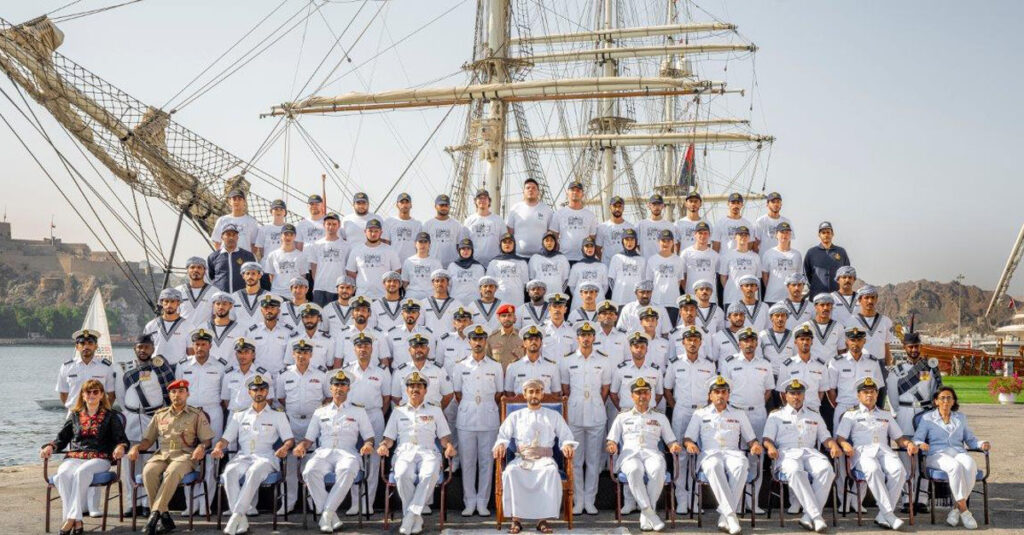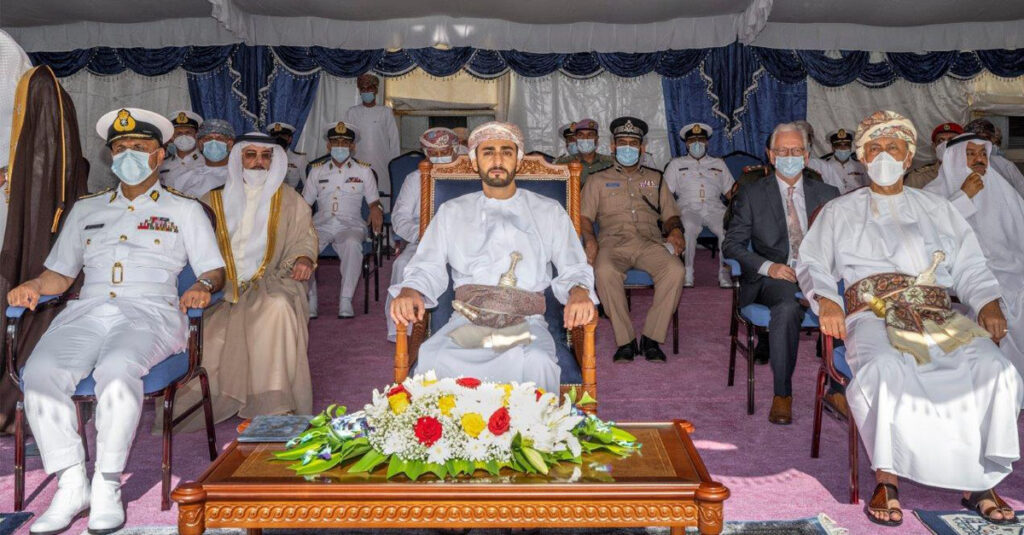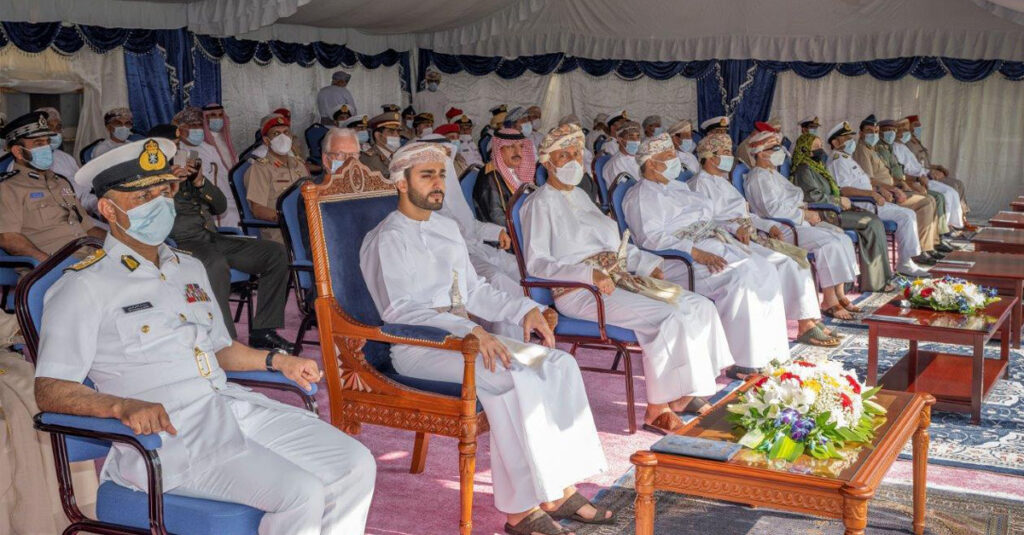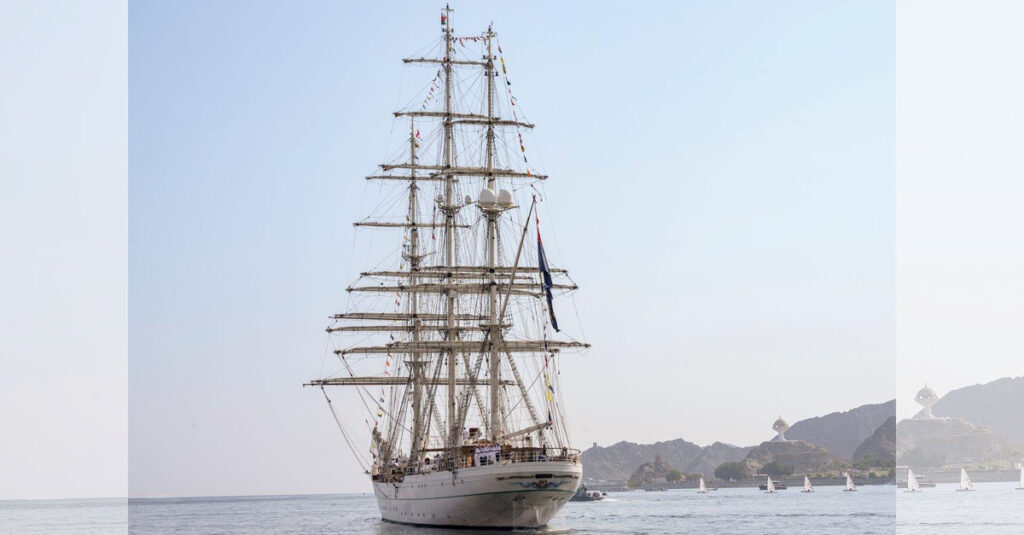 Photos: Thani Al Siyabi 
(Source: ONA)