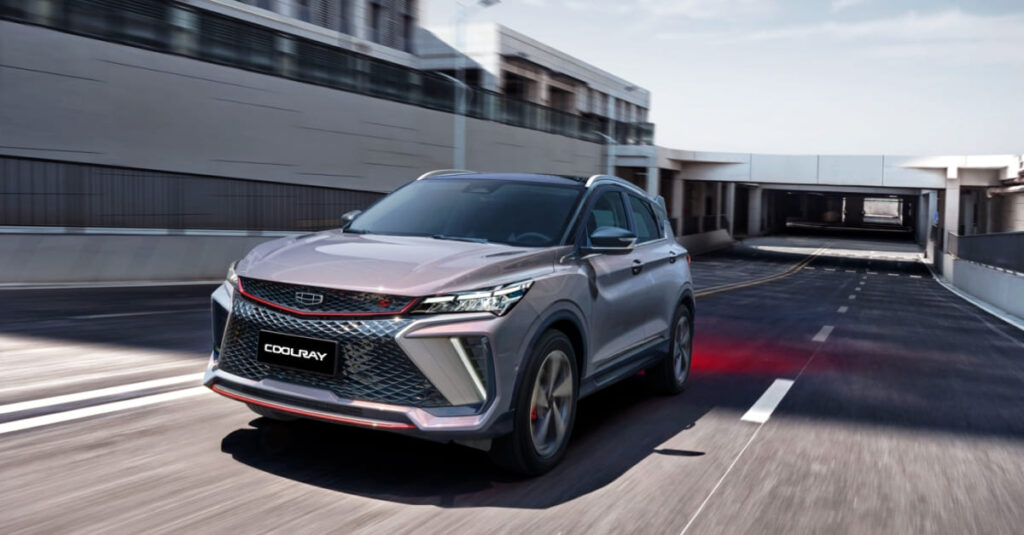 MUSCAT – Geely announced its latest offering in Oman -'Season to Explore' with a range of exciting benefits. Geely has earned a reputation worldwide for producing outstanding vehicles. Now, even the people of Oman can indulge in the same extraordinary driving experience with the recently launched All-new Coolray! With its impressive design, cutting-edge technology, and unparalleled cockpit experience, the All-new Coolray is the perfect vehicle for those who crave adventure, thrive on uncertainty, and demand excellence.

This Season is the perfect opportunity for car enthusiasts to become proud owners of a Geely car in Oman. The 'Season to Explore' offer for All-new Coolray brings in unbelievable prices and also includes a generous cash gift of RO 2301, 3 years of AAA roadside assistance, and a manufacturer's warranty for 5 years or 150,000 kilometres. (Prospective buyers may be advised that the benefits vary between model variants, model year and manufacturing year. Conditions apply. Visit the Geely Oman showroom for exact details).

The All-New Coolray comes equipped with a range of advanced safety features, including intelligent cruise control, blind spot detection, and lane departure warning, that work together to ensure a secure and comfortable driving experience. Its sleek and sporty design, featuring a unique grille, spoiler, rear quad exhaust, and 1.5 turbo engine, gives the car a dynamic and energetic look.

In addition to its stylish exterior, the Coolray also offers a 540° HD panoramic view, auto parking assist, four-way DVR, unique colours, ambient lighting, and a 'Gradient Grey' super dynamic colour changing paint that gives different shades when viewed in different angles. These features make the Coolray more than just a car – it's a lifestyle choice that empowers drivers to explore new horizons and embark on unforgettable journeys. Geely has recently introduced several new features to the Coolray, which include a BMA chassis, seats with ventilation, and a rear AC outlet. These new additions are aimed at enhancing the car's overall performance and comfort level, making it an even more appealing choice for drivers with busy and active lifestyles.
Packed with features
The All-New Coolray is packed with features that make it a top contender in the SUV market. Main features include –
Powertrain Energy: The Coolray comes with a 1.5TD four-cylinder engine that delivers maximum torque of 290N.m. It also has a smart engine start and stop system, as well as four driving modes and launch control.
Design Energy: The Geely 4.0 design language is evident in the unique design aesthetics of the Coolray's exterior, including the energy matrix LED headlamp, individual daytime running light, and panoramic LED rear light bar. The interior features flowing integrated dual screens, a 10.25-inch colourful digital dashboard, and a fantastic rhythmic ambient lighting strip too.
Tech Energy: The Coolray is equipped with intelligent driving assistance that adds an extra layer of safety and convenience. It includes systems such as the Autonomous Parking Assist(APA), Autonomous Emergency Braking (AEB), Lane Keeping Assist (LKA), Intelligent High Beam Control (IHBC), Intelligent Cruise Control (ICC) and more. Additionally, the Coolray offers comfortable driving with front inducive wiper, rear air outlet, wireless charging and more.
Safety Energy: The Coolray prioritizes safety with six airbags, a 540° HD panoramic image system, air purification system, and more. With all-around protection, the Coolray ensures a safe and secure driving experience.
The All-New Coolray is now available at your nearest Geely Oman showrooms. Join us on this journey of discovery and adventure and let the All-New Coolray be the vehicle that drives you forward. Unleash your inner drive and ignite your passion on a journey with All-New Coolray.
In Oman, Geely vehicles are brought you by Towell Auto Centre LLC. To buy a car in Oman or book a test drive and get unbelievable offers, visit the nearest Geely Oman showroom or visit www.geelyoman.com . Be a proud owner of a Geely car in Oman today!