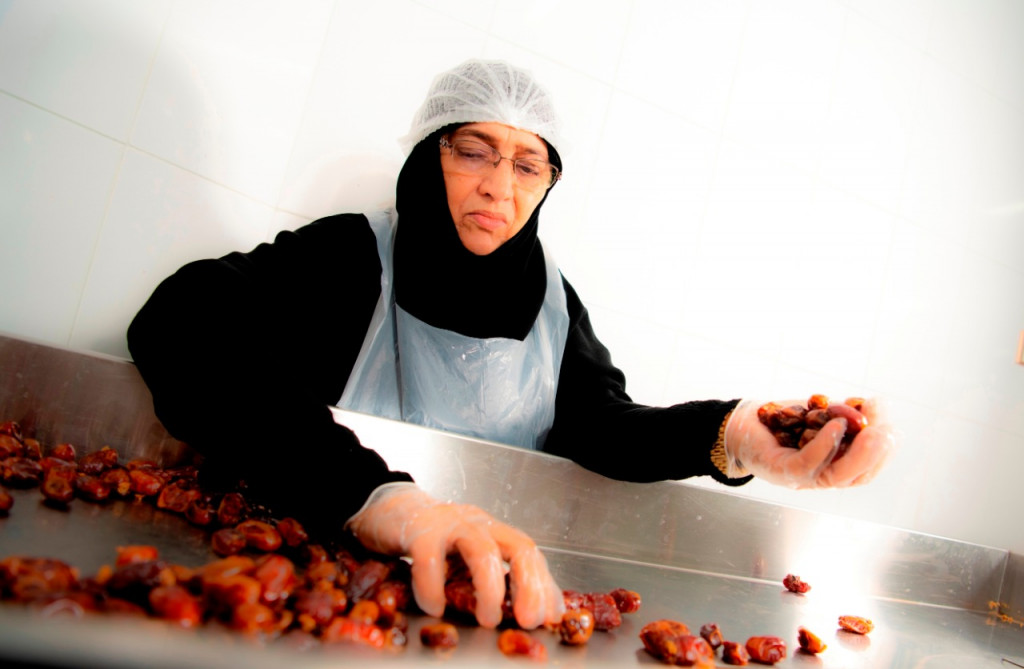 Amna Abdul Jalil Mohammed Al Morshedi
You can tell Amna Abdul Jalil Mohammed Al Morshedi's story in three sentences: Started a business from home. Worked very hard at it. And then the next thing you know, you are winning an award for it. End of the story.
But it was not as simple as that for Amna Al Morshedi, a 66-year old grandmother, whose firm, Dates Sohar, won the 'Best Home Business for Small and Medium Enterprises' at the third edition of the Riyada Entrepreneurship Award 2017, some years ago.

Amna's advice to every woman
It was hard work to begin with and it got harder when it progressed and it got much more challenging and difficult as it progressed further – but like Amna Al Morshedi sums it up for us – you have got to set a goal and then achieve it. That was Amna's simple, but not-so-easy-to-achieve, plan. However, that is her firm advice for every woman: set your goals and then do everything possible to achieve it.
A spark was needed
However, Amna did not start off as a businesswoman. Although she knew she inherently possessed great amount of abilities, what was missing was that all-important spark. Before she got into the dates' business, she was actually into sewing. And she was quite good at it.
Opportunities to study was nil
Amna has seven children (five boys and two girls). All of them are grown up now, married, and they have children too. "I was not very lucky as far as education was concerned for schooling, back then, was primarily involved in learning the Holy Quran and following the Islamic teachings. Moreover, in those days, the girls were married off at an early age. Therefore, I never had the opportunity to complete my studies. In fact, during my marriage I enrolled in an adult education programme until I reached the preparatory level. However, as I was appearing for the middle-school exams, I faced an unusual challenge: my vision became blurred. This disrupted me from answering the questions properly and I failed in the exams. Years later, when the health facilities' improved, I discovered that I was having long-sightedness," Amna tells Purple with a wry smile.
Mastering the art of sewing
By nature, she was a woman who loved to experiment and try different methods. This made her enter into the world of sewing. Slowly, but surely, she learned how to sew from home. "I realised that I was blessed with sewing capabilities and I was eager not just to learn but also produce more. I began to fervently stitch for myself, and my family. Soon I gained complete mastery over the art of sewing Omani clothes," she happily recalled.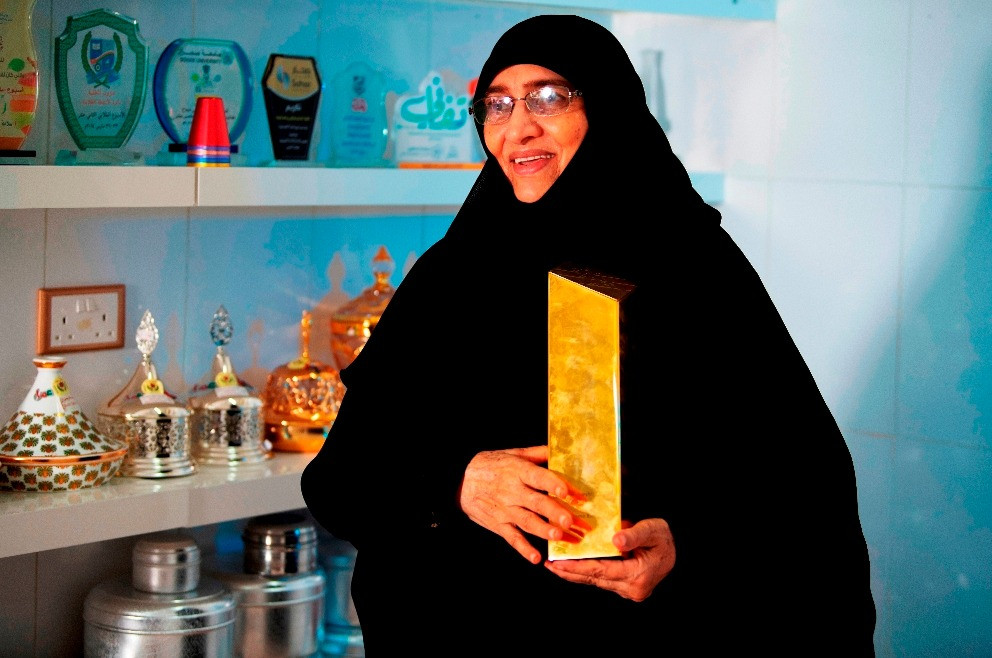 OWA came at the right time
With the opening of the Omani Women Association (OWA) in Sohar, new horizons presented itself for women there, especially those with an enterprising and entrepreneurial outlook like Amna. "I was soon attending workshops on how to acquire sewing skills. I took that advantage to join the OWA, exploring how to cut different patterns, in particular non-Omani clothing. I recall how, although I was only a student, some of my colleagues used to gather around me to learn the art of cutting material due to my skill and experience in sewing Omani clothes.
At that time, nationals from other countries worked as facilitators for the sewing workshop."
Blessed with gifts
But even though she became quite good at sewing, starting a business never entered her mind. Everything changed though with the passing away of her husband in 2010. "But, the basic of business was not new to me because my late husband had owned foodstuffs' businesses along with his passion for teaching religion. To be frank, even though it was in a small way, the origin of my home business was in sewing and selling fabrics, which I pursued for eight years," Amna recalled. "Deep down, I knew I was gifted and blessed with talents and I truly believed I should utilise them. I believe that I am blessed, as the environment that I lived was conducive for me and also inspiring, meaning that I was always surrounded by farms and grew up with dates picking or preparing dates.
Dates are as precious as jewels
"This was a daily routine for all of us as we lived in a farm. In fact, our main lesson in values was learnt at the farm itself. Here, we learned from our parents that a date was as valuable as a precious jewel. And if a date fell off from the date palm, we have to pick it up. It was as simple as that!"
Idea to start dates' project
"I cannot deny that sewing was enjoyable, but the demand for clothes began to become less and less; competition on this front began to increase and everywhere you looked, tailoring shops and ready-to-wear stores were mushrooming. That is when the idea of dates occurred to me. Instead of sitting idle, I thought I should make an effort to find out what my other talents were.
This was the time when my children were already grown up and some of them already graduated, or married, so I gradually began to explore ways to launch my dates' project," Amna said.
Innovation flowed through veins
Innovation flowed through her veins and she also didn't want to simply follow the usual trends. Her idea was to present products that had a variety of dates' mixtures. "But, what I did was to start presenting them to my family, relatives and friends. I made gifts of date packs for them and slowly as word got around, so did the demand. I also began to experiment how to create an amalgamation of the products with blended ingredients. I kept experimenting and the list of the products also expanded.
Community should benefit
"One must understand that my beginnings were quite humble because I was working on it manually; I did not have any machines. But as the days went by, I saw my business dream taking shape. Again, it was not just about business or a commercial exploitation. Right from the start, I had made it clear that the community should benefit from such projects – or at least some deprived members. This project was not being done to make money for my sake, as that was not needed: my family was taking extremely good care of me, and providing me with all my needs.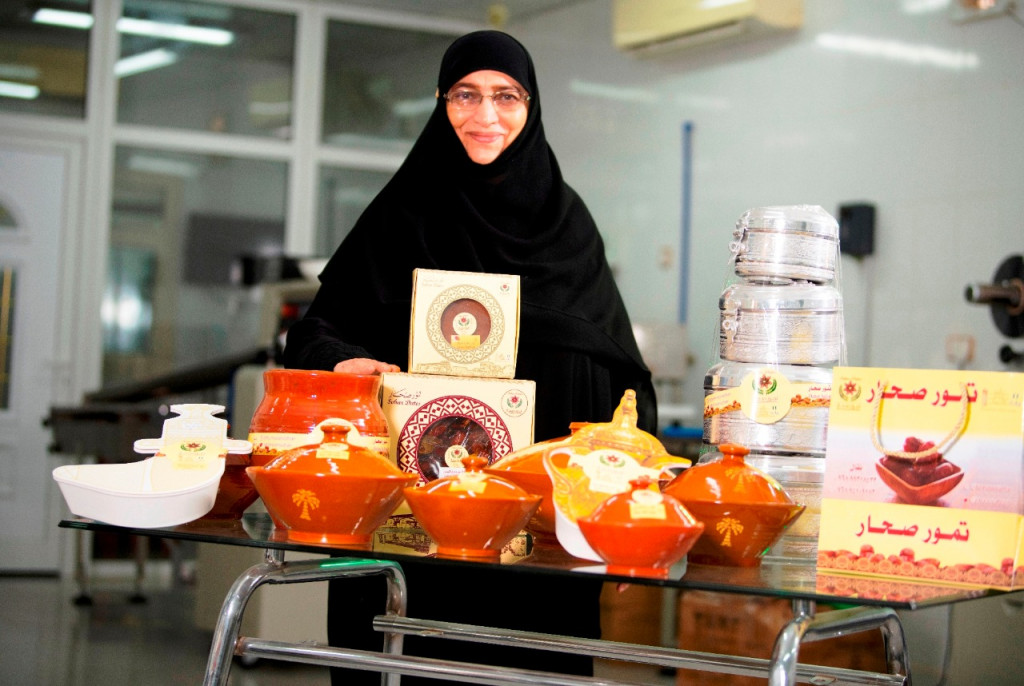 20 percent of profit to charity
"So, as per plan, 20 percent of the profit would be passed on to the needy. I must say this was totally inspired by the charitable activities of the late Sheikh Saud Bahwan, who used to generously contribute towards social responsibilities."
Finally, help came from the ministry
Amna always had an enterprising bent of mind and this was reflected in her later actions. Although she did encounter challenges because of the manual work, she sought help from neighbours. "Manual work was often difficult and tiring but luckily my neighbours always lent a hand when I approached them for help." As she notes, each step of hers, led to one door or to the other and soon it was just a matter of time that she was led to the ministry of agriculture and fisheries where she joined the rural women initiative. Soon after joining, she received support for the much-needed machines. These machines were a boon because it helped her process the dates and remove their seeds and impurities.
Vision became clear
"After obtaining the machines, my vision for the business became clear – the biggest lesson was that I should ensure product quality, come what may. That was the key to success and therefore I also bought a grinding machine.Suddenly, my house had metamorphosed into a mini date factory. I got obsessed with the idea of needing a bigger space and better facilities."As luck would have it, the neighbouring house was put for sale. "Of course, I did not have the funds to buy a house. So, with help of my son, I sold of the family's farm, which helped me with the required funds," Amna said.
Entry to Oman International Airport
By this time, the name Sohar Dates was getting beyond the precincts of the region and an opportunity cropped up for them to supply their products at the Oman International Airport. "This was a great breakthrough for us!"
Children deserve full credit
Amna was full of praise for her children and stressed that without them her efforts would not have borne fruit. "I am proud that my children are always at the forefront supporting me. One son, Abdul Moneim, looks at the management and external communication, while the other son, Abdul Wahid, looks at sales and marketing, while I supervise the production," she explained.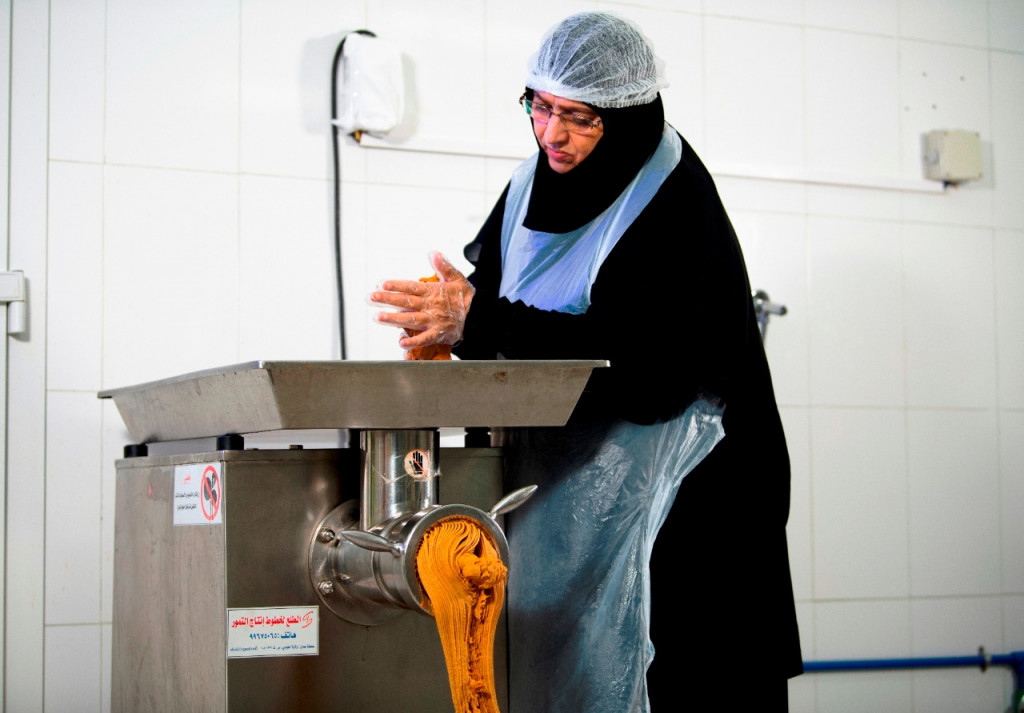 Contributing to the needy
And they never deviated from the original plan to contribute to charity. Every time, with the cooperation of Al Takaful Centre, they contributed their mite to needy families. "Our goal was not to be in business for profits – the Sohar Dates has a mission and that is to make a solid contribution to the society in every possible way. As I have said before, my family is looking after me very well. All my needs are met and I am very well taken for. So, I am not in this business to make both ends meet. Besides, it is one of the most respectable businesses to be in. I don't want to expound on the virtues of dates and its many uses, but it is common knowledge that dates are packed with nutrition and have a lot of health benefits."
True partners in the project
She noted how her children were a bit reluctant to be a part of the project at the start. Although they did not hesitate to help her, they were quite shy in the beginning because this type of business was new to them. But soon, when they got the hang of it, they began to take more and more responsibilities and are now proud contributors to the project."I don't take any company decisions without their consent. If you ask me, they are my true partners in this project," she proudly noted.
Eyeing the global market
"Our project has met with many challenges, but with persistence and diligence, we have made Sohar Dates a household name and become a part of the Omani home. "Now, we have set our eyes on the global market. Interest from the international arena is slowly cropping up, but we have to wait and watch and we hope we land a major international contract soon," Amna hoped.
Quality is of prime importance
Whatever the challenges, they made sure that their products were of the highest quality. They never compromised on the quality of the date products. "In order to produce quality products, it is very important for the dates itself to be of very high quality. But, our family's date farm did not meet that quality standards and so we began to purchase from farmers, especially from those in the Dakhiliyah region.
"Currently, we source from local suppliers and we mainly use Khalas and AlKhunaizi dates in our products," Amna noted.
Over 20 products
The Sohar Dates' team comprise of four Omani women and two non-Omani workers. "We have more than 20 products. We have dates with multiple mixes and stuffed dates as well date sweets with a variety of mixes and flavours: dates with cinnamon, raisins; with saffron; with coffee; with cardamom and saffron; dates with honey and black seeds, dates with cocoa; with figs, with apricots, with sweets, nuts and dates with coconut and sesame as well dates with rich spices mixture."
Need to be a proper date factory
Amna confess that she faced many difficulties in her attempts to grow from a mere homebound business to a more commercial facility. "But having achieved that middle level, our hope and dream is to turn it into a proper dates' factory. "But there are some challenges as far as the mandatory requirements are concerned. I hope and pray that we can somehow meet the requirements or find some other way to win over this challenge," Amna said, as she noted that she was overseeing this matter herself. "I have done everything to reach here – even selling my part of the family farm to make this dream of turning this business into a date factory," she said candidly.
'Best Home Business' award from Riyada
"Our ultimate aim is to make Sohar Dates into an international outfit. And of course, this journey requires work, effort and perseverance. We will not be able to achieve all of this in a day. "But, we are moving forward and each step is towards realising our dream. Our proudest moment was when Sohar Dates won the Riyada Entrepreneurship award in 2017.
Excited to take part
"I was excited to participate and worked really hard to meet the required standards to enable us to enter the competition. And I did learn from this participation. Excellence requires us to strive and develop excellent product quality and it is the start for continuous improvement. "It was like a dream for me as little did I expect to win the award. And I would like to give my thanks and full gratitude to Allah the Almighty for the award. Winning the award also opened new opportunities for us – that was one of the main reasons that helped Sohar Dates to enter the Oman International Airport. "We are also active participants in all annual dates-related exhibitions since 2015. We have also participated in Ibdaat Oman for almost three years."
Start of a new journey
"Today, I feel that we are just beginning our new journey. Right now, my requirement is to purchase a second machine and I also want to have special packaging tools. Besides all this, I have other ideas to bring out more unique products. "Also, when we talk of exporting our products, it has to meet certain strict standards and requirements, such as the incorporation of preservatives and the need to manufacture in large quantities. For all this, we need to prepare and study how we can develop our processes, in terms of the usage of food preservatives to be compatible with food safety international requirements and standards.
Gratitude to the government authorities
"Here, I wish to register my gratitude for the gainful support from the ministry of agriculture, from Riyada, ministry of commerce and industry, and also Oman Chamber of Commerce and Industry," she concluded.