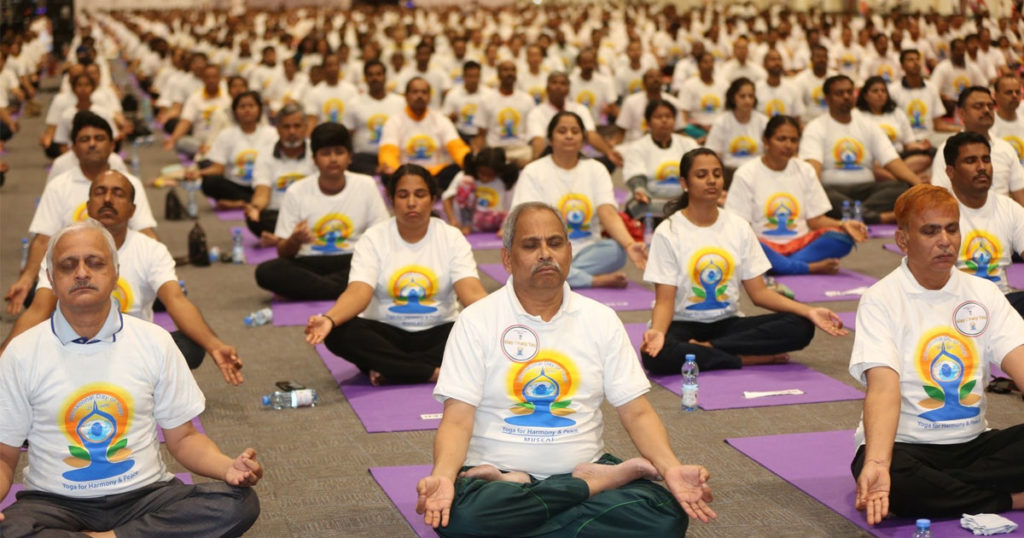 MUSCAT – Embassy of India invites online participation of Omani citizens, expatriates and Indian nationals to celebrate 6th International Day of Yoga on 20 June 2020.
International Day of Yoga has been celebrated in Oman too with great enthusiasm in previous years. Embassy of India, Muscat, has been celebrating the annual International Day of Yoga in Oman with support and participation of the Government of Oman, numerous Yoga organizations as well as Yoga teachers and practitioners.
Last year, the Embassy celebrated the 5th International Day of Yoga, on 21 June 2019, where, under one roof, approximately 6000 Omani, Indian and other Yoga enthusiasts, practiced Yoga. Similar Yoga sessions were also held in other cities of Oman, such as Salalah, Sohar, Sur etc. They achieved success in disseminating the benefits of Yoga amongst the Omani citizens and expatriates alike.
This year, in view of the restrictions on mass assembly gatherings and enforcement of strict social distancing due to Covid-19 Pandemic, it is decided that the IDY will be celebrated online using virtual platforms and with theme 'Ghar Ghar Se Yoga' (Yoga from every home).  In Oman, the IDY will be celebrated with series of online events planned under following themes:
SAT 13 JUNE -Yoga for Immunity;

SUN 14 JUNE – Yoga at Work Place;

MON 15 JUNE – Yoga for Mental Health;

TUE 16 JUNE – Yoga for Covid 19 Frontline Warriors;

WED 17 JUNE – Yoga for Holistic Health;

THU 18 JUNE  – Yoga for Women Well-being; &

FRI 19 JUNE – Yoga for Child Health and Youth

An online Blogging Contest with the theme 'My Life- My Yoga' has also been announced by Ministry of Aayush, Government of India and everyone interested in Yoga can participate by sending 3 minute video uploaded on Facebook, Instagram or Twitter up to 15 June 2020. The detailed instructions and guidelines are available at the embassy website. (https://www.indemb-oman.gov.in/alert_detail/?alertid=108) There will be prizes for the best entries country wise and finalists from each country will also be considered for global prizes announced on the International Day of Yoga on 21 June 2020.

The Main Celebration of IDY will be organized by the Embassy online, in association with a number of Yoga Organizations from Oman on 20 June 2020, 1800 hrs onwards.  
For celebrating the 6th IDY, in a grand way on Saturday, 20 June 2020 the Embassy is pleased to invite all yoga enthusiasts and practitioners in Oman, along with members of their families (children above the age of 7), to participate in the mega Yoga event on virtual platform with the theme Ghar Ghar Se Yoga.  The link to the online IDY programme online will be available at Embassy website (https://www.indemb-oman.gov.in/), social media platforms or through the participating Yoga Associations in the Sultanate of Oman.
The International Day of Yoga (IDY) is celebrated all over the world every year on 21 June.  On 11 December 2014, the United Nations General Assembly had approved Resolution 69/131, declaring 21 June as the "International Day of Yoga". The Resolution was co-sponsored by a record number of 177 countries.  The international community has since been celebrating IDY with great enthusiasm. India has taken the lead in celebrating worldwide the IDY with a view to make people aware of the health and spiritual benefits of Yoga, which is an ancient Indian tradition.