MUSCAT – The 75th Independence Day of India was celebrated in Oman with great enthusiasm and patriotic fervour. India is celebrating this momentous occasion as "Azadi ka Amrit Mahotsav". The Amrit Mahotsav was inaugurated by Prime Minister Shri Narendra Modi in March 2021, and it will continue till August 15, 2023.

The Embassy building was lit up in tricolour on the eve of Independence Day. A flag hoisting ceremony was organized in the Embassy in the morning of 15th August in hybrid format owing to COVID19 restrictions. Embassy officials and staff attended the event physically from the Embassy, and it was telecast live, enabling Indian community to join the celebration virtually. Before the start of main event, videos on Amrit Mahotsav, global painting competition launched by Indian Council for Cultural Relations (ICCR), Odissi dance performance and patriotic song were played.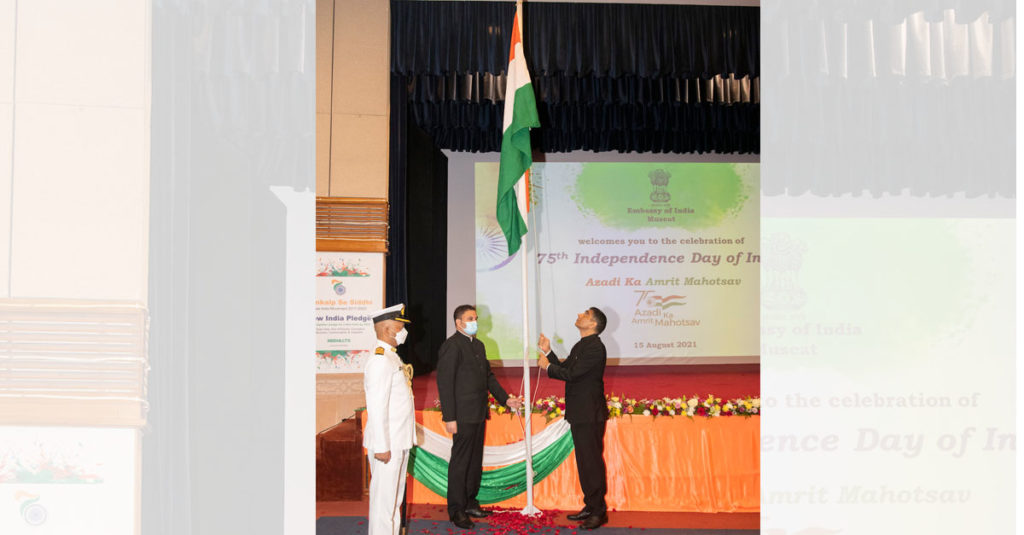 The event started with unfurling of the Indian Flag by Shri Munu Mahawar, Ambassador of India to the Sultanate of Oman, followed by singing of National Anthem. The Ambassador delivered a speech and read out excerpts from the address of the President of India. He greeted the Indian Community in Oman and thanked them for their contribution in supporting India's fight against COVID19. The Ambassador noted that Azadi ka Amrit Mahotsav means celebration of elixir of energy of independence and inspiration from the warriors of freedom movement. He encouraged everyone to be a part of India's growth story and the journey towards self reliance and propagate India's message of peace and development. Videos of patriotic songs and dance by students of Indian School Muscat (ISM) and Indian Social Club (ISC) were played after the speech by Ambassador, adding to the sense of pride and enthusiasm in the celebration. A video of message by Dr. S. Jaishankar, External Affairs Minister of India and glimpses of the gala celebration organized by Indian Council for Cultural Relations (ICCR) on Amrit Mahotsav was played at the end of the event.

A patriotic poetry video blogging competition was organized by Embassy in the run-up to Independence Day, which saw overwhelming response from Indian diaspora. Indian community in Oman enthusiastically participated in the Rashtragaan initiative to celebrate Amrit Mahotsav.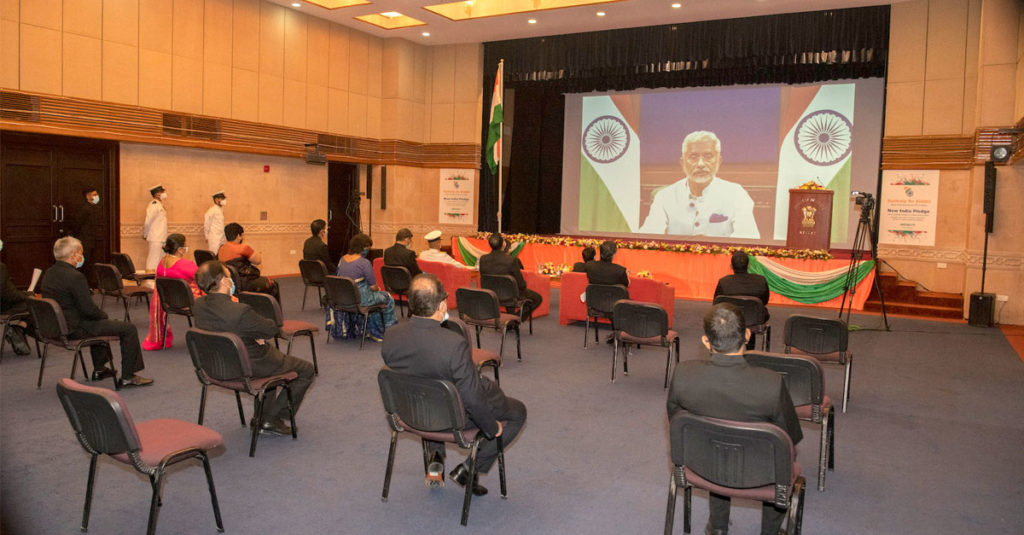 The Embassy, in association with various community organizations has organized several events since March 2021 to celebrate Amrit Mahotsav including Quiz competitions, Cultural events, Art exhibitions, and panel discussions. The Malayalam wing of ISC organised a quiz competition on the theme of India @ 75 on 13th August. A virtual art exhibition highlighting Indian culture was organised by Rangrez art group of ISC on August 14.

Board of Directors – Indian Schools in Oman in association with the Embassy organised a grand virtual celebration on 12th August to launch Amrit Mahotsav across all Indian Schools in Oman. A tag-line 'My India, My Pride' and e-book containing 75 shades of Indian Art depicting the rich cultural diversity of India was also launched during the event. A logo making competition, quiz competition, collage making competition on 75 iconic buildings in India and painting competition was organized by Indian School Muscat as part of launch of Amrit Mahotsav in Indian Schools.

Indian Social Club in association with the Embassy will organize a virtual mega cultural event in the evening of 16th August to celebrate Amrit Mahotsav. His Excellency Sheikh Khalifa bin Ali bin Isa Al Harthy – Undersecretary of the Foreign Ministry for Diplomatic Affairs has kindly consented to be the Chief Guest for the event.

A Special India week is planned in January 2022 to celebrate Amrit Mahotsav. In addition, Embassy in association with Indian diaspora and friends of India plans to organize several events in future to celebrate Azadi Ka Amrit Mahotsav in a grand way in Oman.
Photos: V K Shafeer