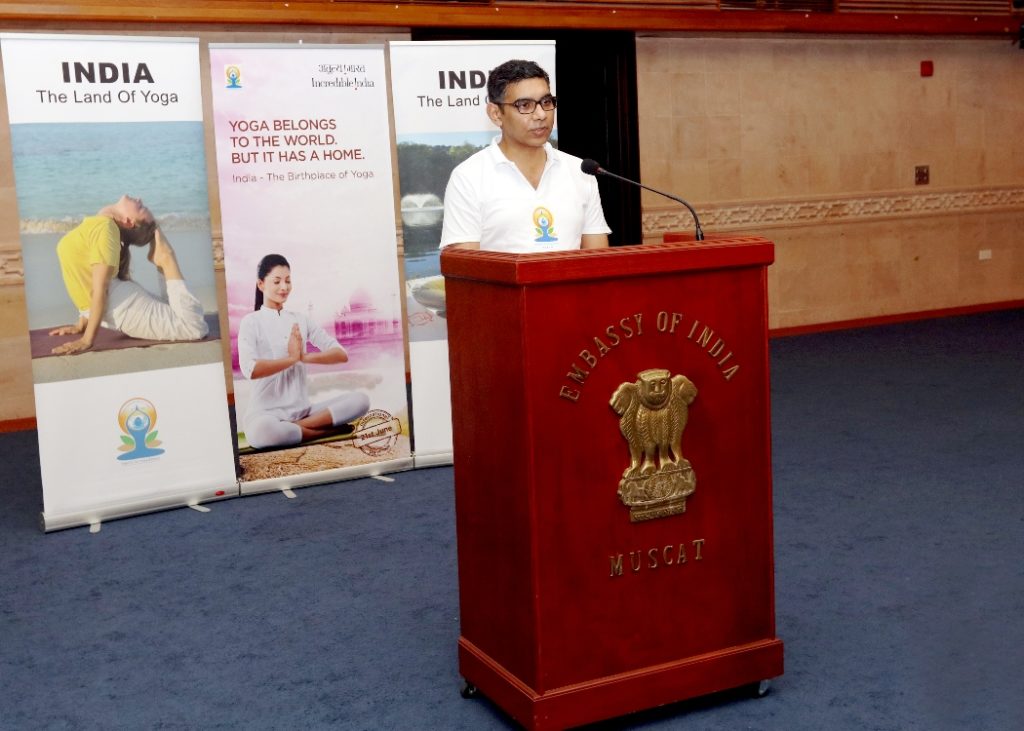 MUSCAT – Embassy of India, Muscat, organized a special event on 20th June 2020, on a virtual platform, to celebrate the 6th International Day of Yoga (IDY). The event was held on-line due to restrictions on public assembly owing to COVID19 pandemic, which saw enthusiastic participation of many Yoga lovers in Muscat. The theme of this year's IDY celebration was 'Yoga at Home and Yoga with Family'.   
The official event started with a brief introduction on IDY and glimpses of last year's mega IDY celebration in Muscat. It was followed by a brief speech by Shri Munu Mahawar, Ambassador of India to the Sultanate of Oman.
The Ambassador stated Yoga is a gift of India to the world and has become immensely popular around the world including in Oman. Ambassador expressed his gratitude to the Oman Government for their support to IDY and thanked the Yoga organizations in Oman for their continuous contributions for promoting Yoga.
A brief video of the events organized by our Yoga partners and glimpses of their other activities was played. Total 44 events / sessions were organized online on diverse themes including, Yoga for Immunity, Holistic Health, Mental Health, Women Well-being, Child Health & Youth, COVID19 Frontline Warriors and Yoga at Workplace. A video with messages by Omani officials, sport stars, Ambassadors of different countries and other dignitaries on the enhanced importance of Yoga in keeping mentally and physically fit was also played during the event.
After this, the message of honourable Prime Minister of India, Shri Narendra Modi, was played, who congratulated everyone on 6th IDY in extraordinary times and stated that Yoga has linked the whole world as it helps to lead a holistic and balanced life. In addition, PM Modi spoke about the benefits of Yoga to help fight COVID19 pandemic and its benefits in improving our strength mentally and physically. The event concluded with all the participants performing various Yoga postures in complete harmony and unison by following the Common Yoga Protocol.