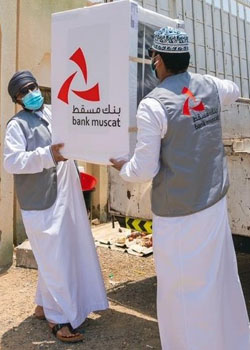 MUSCAT– The 7th edition of Bank Muscat's annual Tadhamun programme, which is being organised by the bank in partnership with the Ministry of Social Development and Sawa Nabni, has completed its activities in Muscat Governorate.
The team also distributed household appliances in North and South Sharqiyah as well as North and South Batinah. The programme, which is part of the bank's CSR programme and supports social welfare families across the Sultanate with essential household appliances, will now focus its attention on other governorates.
The Tadhamun programme mainly focuses on the distribution of essential home appliances, including air-conditioners and refrigerators, to beneficiary families. This year, the Tadhamun programme will benefit a total of 175 beneficiary families across the Sultanate. It is being conducted this year after taking extra measures for the safety of all participants.
The Tadhamun programme has assisted over 1,100 social welfare families over the past seven years since its inception in 2013. The CSR and sustainability strategy pursued by Bank Muscat focuses on delivering long-term benefits to the community and the nation.
Bank Muscat has extended its thanks and appreciation to the officials of the Ministry of Social Development and members of the Sawa Nabni team for their cooperation in the success of the programme. The Tadhamun programme aims to bring joy and happiness to the hearts of social welfare families, who need attention and extra care. The bank seeks to continue cooperating with various institutions, societies and volunteer teams to achieve sustainability for the Tadhamun programme as well as other programmes implemented by the bank.
This year's programme is being implemented by the bank after specialists at the Ministry of Social Development received applications and finalised the list of those families entitled to the benefits. The bank's CSR programmes draw from the values of leadership and partnership to create a positive impact on Omani society. As the bank progresses on the path of sustainable development, new opportunities are explored continuously. In line with the corporate ethos, the bank's employees are engaged in creating opportunities to help the community through various initiatives.