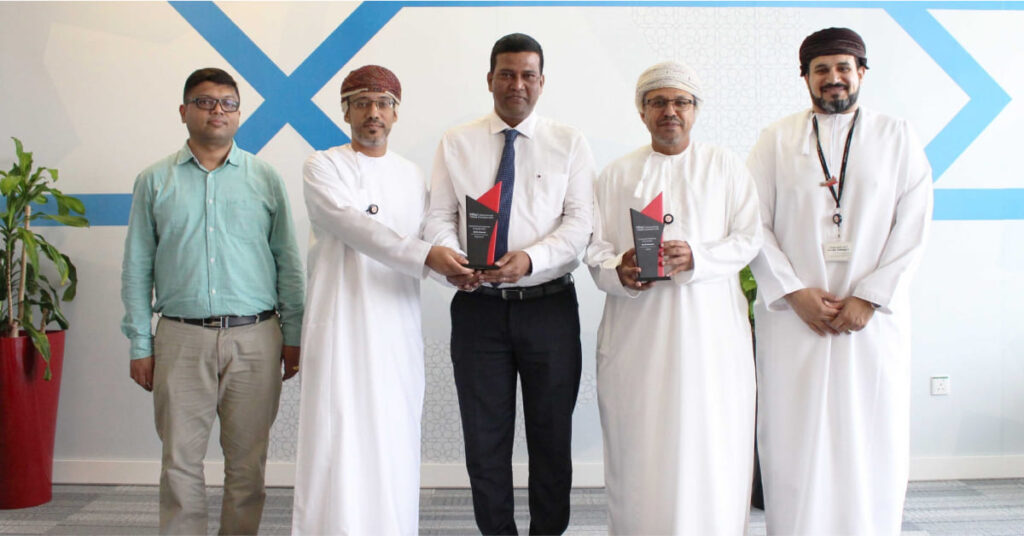 MUSCAT – In recognition of its customer-centric vision and its commitment to developing innovative products and services, Bank Muscat, the leading financial service provider in the Sultanate, has won the prestigious Infosys Finacle Innovation Award 2023 under the category "Maximizing Customer Engagement" for leading the Mobile App in Oman. Observing the increasing impact of digital transformation on banking services, the Bank was keen to upgrade its online channels aiming at enriching user experience and enhancing operational efficiency.

On this occasion, Ahmed Omar Al Ojaili, General Manager – Technology, Bank Muscat, said that we would like to take this opportunity to thank Infosys Finacle for this prestigious award, which recognizes the Bank's customer-centric strategy and the efforts to set a benchmark in our digital transformation journey. The recent developments in Bank Muscat's Mobile App came in line with the Sultanate's efforts to create a digital society. We are proud to be recognized for our customer-centric vision, innovative offerings backed by state-of-the-art technology and commitment to constantly enhance customer experience. Going ahead, the Bank will continue its market-leading position in Oman's financial services sector by further enhancing customer experience and digital transformation in line with the goals of Oman Vision 2040.

Speaking about the outstanding achievement, Abdullah Hamood Al Jufaili, Assistant General Manager – Digital Banking, Bank Muscat, said that we are delighted to win this award, which affirms Bank Muscat's deep understanding of customer needs and its strategy of continuous innovation in response to the global trends and customer feedback. Today, customers use various digital Banking services available to them round-the-clock through mBanking App which has been redesigned to provide simpler navigation and a customer-friendly interface. We deeply thank our valued customers for their continuous trust in the digital services the Bank offers and we assure them that the hard work will continue to further develop the features offered in mBanking and make their experience seamless.

Bank Muscat mBanking App has been upgraded and enhanced with Finacle solution to provide greater convenience and better user experience. Today, over 1.6 million retail Banking customers use the various features offered through these channels. The omnichannel Internet and Mobile Banking platform offers as many as 180 services and features, including the Zakat calculator and charity payments, real-time bill payments for utilities in Oman, local and international fund transfers, speed transfers to a number of countries including India, Bangladesh, Egypt, Pakistan, the Philippines, and Sri Lanka, fund transfers across the world via the SWIFT network, perform mobile top ups and various online payment options such as sending or collecting money instantly by scanning QR code or with a specific Alias/Mobile number. The mBanking app also allows customers to disable or enable their debit card for international usage adding an extra layer of security for the benefit of customers.

Amongst the new features added recently to mBanking, customers can apply for prepaid cards, credit cards and financing options through the app. The new features enable customers to apply digitally for a number of loan facilities across various categories such as Personal, Vehicle, Marriage, Travel, Educational, and Health and Beauty loans. Customers may also apply online for a variety of credit cards including Visa Infinite credit card, Gold credit card, Oman Air credit card, Lulu credit card, Al Jawhar Visa Platinum credit card, Asalah Visa Signature credit card and the Private Banking Visa Infinite credit card according to the eligibility norms for the same. In addition, new features also include opening a savings account for new customers, additional accounts for existing customers instantly, and applying for mutual fund and redeem as per need. These services further expand the list of options available to customers through the bank's various digital channels and enhances Banking convenience leading to reduce waiting times when visiting branches.

Customers can download the latest version of the Bank Muscat Mobile Banking app from
Apple App Store, Google Play or Huawei AppGallery. For more information about
electronic Banking channels including mBanking and Internet Banking, please go to: https://www.bankmuscat.com/en/bankingchannels/Pages/default.aspx.