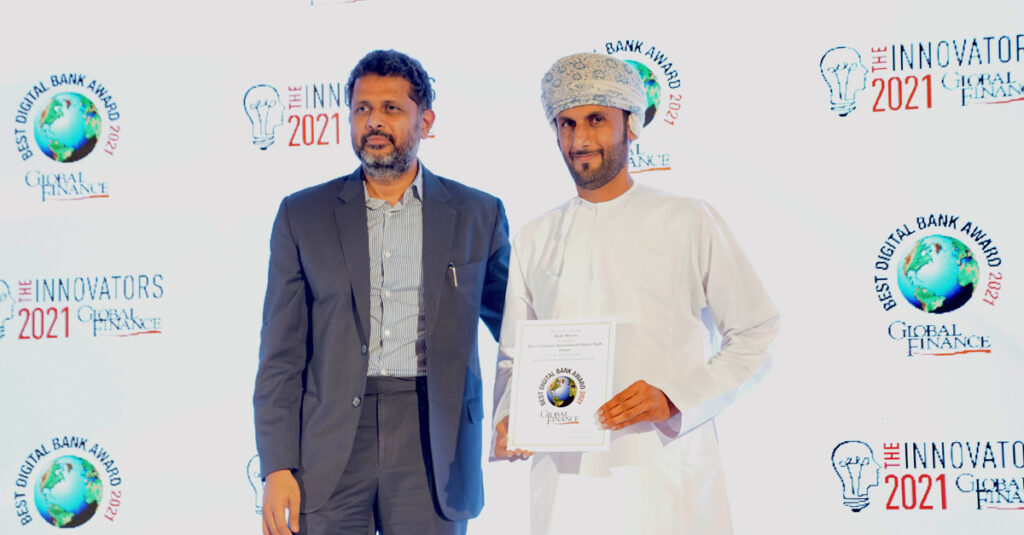 MUSCAT – Bank Muscat has won two prestigious awards for digital banking from Global Finance.

The awards for Best Consumer Digital Bank (Oman) and Best Corporate / Institutional Digital Bank (Oman) were received by Mohammed Sultan Al Habsi, Chief Representative, UAE Representative Office, Bank Muscat, at the Middle East Digital Bank and Innovators Awards 2021 held recently in Dubai. The winners were selected based on a number of criteria, including their strategy for attracting and servicing digital customers, success in getting clients to use digital offerings, growth of digital customers, breadth of product offerings, evidence of tangible benefits gained from digital initiatives, and web/mobile site design and functionality.

Speaking on the occasion, Ahmed Faqir Al Balushi, Chief Corporate Banking Officer, Bank Muscat, said: "Bank Muscat is delighted to win these prestigious awards from Global Finance, recognizing the innovative digital banking services provided by the bank for its customers. With emphasis on multiple channels and new products that cater to different sectors, the bank is focused on maintaining its leadership in offering cutting-edge products and services, including electronic payment and online services. We would like to thank all our corporate and retail banking customers for their continued patronage and strong confidence in Bank Muscat's brand."

Ahmed Faqir Al Balushi added: "Bank Muscat is in the process of implementing its digital strategy to offer the latest of the digital financial services and solutions for its individual, corporate, as well as Government and Public Sector customers. The international awards won by the bank recognize its success in providing the best digital banking services to all its customers, in line with latest global and technology trends. We are delighted to keep offering new services, which are especially designed to meet the ever-growing needs of our customers."

Digitalisation is in line with the goals of Oman Vision 2040 and will further enhance financial inclusion in Oman. The bank's customers are benefiting immensely from the latest devices, solutions and technological advances made available to them through the implementation of cutting-edge technology. As the leading financial services provider in the Sultanate, Bank Muscat has the largest banking network in Oman with 174 branches and over 800 ATMs, CDMs and other devices. The number of retail customers using digital banking services have increased manifold in recent years to over 1.2 million retail banking customers today.

Similarly, digitalisation is helping corporates to speed up transactions, optimize the efficiency of their employees, minimise data-entry related risks in payment processes and improve security. Digitalisation addresses the entire value chain of corporates by providing sophisticated analysis of data sets, real-time insights to ensure transparency and greater control for corporate customers to make better-informed decisions. With state-of-the-art solutions and services like the Business-to-Business (B2B) Connect platform, Corporate Online Banking platform, Direct Debit solutions and Remote Deposit Capture, Bank Muscat's Corporate Banking offer secure 'best-in-class' digital solutions and services are based on customer feedback and needs as well as global trends.

It must be noted that Bank Muscat recently launched its new and improved Corporate Banking website, which provides direct links to services and solutions including Corporate Online Banking, business loans and solutions, trade finance, agency and custody services, sectoral insights and eApplications for various trade solutions and other banking services. The bank plans to keep introducing new digital services and features that further enhance banking convenience and security in the future too.

Bank Muscat's customer-centric vision and the adoption of global best practices have resulted in numerous accolades in the past. Earlier in June 2021, Bank Muscat was recognised as one of the "Top 100 Companies in the Middle East" and as one of the "Top 50 banks in the Region" by Forbes Middle East. The bank has also won a number of awards from prestigious international publications like Global Finance, Euromoney, The Banker and EMEA Finance for its different lines of business in the past.