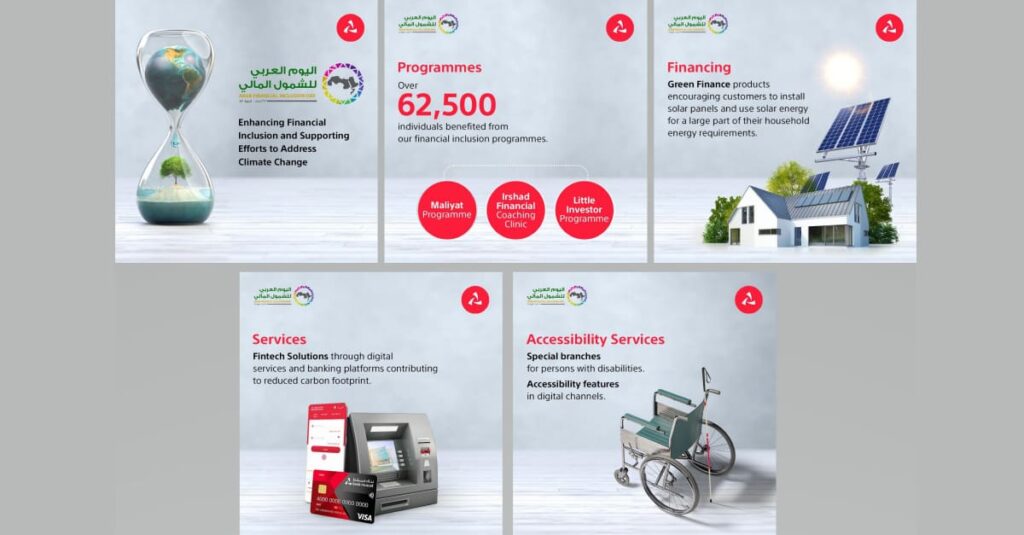 MUSCAT – To further enhance its pioneering role in providing the best banking services for all segments of society, Bank Muscat , the leading financial services provider in the Sultanate of Oman, continues to implement plans and strategies to boost financial inclusion through facilitating banking services across Oman. The Bank recently celebrated the Arab Financial Inclusion Day, which falls on 27th April every year, confirming its commitment to improving financial inclusion across the Sultanate. The bank, which currently has 174 branches spread across all governorates in Oman, offers customers easy banking accessibility. The branch network is ably supported by the bank's large base of over 800 e-channel devices including ATMs, CDMs and statement printers.

Reflecting the latest technological trends in banking, Bank Muscat has been continuously launching new features and services on its digital channels too, including its state-of-the-art and Omnichannel mBanking and Internet Banking, Contact Centre and its e-payment gateway on a continuous basis over the years. The bank's contactless cards and the more recent QR code scanning option have become very helpful for the bank's merchant partners in accepting e-payments from their customers quickly and securely. The positive results of these services have helped to enhance financial inclusion as they provide easy and fast accessibility to different banking services. Digital services have now become the future of the financial inclusion policy as they save time and effort for everyone.

As part of its financial inclusion strategy to reach out to different customer segments and provide high-quality banking facilities, Bank Muscat has also launched a number of critical products and services for the persons with disabilities. In 2019, Bank Muscat launched the first ATM in Oman for visually-impaired persons at the premises of the Al Noor Association for the Blind. The bank continues to enhance financial inclusion amongst persons with disabilities by enhancing physical access and facilities at branches and training its employees to better serve customers.

Bank Muscat has trained a number of its employees at different branches in Arabic Sign Language in partnership with the Omani Association for the Hearing-impaired so as to facilitate better communication and customer service. Moreover, the bank has established facilities dedicated to disabled customers in select branches.  It may be noted that as many as 210 bank employees have completed two levels of sign language courses to provide better services for customers. The bank also provides forms in Braille, audio and QR code, in addition to providing special rates on a number of banking products for people with disabilities.

As part of its efforts to broaden financial inclusion, Bank Muscat is also continuously launching several new products and services. In 2020, the bank launched the Woqar Banking Package after studying in great detail and understanding the needs of retirees who were earlier working in both government and private institutions. The bank also launched the Floosi account for youth in the 15-17 age groups in response to this age group's financial needs and to raise personal finance awareness.

To improve financial literacy in Oman, the bank launched its free Maliyat financial literacy programme in 2019. It also offers free online training sessions through the Irshad financial coaching programme. Meanwhile, the Little Investor financial literacy training for school students has also contributed to enhancing financial knowledge amongst school students. Going ahead, the bank will continue in its efforts to enhance financial inclusion through both financial and non-financial services and products, in line with the strategic needs of the Sultanate's economy.